Hot Tub features
Hot Tubs are only available when you have The Sims 4 Perfect Patio Stuff Pack. This pack will comes with 2 different Hot Tubs you can place on your lot or venue. Place up to 8 Sim in one Hot Tub or let couples enjoy quiet moments together to discover new romance. You can even set the light to a different color! If you are looking for a way to create the perfect spot for your Hot Tub, place it on a Gazebo! It looks amazing.
Add Oils in the Hot Tub to change emotions
When you add an Aromatherapy Filter to the Hot Tub you will have the ability to add Oils. You need to be level 3 in the Handiness skill to add the Aromatherapy Filter. Aromatherapy allows you to select from a variety of relaxing oils for Sims to enjoy while they soak in the tub. These aroma's will change a Sims' emotion.
Jasmine Aroma (use Jasmine Oil)
Makes sims feel refreshed, reducing the duration of Sad buffs and providing a Happy Buff.
Lemon Aroma (use Lemon Oil)
Makes sims feel energized, reducing the duration of Stressed buffs and providing a Energized Buff.
Peppermint Aroma (use Peppermint Oil)
Makes sims feel giddy, reducing the duration of Uncomfortable buffs and providing a Playful Buff.
Sage Aroma (use Sage Oil)
Makes sims feel focused, reducing the duration of Bored buffs and providing a Focused Buff.
Hot Tub Easter Egg: There is a hidden oil that gives a negative moodlet: Thioacetone Oil. When you use this all Sims in your neighborhood will get the Uncomfortable moodlet for a few hours. To unlock the Thioacetone Oil your Sims need to have a Mean or Evil trait, reach level 10 in the Secret Agent career or the Criminal career and you need to max your Sims Mischief skill to level 10.
Hot Tub Upgrades
When you placed your Hot Tub, there are a few new upgrades available when you are leveling up your Handiness skill.
Aromatherapy Filter (level 3 Handiness skill)
Requires 1 Plumbing Upgrade Part and 3 Common Upgrade Parts
This will allow your Sims to add oils to the Hot Tub and gain different moodlets from it.
Stereo (level 5 Handiness skill)
Requires 2 Common Upgrade Parts
Listen to Music while relaxing in the Hot Tub.
Unbreakable (level 8 Handiness skill)
Requires 2 Common Upgrade Parts
Makes the Hot Tub unbreakable, only mischievous Sims can break the Hot Tub after the upgrade.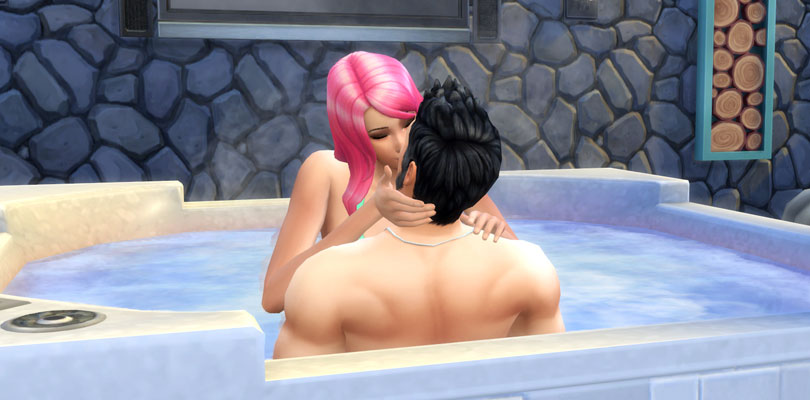 New Hot Tub Interactions
With a new gameplay object there are new Hot Tub interactions available for your Sims to enjoy.
Interactions: Skinny Dip, Shoo from Hot Tub, Nap (When your Sims is really tired)
Romantic Interactions: WooHoo, Try for Baby and all the other interactions when you sit next to each other like kissing, give massage or make out.
Hot Tub Woohoo animation
Heat things up on the new Barbecue Grill
With the new Barbecue Grill there will be new recipes for your Sims to master.