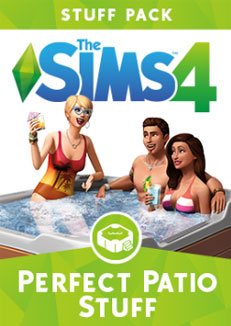 Release date: June 16, 2015
Platforms: PC / Mac
Average price: $9.99 / €9.99 (Buy on Origin)
Go skinny-dipping in the new Hot Tubs!
With the all-new hot tub, your Sims can melt away their stress and kick back for a relaxing day in the sun. Fire up the new grill for a delicious cookout and slip your Sims into some fashionably casual clothing. The Sims 4 Perfect Patio Stuff Pack comes with all new furniture, clothing and hairstyles for you to add in The Sims 4.
Relax in the all-new Hot Tub!
Adults and children love soaking in the tub, while handy Sims will find a plethora of upgrades like adding a stereo. Couples enjoy quiet moments together to discover new romance and can woohoo or try for a baby. Help set the right mood by adding an aroma filter to the Hot Tub. Aromatherapy allows you to select from a variety of relaxing oils for Sims to enjoy while they soak in the tub. Use different oils to get different moodlets or lower negative moodlets from your Sim. You can place a max of 8 Sims in the Hot Tub. If your Sim is a Mischievous Sim they can sabotage the Hot Tub with Thioacetone Oil. There is also an option to go skinny dipping!
Chill outside, pool-side
Set-up an open-air lounge area by the pool with a variety of stylish furnishings and décor. Heat things up on the new barbecue grill and serve up some refreshments at the new patio bar. The Perfect Patio Stuff Pack includes new chairs, tables, stone counters and island pieces.
Dress down to kick back
From swimsuits to slim-fit polos, choose from a collection of chic apparel. Master the grill in the new "kiss the cook" apron. Top off your Sims' laid-back look with new hairstyles.
Read more
Features
Relax in 2 all-new Hot Tubs and add an aroma filter to set the mood.
Set-up the perfect pool-side BBQ will the new grill.
Dress for a day out in the sun with new Swim wear.
Add stone counters and island pieces that are perfect for open-air lounge areas.
New objects; grill, hot tubs, bar and other outdoor furniture.

New Objects, Clothes and Hairstyles