We're lucky renovating buildings goes a lot faster in The Sims 4 than in real life, otherwise we'd be here for a while. Well, it is time to completely turn that old dusty factory downtown into something more liveable for your Sims. Exposed piping hanging from the ceiling, aged graffiti with the old factory logo and rusty old sliding doors, let's keep these for that extra industrial-turned-homey feel. Good thing that with The Sims 4 Industrial Loft Kit you can do just that. The Partihaus will be jealous!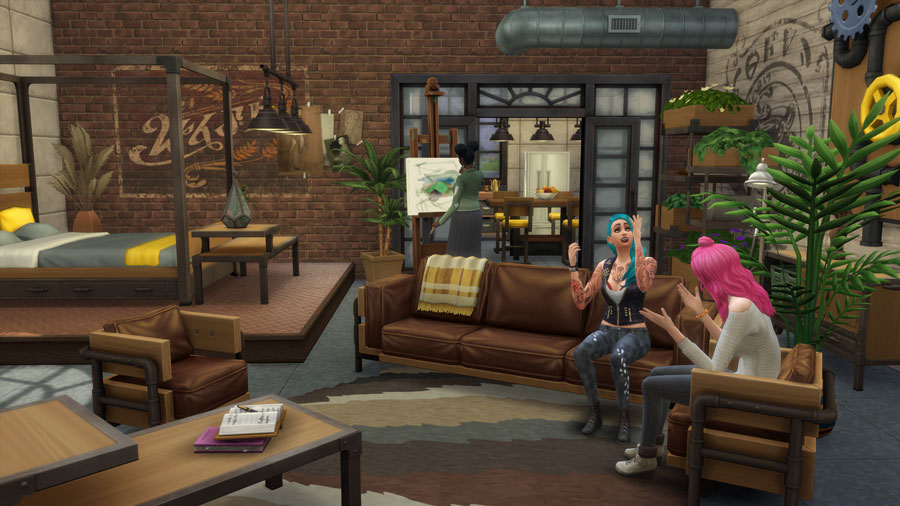 Create the Perfect Converted Warehouse with Build & Buy
The focus of the Industrial Loft Kit lies with Build & Buy. The materials that make up the catalog are wood and metal, leaving the rough edges of the industrial times intact. Sadly that's not the only thing rough about this kit, but more on that later…
So far, the kit gives us 26 new items in total, including the 3 ceiling lights for different wall heights. There is a nice variety of objects, giving you stuff for the bedroom, living room and even the dining room. On top of that there are some decorative pieces to make the build come to life more. The color swatches are consistent amongst the furniture which is a plus.
So is The Sims 4 Industrial Loft Kit Really Worth it?
I said there was more roughness about the kit, so here it goes… Personally, I think this kit is a bit of a flop. Are the items bad? No. Not at all. As a matter of fact I really enjoyed the pieces and they fit perfectly inside my builds. But that's just it. They might fit in too well with what we already have in the game…
Previous kits added things we were lacking, I mean… just look at Courtyard Oasis! It was new and refreshing, something we didn't have before. Not that that is necessarily bad or that a kit can only be 100% new or else 'nevermind'. But when things are similar to previous content I am looking for that wow-factor that makes me excited to use the pieces. Yes, the catalog ties in nicely with the other stuff. But… I need that excitement!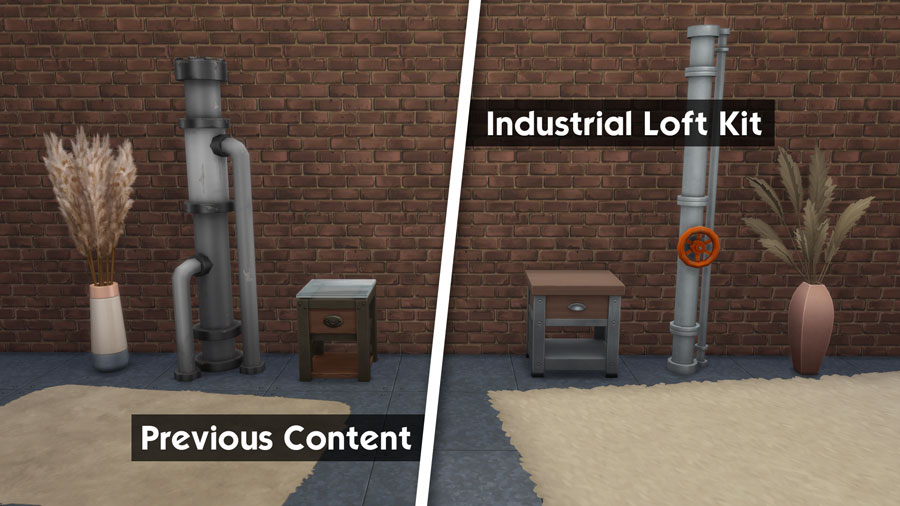 It is not like I don't like the items in there. It was just a lot of the same when compared to older content. Heck some objects look practically the same as base game items. So would I spend my money on this? Perhaps if I didn't have the previous packs that added the industrial stuff – like the metal pipes – then probably yes. But if you already own packs like Eco Lifestyle or Get to Work, I think skipping this one won't leave a huge gap in your collection.