Video Gaming Skill in The Sims 4
Ideal Emotion: Focused
Best Career Choice: Tech Guru
The Video Gaming Skill is a good choice if you are looking for a skill to make some money with. When you level up the Video Gaming skill you will unlock the option to compete in tournaments and win prizes.
When you choose to level this skill, you should level your Handiness Skill as well. Before you reach level 10 in the Video Gaming skill your electronic devices will break down a lot. If you level your Handiness skill you can fix them. You can also upgrade the computer's ECC RAM for a longer durability. If you don't want to do this, buy an expensive computer that doesn't break down or only use the tablet to level. If you want to compete in a tournament you will need a reliable computer because there is a chance that the computer will break down during the tournament.
The Video Gaming skill and the Tech Guru career goes very well together. In the Tech Guru career you will be able to unlock items that give off a Focused aura and also the PrioPerfection Motion Sensor Game Mat which is unbreakable.
By reaching level 10 with the Video Gaming Skill you will earn the Achievement: Games within Games
Level up your Video Gaming Skill

If you want to level up this skill faster make sure your Sim is Focused while leveling up. There are 4 ways to level up your Video Gaming Skill:
Play video games on the Computer, Tablet or Phone
Any game you play on these devices will help you level up this skill.
Read a book about the Video Gaming Skill
You can buy 3 volumes of Video Gaming books at a Bookcase or at the Computer.
Play video games on the Motion Game Mat
Any game you play on the game mat will help you level the Video Gaming skill
Research Advanced Game Strategy
After you reach level 5 you have the option to Research Advanced Game Strategy on the Computer or Tablet.
Become Focused
Your Sim can Browse Simipedia on the Computer to get a +1 Focused moodlet for 4 hours. But if you have §325 to spare I suggest that you buy the Future Cube. You can ask the Future Cube about Scientific Mysteries and this will give you a +2 Focused moodlet for 6 hours.
Create the perfect room to become Focused
The Elements collection gives off an Focused aura or you can buy one of the Plumbob lamps: Alma Mater University Life Award or Time Travelers Into the Future Award. You can also unlock Focused aura items from specific careers; the Tech Guru career and the Astronaut career.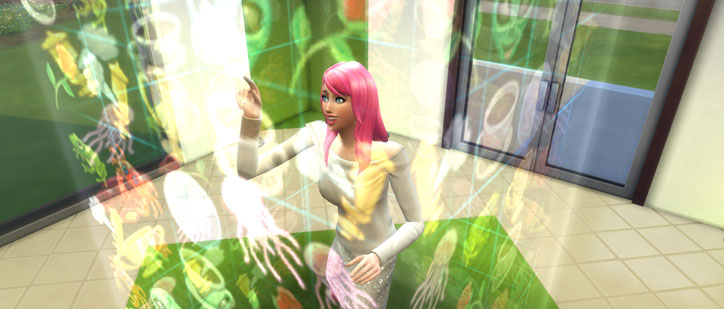 Making money with the Video Gaming Skill
The only way to earn money with this skill is to compete in game tournaments. The option to compete will be unlocked if you reach level 3 in the Video Gaming skill. When you have a low Video Gaming skill level and your Sim is not Focused the chances of winning are very low. If you lose you won't be getting any money but you will get a +1 Sad moodlet for 4 hours. When you finished a game tournament you will have to wait for 4 hours to compete in a new one.
If the computer breaks down during the tournament you will have to start over with a new tournament.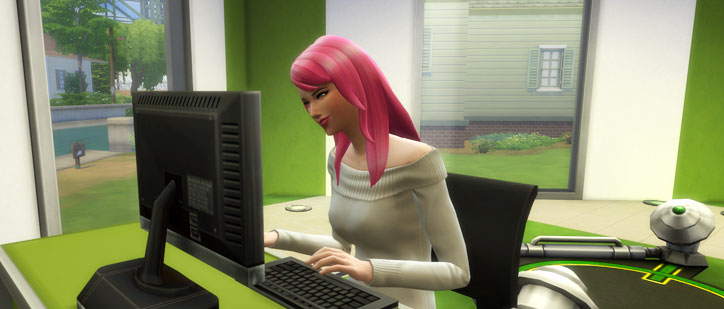 Higher the odds of winning in a game tournament
Make sure your Sim is very Focused. Reach the highest level in the Video Gaming skill. Practice by playing video games to higher the odds of winning.
Professional Tournament (computer)
If you compete in the professional tournament on the computer you will get the most price money out if it. But there is a greater chance that you lose if you compare it with the novice tournament. As you can see in the table below it's worth a try right?
| | Third Place | Second Place | First Place |
| --- | --- | --- | --- |
| Blicblock | §150 | §300 | §450 |
| Sims Forever | §220 | §440 | §660 |
| Incredible Sports | §275 | §550 | §836 |
| MySims Go! | §408 | §804 | §1,212 |
| The R.E.F.U.G.E. | §689 | §1,365 | §2,054 |
| Road Rival Alpha | §1,282 | §2,551 | §3,833 |
| Hillock II | §1,665 | §3,330 | §4,995 |
---
Video Gaming Skill Level Unlocks
Level 1
Play Blicblock (computer, tablet, game mat)
Sims Forever (computer)
Incredible Sports (tablet)
Level 2
Incredible Sports (computer)
Discuss Latest Games (sim)
Debate Game Strategy (sim)
Level 3
Play The R.E.F.U.G.E. (tablet)
Enter Novice Tournament (computer, game mat)
Level 4
Play Incredible Sports (game mat)
Play MySims Go! (computer)
Level 5
Research Advanced Game Strategy (computer, tablet)
Level 6
Play The R.E.F.U.G.E. (computer)
Enter Professional Tournament (computer, game mat)
Level 7
Play The R.E.F.U.G.E. (game mat)
Gossip about Video Game Pros (sim)
Watch a Gaming Livestream (computer, tablet)
Level 8
Level 9
Play Road Rival Alpha (computer)
Play Maniac Matchums (game mat)
Level 10
Play Hillock II (computer)
---
Cheat – Max Video Gaming Skill
There is also a cheat to max your Sims Video Gaming Skill. Use the Cheat Console by pressing CTRL+SHIFT+C. Input the cheat code below to max out your skill level. If you don't want to max your skill level you can change the number 10 with the preferred skill level from 1 to 9.
stats.set_skill_level Major_VideoGaming 10
Visit the Cheat Code page for all skill level cheats.