Tell your Sims to get packing and unleash their inner Indiana Jones! It is time to explore the jungle of Selvadorada in the newest Game Pack for The Sims 4 called Jungle Adventure. Sims can now travel to a new holiday destination, an island full of culture and mysteries.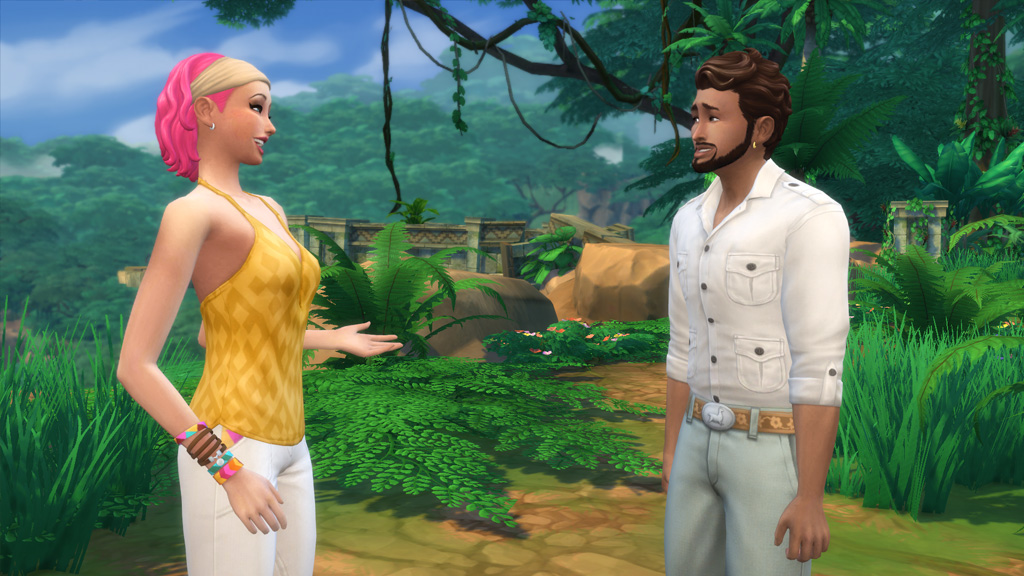 Create a Sim
Dress your Sims jungle-proof with the new clothing options that come with the Jungle Adventure Game Pack! Adventurers can dress for the occasion complete with sturdy boots and safari helmets, while there are also a few colorful and bright options for the locals. The outfits are fun and everything is of great quality.
The feminine to masculine ratio is finally quite balanced as well. Males get a few less options, but honestly I didn't miss anything so it did not matter to me as much. All the staple items are there and the clothing is perfect for an expedition in the jungle! One of the trousers even has a llama belt on it. Just another silly reminder of how much Sims love their llamas! But to be fair… who doesn't love llamas?
The hairdo's for adults are not really my personal taste. Males get a pretty nice wavey hairstyle, but other than that I am not a fan. We are getting 4 other hairstyles which share 2 of the same meshes. The ombre hairdo is a bit weird if you look at how someone would need to dye their hair to reach the same result. The headbands are okay-ish, but I would have loved to be able to pick my own color instead of having one picked for me.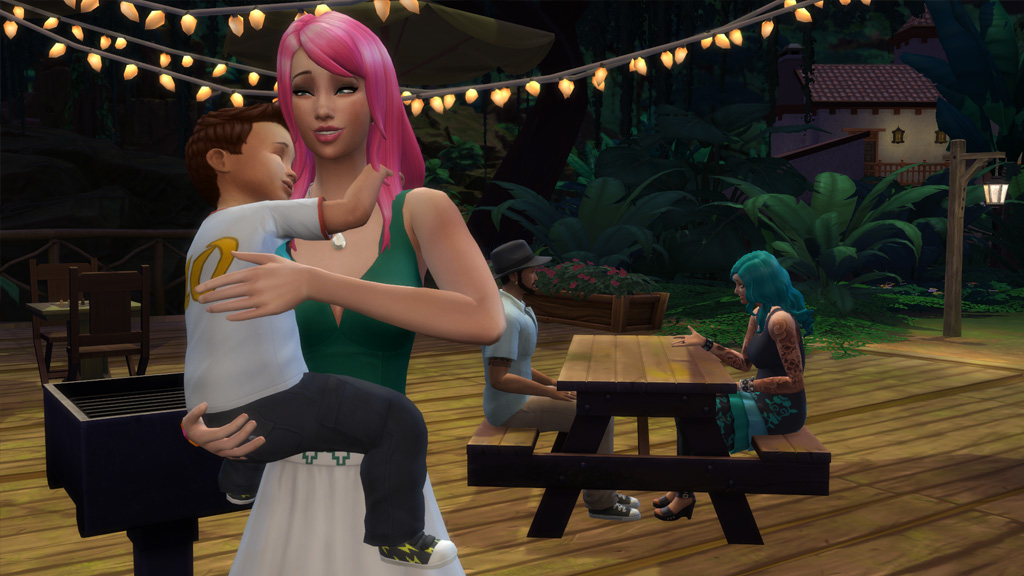 Children and toddlers did get a few new tops to pick from. Unfortunately that is all. How cute would it be to have them wear a bulky safari hat? It would not even require a lot of work as the mesh is already there, it just needs to be scaled down. Don't get me wrong, I am happy toddlers weren't left out completely. It just doesn't feel as if they are part of the actual jungle experience.
We made a nice overview of all the Create a Sim items, so make sure to check out the video down below!
Build & Buy
Next up are the Build & Buy items of The Sims 4 Jungle Adventure. There are plenty of items to choose from and I was more than impressed with every single one of them. So let's take a leap of faith from the highest jungle tree and swing right into it, shall we?
Build Mode
The Build options from Jungle Adventure just made insanely happy. We finally got some of the rustic tiles that I have been moaning about for the last couple of packs and to make up for it we didn't get just one, but multiple! They come in lots of colors and some of them look damaged, making them perfect for this pack.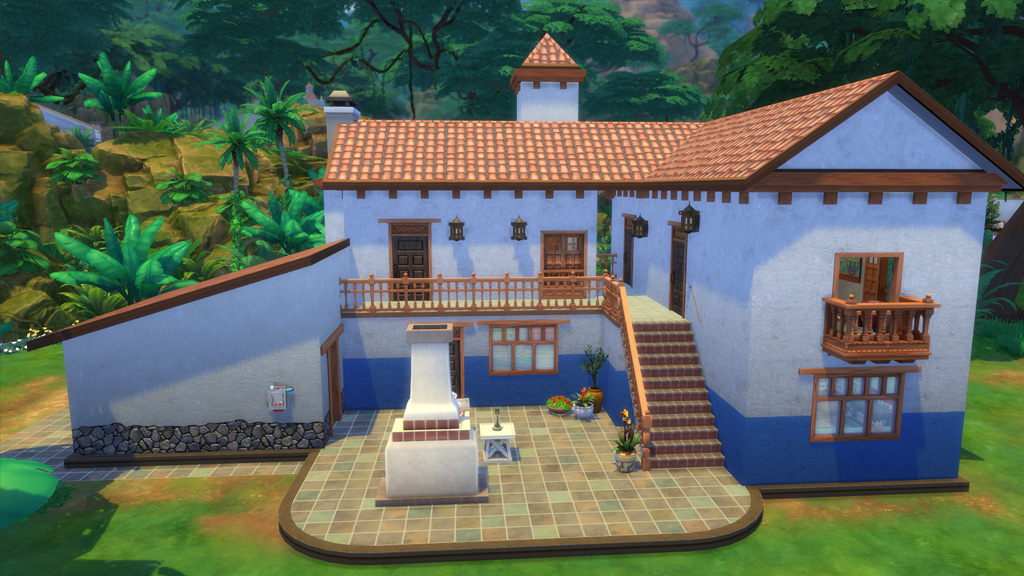 The wallpaper options are also of incredible quality. There are a lot of masonry options, some of which have painted strip for a nice pop of color. The tiles come in amazingly detailed designs and are perfect for your kitchen or maybe the bathroom as there's a matching shower as well!
To finish off your exotic architecture, the pack has provided you with a nice amount of doors and windows. The windows in particular made me feel as if I made my way to Brazil, with shutters to keep the heat out, but to let in the summer breeze at night. Together with the new stairs and roof tiles, you are set when it comes to Build mode!

Buy Mode
The Buy mode items from The Sims 4 Jungle Adventure are everything you'd expect them to be. They are colorful, fun and some of them are just beautiful to look at. There are a nice amount of items in this pack and the quality is superb. The plants, the decorations, just the general vibe of the Buy items is perfect for a trip to the jungle.
To my delightful surprise there is a new kitchen in this pack. And I say surprise as the previous packs let me down miserably and I wrote angry letters to EA and let's just say it wasn't pretty. But let's leave that in the past for now and take a moment to admire our new kitchen. The kitchen is modern, but not too modern. If that makes sense… It's a nice in between.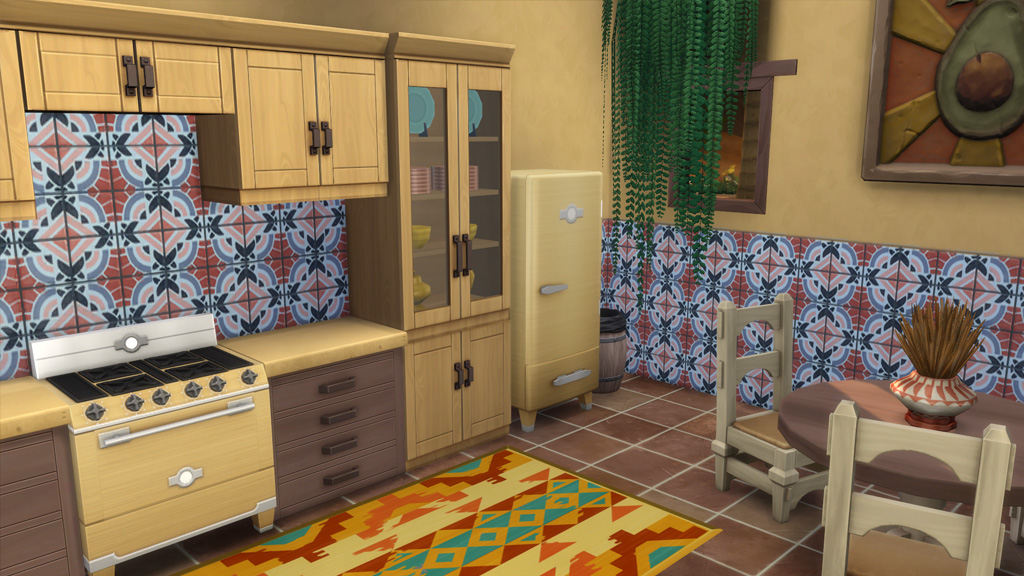 All the other items are great as well, I can honestly not say a lot more than that. A standalone fireplace and a little fountain in which Sims can toss coins, both perfect for a courtyard. There's also another 4-square coffee table, perfect for the living room… Just to name a few examples of the amazing items that you can expect in The Sims 4 Jungle Adventure.
Other than that I might have liked the option to pick my own color combinations, there's nothing to criticize about the items in this pack. And then again, this is a reoccurring problem and has more to do with the lack of a colorwheel of some sort, rather than the Jungle Adventure Game Pack itself.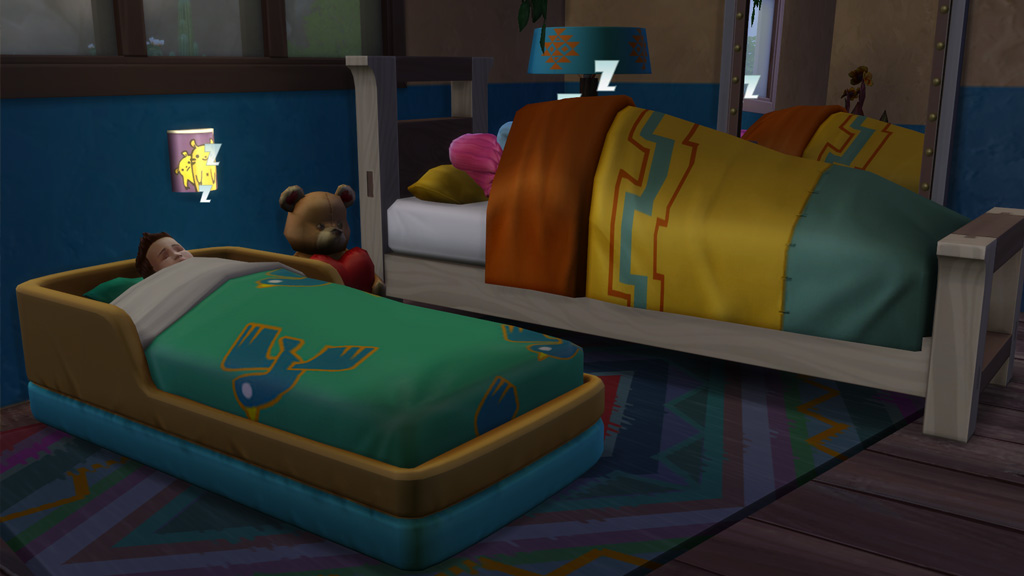 A little side note as it's not officially part of the pack itself, but I really like to mention that I appreciate there is a new bed for toddlers that came with the pre-expansion patch for the release of Jungle Adventure. The designs and colors fit perfectly with the rest of the pack and it's nice to be able to take your toddler with you on expedition in the jungle, if that's what you desire.
Gameplay
The gameplay of The Sims 4 Jungle Adventure is incredible. There are a lot of things to do everywhere you go and it honestly never seized to amaze me how detailed the gameplay of this pack really is. Jungle Adventure is definitely one of the most entertaining Game Packs for The Sims 4 so far.
You will be able to gain the Selvadoradian Culture & Archaeology Skills, both are fairly easy to obtain, but entertaining nonetheless. I would highly recommend leveling both as they might make your trips to the jungle easier. There are new collections for you to complete as well and it's fun to display them in your house in the new Curators Cabinet.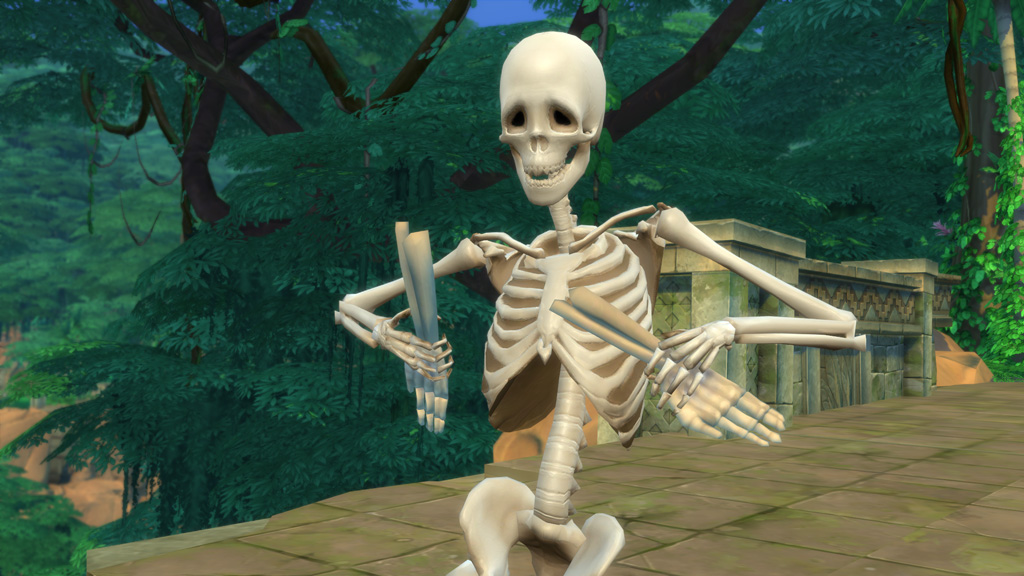 Next to the artifacts and other trinkets, you might encounter powerful relics. The relics are a fun way to play around with the pack a bit more, as they can give you nice benefits even after you returned from the jungle. The funniest one must be the Service Skeleton that you will be able to summon for a couple of hours, much like Bonehilda from previous games. Even funnier when the Skeleton used to be plus sized, as they are now plus size Skeletons, giving "Big-boned" a whole new meaning.























Welcome to the jungle
Your Sims will need to prepare for their jungle safari, which is easiest to do while exploring the rest of the neighborhood first. You will be able to talk to locals who can sell you specific items that you might need later on. Read our guide on how to prepare for the jungle for more information!
The jungle itself can be dangerous. There are some new ways to torture your Sims, from poison to fire or maybe even electricity. I would highly recommend to try out these unsafe options from time to time as well as they are just too entertaining to skip.
There is one temple that you can explore, but luckily the layout of the temple will change each time you visit Selvadorada. This way it stayed a lot more fun to explore everything as each time felt different and surprising. There are also a few parts of the jungle that only open up after a couple of vacations to the new world, so this pack literally keeps you coming back for more!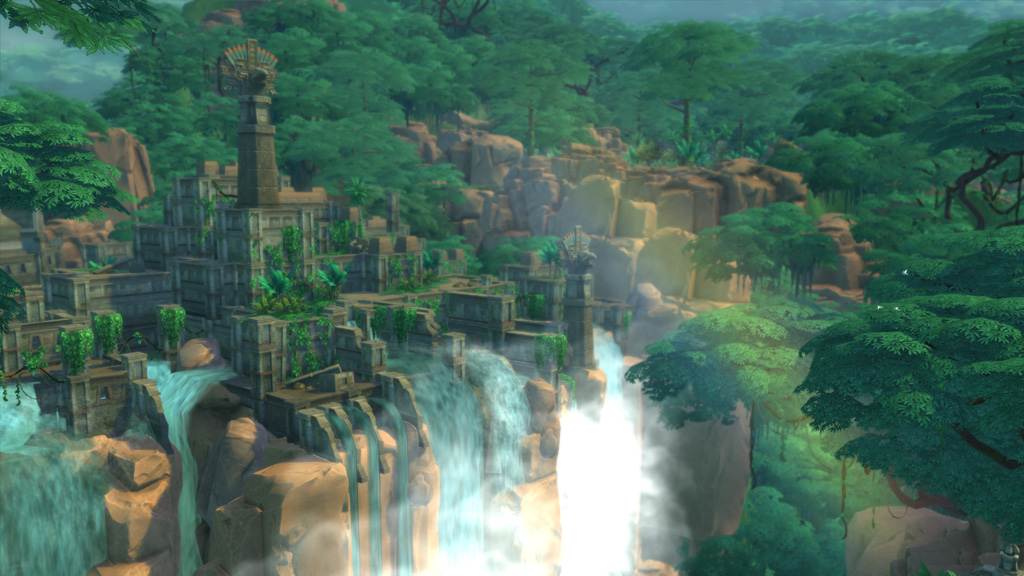 Selvadorada
When you first enter the world of Selvadorada you might be a bit confused about where to go. There are plenty of question marks all over town that you will explore later on in the game. The new world is exciting. You will quickly find out why.
Selvadorada is incredible, just downright stunning. Every turn you take gives you a million things to see and it is honestly mind blowing how much detail went into this world. The waterfalls, the little critters that you can spot here and there… Everything adds up and makes Selvadorada simply just perfect.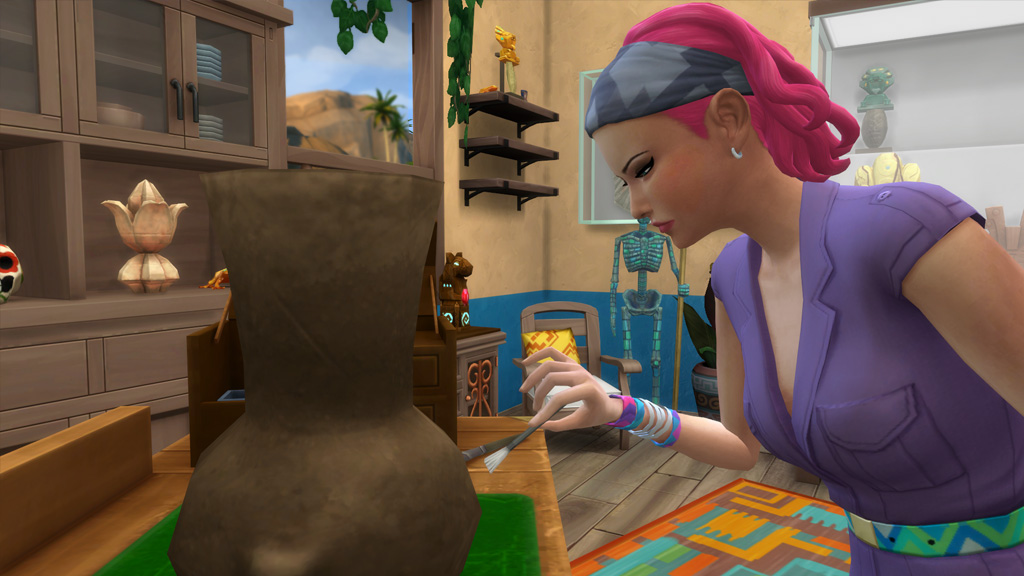 Conclusion
My overall opinion about The Sims 4 Jungle Adventure is that it is well worth your money. I think that Simmers will love this pack as you get a lot of things to do and especially the new world itself is amazing! The quality of the Game Pack is great, and especially compared to the Outdoors Retreat it is taking Game Packs to a whole new level.
The Create a Sim items are not off the charts, but they fit perfectly in the concept of Jungle Adventure. I like the fact that children and even toddlers got a few new things, especially as I'd personally would like to conquer the jungle with my adult Sims more than that I would make it a family vacation.
The Build & Buy is of superb quality and there is a lot variety and you are getting enough options to pick from. The amount of items is great and the whole vibe of the pack just fits. I am personally still over the moon about the fact that we finally got a new kitchen and rustic floor tiles… But hey, I might have been a bit biased there. Let's just say I am happy with EA's peace offering and that I am glad my angry letters have helped them realize their huge mistake from previous packs.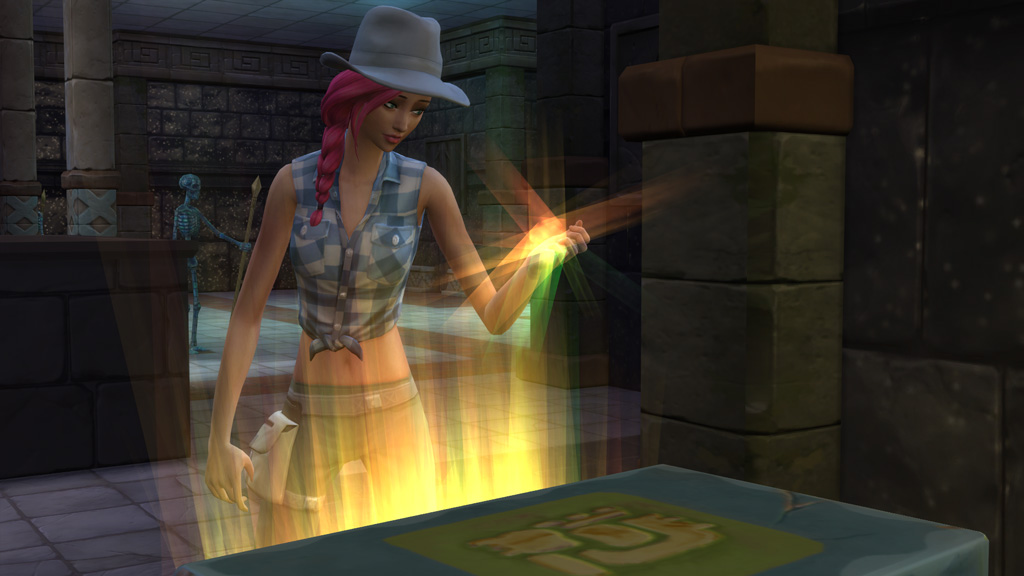 Jungle Adventure keeps entertaining me on the long run, even when you have explored the jungle a couple of times. It is nice that the temple keeps changing, which makes it more of a challenge and the fact that you can not enter parts of the jungle until you come back more often, keeps you engaged with the content.
All in all the pack is a great addition to the game and I highly advice fellow Simmers to purchase the pack. It will not disappoint you as it surely is a hidden treasure.