Learn the Writing Skill in The Sims 4
Ideal Emotion: Inspired
Best Career Choice: Writer or Open a Retail Shop
The Writing skill is a great way to make money in The Sims 4. Write emotional books, screenplays and earn royalties with your self written books. This will give your Sim a constant stream of income for your their household. If you have The Sims 4 Get to Work you can sell your books in the Retail Shop.

By reaching level 10 with the Writing Skill you'll earn the Achievement: Literal Genius

---
Level up your Writing Skill
If you want to level up this skill faster make sure your Sim is Inspired while leveling up. There are 2 ways to level up your Writing Skill:
Read a book about the Writing Skill
You can buy 3 volumes of Writing skill books at a Bookcase or at the Computer.
Write books on the computer
Buy a computer and start writing.
Become Inspired
You can take a Thoughtful Shower to get a +1 Inspired moodlet or Browse Art on the computer. When you reach level 3 with this skill you have the ability to Read Non-Fiction Books for Reference. This will give you a +2 Inspired moodlet for 4 hours after you finish your research.
Create the perfect room to become Inspired. The Postcards collection gives off an Inspired aura or you can buy one of the Plumbob lamps: Shine On Ambitions Award or Enchanted Aurora Supernatural Award. You can also unlock Inspired aura items from specific careers; Entertainer, Painter and of course Writer.
Making money with the Writing Skill
If you want to make a decent living from writing books, you should choose the Writer career next to your Writing skill. This will have a huge impact on your salary. This career path also unlocks useful objects with an Inspired emotional aura to improve the quality of your books.
Each book takes around 4 Sim hours to write but it's really worth it once you finished writing a book. When you are done writing a book you can choose to publish this book. You have 3 options once you reach a higher skill level; Self-Publish Books, Sell to Publisher, Submit to Literary Digest. Submitting to Literary Digest will earn you the most money but this can only be done once a week. Click on the mailbox to publish your book and earn royalties. If you choose to do this the book will disappear from your inventory so it's recommended to 'copy' this book first if you want your Sim to read it. Place the book in the world and choose Create Copy, this will cost a little money. The copy of the book can not be published so place that one in your bookcase.
If you have The Sims 4 Get to Work you can open up a Retail Shop with your self written books. This is also a lot more fun instead of choosing a career as a Writer.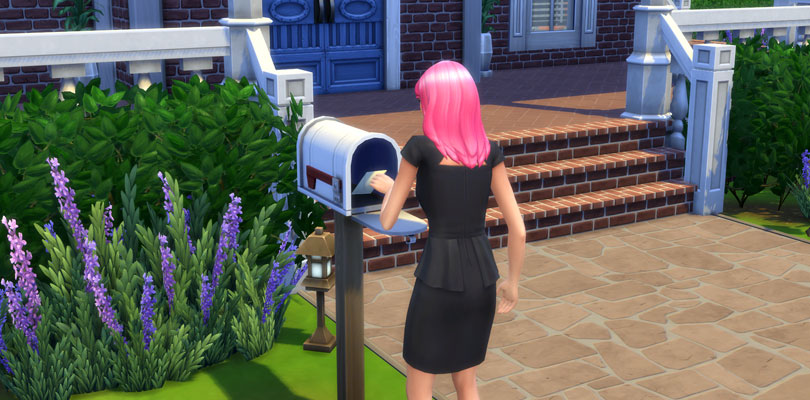 Writing and Reading Emotional Books
When your Sims has a high enough level they can write emotional books. For example, when your Sims is flirty they can write a Romantic Book. When your Sims in reading this book they will also get a flirty moodlet from it. You can write emotional books when your Sims is: Flirty, Sad, Confident or Playful.
---
Writing Skill Unlocks
Unlock new (emotional) books for your Sims to write and new writing interactions.

---
Level 1
Practice Writing
Write Children's Books

Level 2
Self-Publish Books
Write Sad Books (sad emotion)

Level 3
Write Short Stories
Write Excuse Notes
Read Non-Fiction Books for Reference
Discuss Favorite Book/Author (interaction)
Write Motivational Books (confident emotion)
Write Playful Books (playful emotion)

Level 4
Write Poems
Write Love Emails
Write Romantic Books (flirty emotion)

Level 5
Write Non-Fiction Books
Sell to Publisher
Recite Love Poetry (interaction)

Level 6
Write Screenplays

Level 7
Write Fantasy Books
Enthuse about Iambic Pentameter (interaction)

Level 8
Write Science Fiction Books

Level 9
Write Mystery Books
Submit to Literary Digest

Level 10
Write Biography
Mentor Sims in Writing

---
Cheat – Max Writing Skill
There is also a cheat to max your Sims Writing Skill. Use the Cheat Console by pressing CTRL+SHIFT+C. Input the cheat code below to max out your skill level. If you don't want to max your skill level you can change the number 10 with the preferred skill level from 1 to 9.
stats.set_skill_level Major_Writing 10
Visit the Cheat Code page for all skill level cheats.