Piano Skill in The Sims 4
Ideal Emotion: Inspired
Best Career Choice: Entertainer
The Piano skill is one of the musical instrument skills in The Sims 4. Buying a Piano for your Sims is rather expensive, so in the beginning you can just go to the Nightclub to practice. Be careful, if you play the Piano with other Sims in the room with a low level Piano skill can make your Sim embarrassed.
When you level up in the Piano skill you will unlock new interactions like; Listen and Learn from other Sims who are playing the Piano, Write your own songs and license them or even a romantic interaction 'Promise to Dedicate Song' to other Sims.
By reaching level 10 with the Piano Skill you will earn the Achievement: Ivory Tower
Level up your Piano Skill

If you want to level up this skill faster make sure your Sim is Inspired while leveling up. There are 3 ways to level up your Piano Skill:
Read a book about the Piano Skill
You can buy 3 volumes of Piano books at a Bookcase or at the Computer.
Play the Piano
Buy a Piano and practice or play songs on it.
Listen and Learn
After you reach level 5 you get this new interaction, Listen and learn. Click on the Sim who is playing the Piano and has a higher Piano skill level than you have.
Become Inspired
You can take a Thoughtful Shower to get a +1 Inspired moodlet. When you reach level 2 with this skill you have the ability to Research the Piano on the computer. This will give you a +2 Inspired moodlet for 4 hours after you finish your research. And after level 3 you will get the interaction to Plunk for Inspiration on the Piano, this will give you a +1 inspired moodlet for 8 hours!
Create the perfect room to become Inspired
The Postcards collection gives off an Inspired aura or you can buy one of the Plumbob lamps: Shine On Ambitions Award or Enchanted Aurora Supernatural Award. You can also unlock Inspired aura items from specific careers; Entertainer, Painter, Writer.
Making money with the Piano Skill
You can make some money with the Piano skill at level 4, not much but some. Go to a crowded place like the Nightclub or place a Piano at the park and start playing. The higher the skill, the higher the tips. The maximum money you can get from tips is §20 from each Sim.
After you reach level 8 you have the option to write your own songs, this takes a very long time but this is worth it. If you are done writing you can license the song by clicking on the mailbox. This will give you royalties. These royalties will be around §200 each day for each song from now on.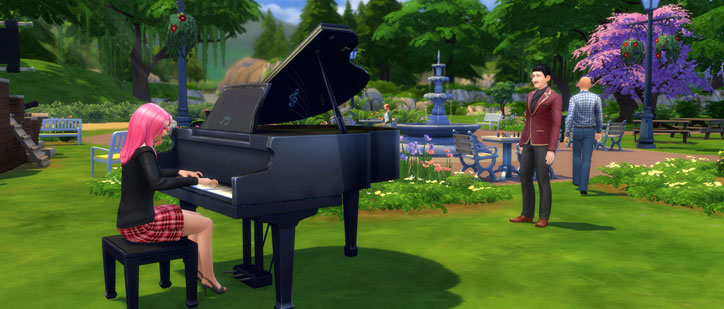 ---
Piano Skill Level Unlocks
Level 1
Level 2
Rhapsodize about Piano Sonatas (sim)
Appreciate Classical Music (stereo)
Research the Piano (computer)
Level 3
Play Traditional Songs (piano)
Plunk for Inspiration (piano)
Level 4
Play Blues Songs (piano)
Play Concerto (piano)
Level 5
Play Romantic Songs (piano)
Listen and Learn (sim)
Level 6
Serenade (piano)
Play Post Bop Songs (piano)
Level 7
Play Latin Songs (piano)
Promise to Dedicate Song (sim)
Level 8
Write, Scrap, and Name Songs (piano)
Play Ragtime Songs (piano)
Jazz Up the Place (piano)
Level 9
Play Classical Songs (piano)
License Written Songs (mailbox)
Level 10
Play Avant-garde Songs (piano)
Mentor other Sims (piano)
---
Cheat – Max Piano Skill
There is also a cheat to max your Sims Piano Skill. Use the Cheat Console by pressing CTRL+SHIFT+C. Input the cheat code below to max out your skill level. If you don't want to max your skill level you can change the number 10 with the preferred skill level from 1 to 9.
stats.set_skill_level Major_Piano 10
Visit the Cheat Code page for all skill level cheats.