Time to share your greatest creations Simmers, as The Sims 4 Gallery just became cross-platform! This means that no matter what platform you use, other players will be able to download your work. Console players will need to make sure to link their EA accounts. Make sure to read the patch notes below to learn how to do this. Players are not required to have any active online subscriptions for their PlayStation Plus or Xbox Live Gold.
To prepare for the release of The Sims 4 Tiny Living PC/MAC players also received a patch today. The update includes a looooot of bugfixes, but no major content.
Read the official Patch Notes
Update 01/16/2020 – PC: 1.60.54.1020 / Mac: 1.60.54.1220
Hello Simmers! Hope you all had a fantastic holiday season.
In today's update we welcome you all to The Sims™ 4 Tiny Living Stuff pack; where your goal is to build the most comfortable space within the smallest footprint possible. Stretch your imaginative muscles as you figure out creative ways to cram in all you need! How low can you go?!
Besides preparing us for Tiny Living, in this update we have addressed a few issues as well as we have set aside quite some time for a new addition in our language roster, we are happy to announce that The Sims™ 4 is now supported in Simplified Chinese! We are very excited to release this to the public and further connect with Simmers in different languages across the world!
-SimGuruNinja, Ft. SimGuruRusskii

FIXES & UPDATES
The Sims 4
Fixed an issue in which Hygiene was not being resolved when Taking a Shower on any Bathtub and Shower Combo.
Fixed an issue in which the game would jump to Ultra Speed randomly when some Service NPC, specifically Maids, were on the Lot. Talk about speed cleaning!
Resolved an issue related to Traveling that resulted in Error Codes: 109:8c87f108 and 106:69b9523b.
Photo frames used within Gallery Uploads would not retain their chosen color once those lots were downloaded from The Gallery. They've been properly chastised and will listen to you now.
Freelancer gigs can now complete and/or update accordingly while on Vacation. So if you want to work while you vacay I guess you can now. Sucker.
Burned no longer The Child Statue (sculptTableMedium_EF22GENchild01_set1) will be.

Inventory can be also be placed in, and live draggable no longer can be.

Fixed an issue where two "Tuck In" interactions were able to be selected when Children slept on any bed. Kids – so needy, amirite?
Get Together
Toddlers will now route appropriately when selecting 'Plan Outfit' on Closets. Well, as appropriately as those slow little Sims move anyway.
Seasons
Solved an issue with swimwear yfBody_EP05SwimRetro_PinkGreen that made it display incorrectly in certain Graphics Quality Settings. And no one wants a swimsuit malfunction!
Get Famous
Actor Sims can now Check Open Auditions properly when returning from Work. Get that bread! Be a starving artist no more!
Sims' Acting Gigs Career Panel will now get updated properly on performing tasks. Credit for your work? Imagine that!
Discover University
Sims will no longer see the option to remove Robo Arm when choosing to remove Computer Glasses.
Fixed an issue in which the option to Pay Student Loans was available even though students had enough Simoleons to cover their Tuition.
Sims can now be warned about losing scholarships if they choose to withdraw from the term. And they're lucky to get a warning! Expel 'em, I say (they don't listen to me, though)!
Some lots were unloadable in Britechester and made the game unresponsive. That should no longer be the case.
Outdoor Retreat
A visual issue was resolved where highlighting the Granite Falls Blossom would result in a strange texture.This however only was affecting Simmers who had StrangerVille installed as well.
Dine Out
Food was sometimes not able to be ordered or delivered when the game was exited or reloaded from the Main Menu. But a Sim's gotta eat after all, so we've fixed it.
Realm of Magic
Two 'Inferniate' interactions display on some rugs. As much as some hate those rugs' patterns, only one 'Inferniate' is more than enough.
Laundry Day
Clothes moved to the clothing line to dry were not getting dry. We've reduced the moisture in the air and it should work now.
Moschino
yfHair_SP15SlickedBackLong was displaying with a grey line. "Not that there's anything wrong with a little gray," says SimGuruNinja reflectively touching his hair.
"Take Photo Of" was allowed to target unmet NPC Sims. Creepy and awkward for sure. Go meet them first for goodness sake like a normal human.
Freelance Photographer Sims can now see all proper tasks for gigs 'Genius Professor Outdoor Wear Study' and 'Everyday Activities Fashion Shoot.' So no more excuses for any future lackluster job performance!
Freelance Fashion Photography Gigs 'Finding the Essence of Efficiency with Everyday Style' and 'Fantastic Formula for Formal Style' now display correct information for Pay, Due Date, and/or Required Skill Level.
The Amp Stack (stereoFloor2x1_SP15GEN) now functions as a Stereo, living to its full potential. Rock on!
Burnt photos would not be charred anymore once placed outside Sims' inventory. We've burnt them all to a crisp and they'll appear correctly now.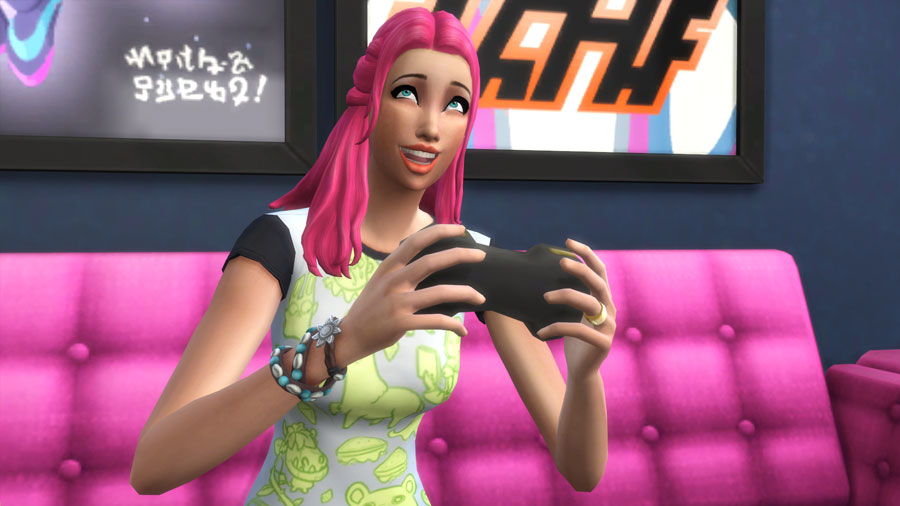 Update: 01/16/2020 – v1.21 PS & Xbox
Sul Sul! Now you can share your Sims household and your own creative builds through the Gallery which is available now on PlayStation 4 and Xbox One. The Gallery opens up a world of content created by other Simmers, ready to download and use in your Worlds. Be sure to favorite households and builds within the gallery!
What's New?
Gallery
If you aren't familiar with the Gallery, it's like My Library only global. On the Gallery you'll find creative Simmers sharing their Households, Lots and Rooms for everyone to download and use.
There are a few things you should know before diving in.
The Gallery does not require you to have PlayStation Plus or Xbox Live Gold subscriptions to access.
To use The Gallery, you will need to connect your PlayStation Network or Xbox Live account to your EA Account.

When you first start The Sims 4, you should see the invite to link to your EA Account if you haven't done so already.
You can also link your account by going to Game Options > Other
Linking your account will also unlock Grim's Ghoulish Guitar

The Gallery is cross-platform. That means PC, Mac, PlayStation 4 and Xbox One Simmers all use the same Gallery.
Simmers who disable cross-platform play on their accounts will only be able to see creations from Simmers that have been uploaded from the same platform
Simmers who have blocked Community Creations will not be able to use the Gallery but will still have access to My Library
Creations using CC will not be available on PlayStation 4 and Xbox One Gallery
PlayStation 4 and Xbox One Simmers have the ability to Block and Unblock players from within The Gallery. These blocks are managed via your EA Account and do not apply to PSN or Xbox Live friends or block lists.