The Sims 4: Laundry Day Stuff has finally arrived. In April 2017 developers from the game reached out to the community to help create a new Stuff pack. Drop everything and start swapping outfits, because your Sims can now do their own laundry! Apparently it is something we all wanted to do in The Sims 4, so… yay!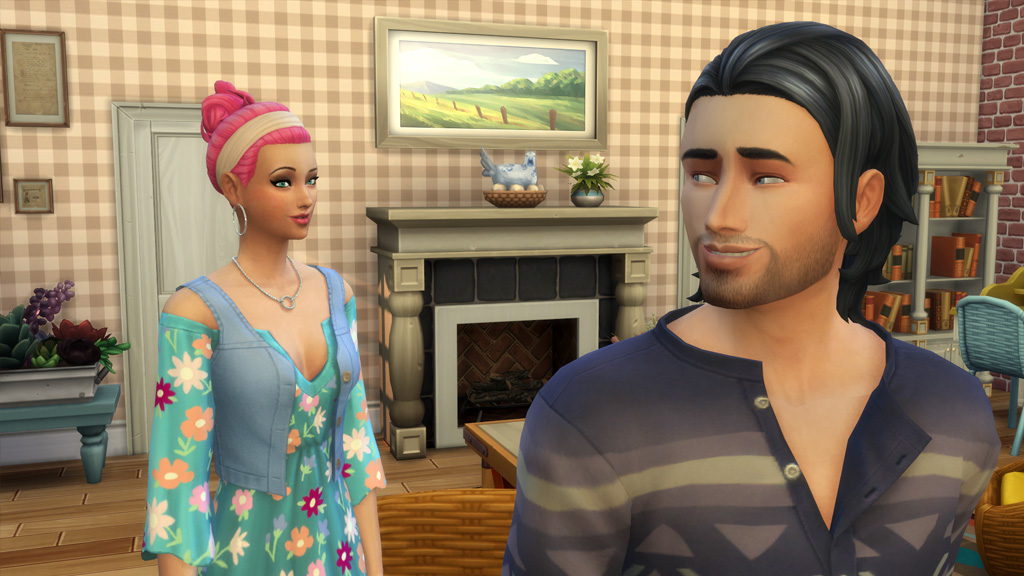 Create a Sim
Country meets boho in the new Laundry Day Stuff pack! The new outfits are hippie-proof for sure, all the dainty bohemian prints and floral designs are amazing. The quality of the items are superb and it's fun to see that the winners of the surveys made it into the actual game. Not that I thought otherwise, but you know…
Women get a beautiful dress and lots of cute tops to pick from for their new outfits. The tops can be combined with a new pair of skinny jeans, with a wide belt around it. The new boots are the prettiest ones yet, they aren't as bulky as some of the others in the game. Simple, but elegant and fun. I also loved the over-knee socks. They are super cute, I just found it odd they were under the legging category, but I can totally live that.
Sadly, men are given a lot less items than women again. They are getting a mere total of three tops and two bottoms and that's about it. It is somewhat understandable as a lot of Simmers prefer to play with female Sims, but it just feels a bit imbalanced. I often struggle to give my male Sims a fun outfit, because I find myself recycling outfits from the Sims before. It's all just a bit sad, really. Males aren't even getting any shoes. These poor, shoe-less creatures…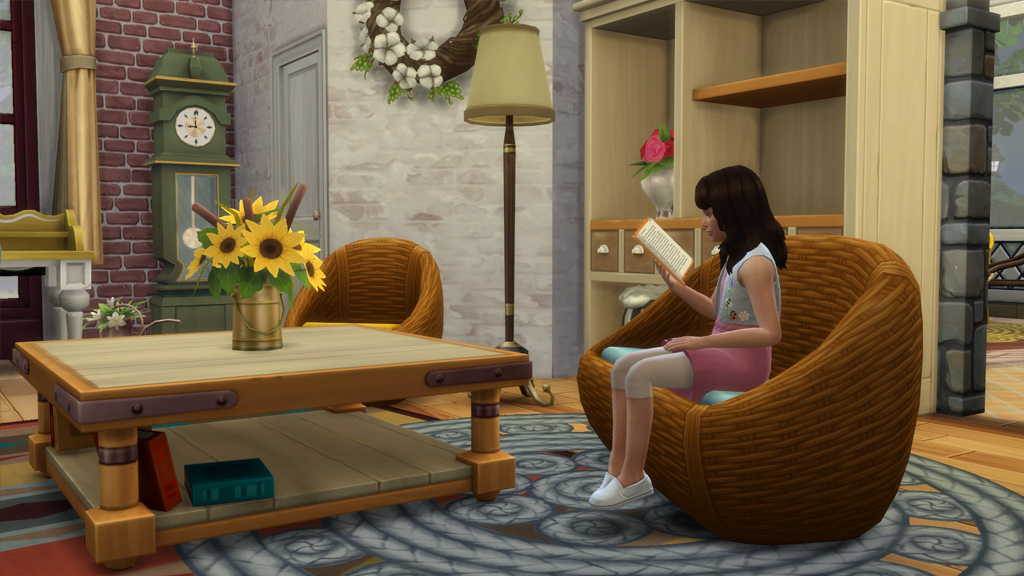 I was also a bit bumped out when I found out that kids get just two items in total. A dress and a sweater. No hairdos, no shoes, no accessories. When we got the reveal of the two winners of the votes it never came up to me that it meant those would be the only ones. But silly me, perhaps my own fault for thinking otherwise.
Next to the outfits we were given three hairdos for Sims aging Teen and up. The two hairstyles for women are perfect for a day of cleaning around the house. Pick between a simplistic updo with a hairclip or a cute bun with a hairband to get all those long hairs out of the way. Males are given a unisex hairdo which is of great quality and it looks alright. It's just not my favorite hairstyle in the game.
Well then. Can I just say how sad I am that toddlers are completely left out of this pack? We have had a few additions for them to the game, but not nearly enough. And especially as this was a great opportunity to give them some bohemian clothing too, as they weren't around yet for The Sims 4: Movie Hangout Stuff. The only thing for toddlers is a simple, but cute nonetheless, animation when they play in the wash tub. Such a bummer.

Build & Buy
As there aren't many Build items, let's quickly cover these first. There is one beautiful window for a medium sized wall. It makes any room look really spacious and it's a lovely object. The only thing I could add is that perhaps it would have been nice to have different sizes so it would fit on any wall, but then again, that would just have been a plus. It does not take away from the great quality of the window.
Then there are the other two Build items: the doors. The difference between them is a sun screen that covers part of the little window, which is a really nice detail. The doors come in a nice variety of color swatches. Next to that the quality of the design is great and it suits the country-vibes of Laundry Day Stuff very well.
Unfortunately there aren't any other Build objects in the pack. A rustic floor tile or maybe a cheesy wallpaper with a floral pattern would have been amazing for Laundry Day Stuff. There are rustic tiles and wallpapers in other packs, but I think it's a missed opportunity.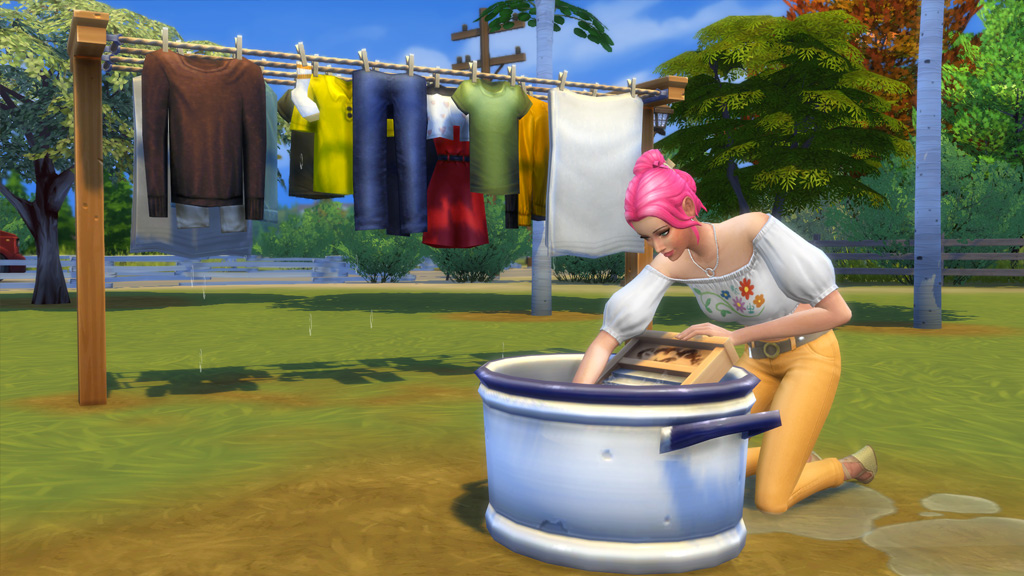 Moving on to the Buy items, we are getting an amazing amount of 46 items to pick from! I must admit I am well impressed with this number. It's a nice change to see a Stuff pack finally filled up with a proper amount of "Stuff", because some of the other packs tend to feel a bit empty.
First up are the washing machines obviously. A great detail is that the dryer can be stacked on top of the washer. The machines have plenty of fun color swatches to pick from, ranging from bright red or yellow to a soft pastel pink or blue. There's also a wash tub and clothes line for Simmers who would like to play with a more eco-friendly lifestyle.
There are plenty of decorative items in The Sims 4: Laundry Day Stuff. Wicker baskets in all shapes and sizes, succulents in crockpots, an ironing board mounted on the wall, this pack has it all! All the clutter can make any house feel homey. There was not one decorative item that I did not like, as they were all of great quality and design AND variety! The decorations are simply amazing.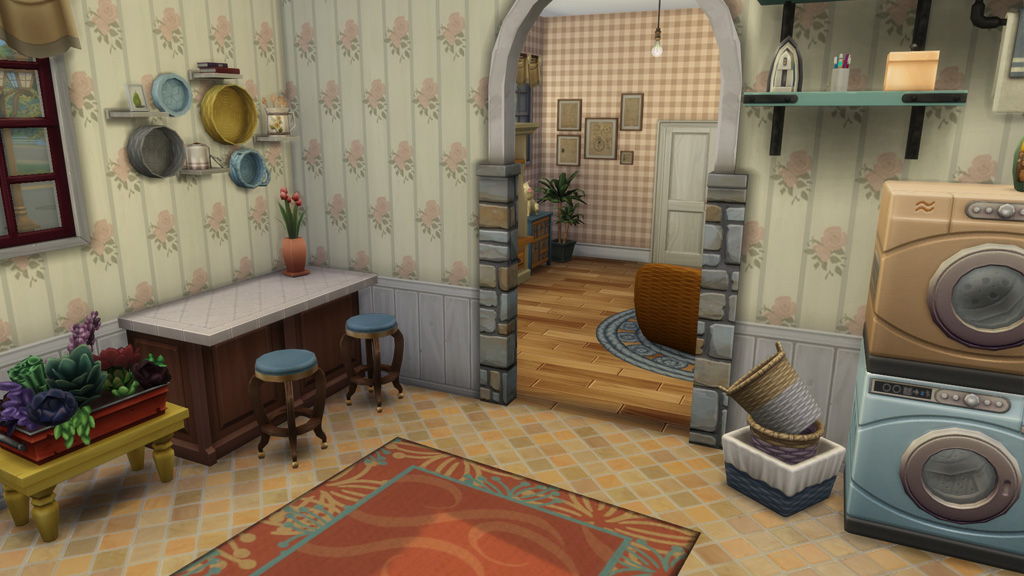 The SimGurus seemed to have learned their lesson with the giant rugs from The Sims 4: Toddler Stuff. Three of the new rugs come as a set, but separately as well. This way Simmers can pick their own variations, giving a lot more freedom to the players which is great.
Overall I am very content with the quality of the Build & Buy items. However, I do have one complaint. The items fit perfectly in sort of a scullery type of room, right? Then why are there no counters to go with the rest of the objects? Now I am robbed of a rustic kitchen not just once, but twice! The Sims 4: Cats & Dogs broke my heart and now this. I am deeply saddened by it and EA can expect me to pull out my fancy letter paper & post stamps once again.














Gameplay
The Gameplay of The Sims 4: Laundry Day Stuff is immensely detailed. It's incredible how much effort went into the gameplay as it makes the dull action of doing laundry a lot more entertaining. It does not take up a lot of your Sims' time, but you can still benefit from it. If you want to read more about doing your laundry make sure to check out our guide!
Whenever your Sims switch outfits, laundry will automatically be added to any hamper on the lot or, if your Sim is a slob, to the floor. Laundry has different stages, so if you don't watch out it can become a gross pile of foul clothes, including a green stench cloud coming from the pile… Yikes!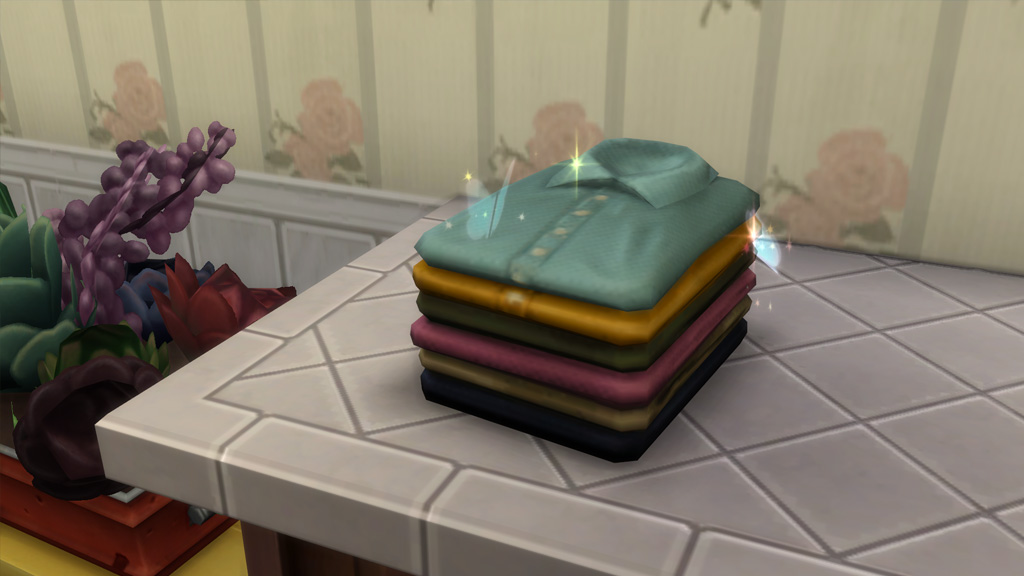 It's amazing how they integrated things like smell of the laundry into the gameplay. Putting away dirty laundry can later on make your Sims feel embarrassed or angry, while clean clothes make them happy. It gives a nice opportunity to boost their Sims' moods or perhaps even torture them a bit if that's more your cup of tea…
If your Sim uses the wash tub to clean their clothes, they will even gain a tiny bit of Fitness skill. How cool is that? Swimming makes laundry wet if you change outfits right after and you can even search laundry piles & hampers for loose change and other little objects. It is the small things like this that gives the gameplay of the pack just that little bit extra. The details are amazing,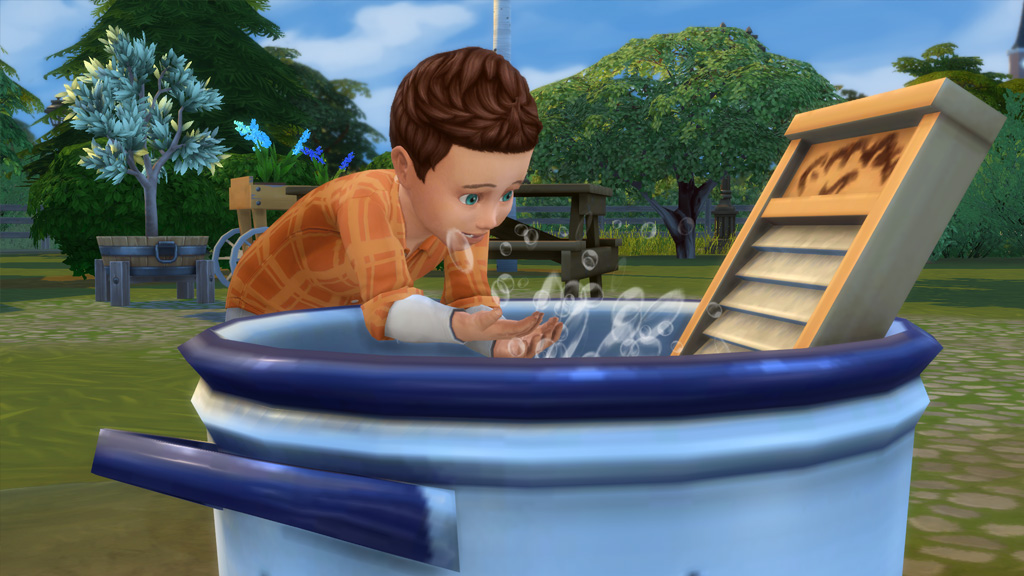 Don't be afraid what laundry might do to your neighborhood. It only involves your current active household, so townies won't leave piles on the floor everywhere they go. Laundry is optional, even in the active household. If you don't want to do laundry for a while, just delete all hampers, machines & wash tubs from the lot and you're good.
Sometimes it might even be a safe option to take a break from laundry. Dryers are a real hazard if they aren't maintained properly. Lint can catch fire and that can become very dangerous for obvious reasons. Washing machines can break two ways. If both the electronics and plumbing are broken, puddles of water surround the machine… Never touch electronics while standing in water kids! Don't say I did not warn you.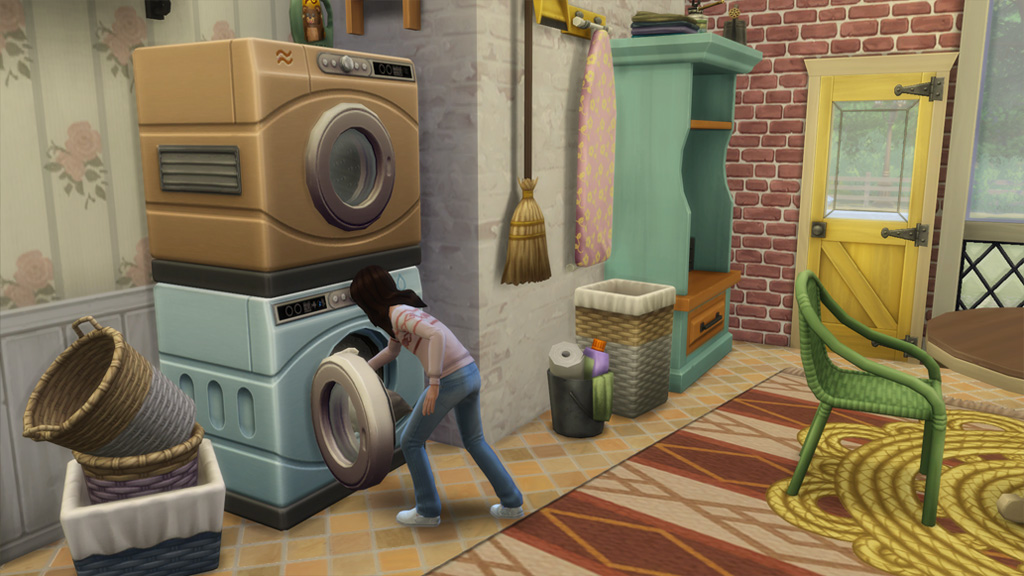 For the first time children are able to do laundry as well. If the dryer is stacked up on the washer, they won't be able to reach the machine. However, if it's on the ground they'll manage just fine. Kids can set fire to the machines and as they can't extinguish themselves it might be a good idea to keep an adult around just to be sure. If you have the Parenthood Game pack it actually gives them extra responsibility too!
Previous packs are well integrated in the Laundry Day Stuff pack. Maids as well as the butlers from Vintage Glamour Stuff will assist your Sims in doing their laundry. Cats from The Sims 4: Cats & Dogs can interact with the Laundry Day Stuff pack too. They can jump on top of the machines or even play with the droplets coming from the clothes line. It's really cute to see them play with the water.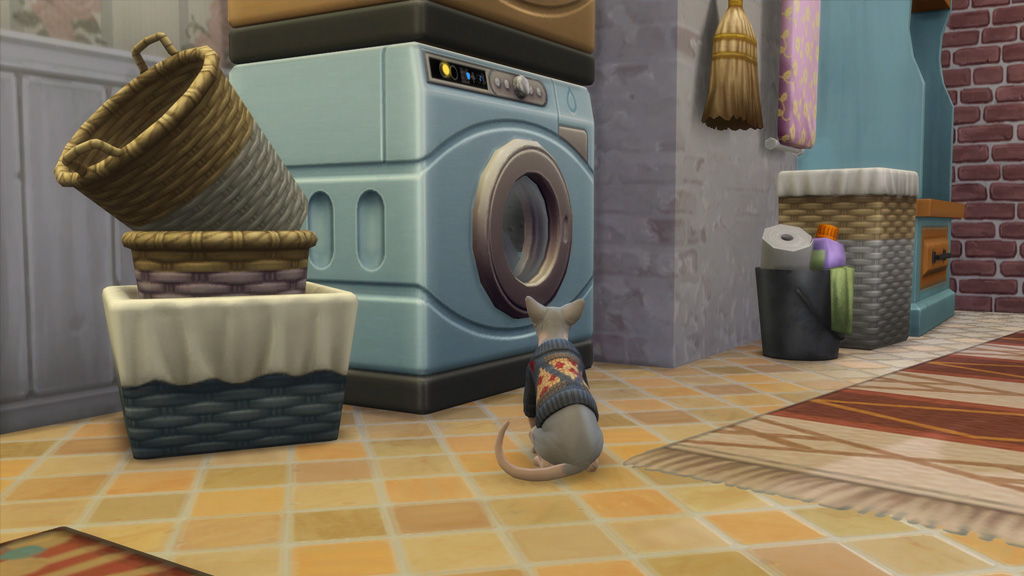 Conclusion
The Sims 4: Laundry Day Stuff is the first community pack that we've gotten so far. It was interesting to see the different aspects of development even if it meant we were "just" voting on things. The team took the opinions of Simmers at heart and went with what the player base wanted. Hopefully EA will consider to do more of these community-guided packs in the future.
The Create a Sim items are gorgeous. The quality is very good and I think some of the items have become a personal favorite instantly. There wasn't one CAS item that I did not like as I could see myself using all of them in the future, which is definitely a plus.
Unfortunately males and kids are being left behind a bit and toddlers have been left out completely. As toddlers are relatively new, you would expect more focus on them since they are a few years behind. If you are a family player it might be a thing to consider before purchasing this pack.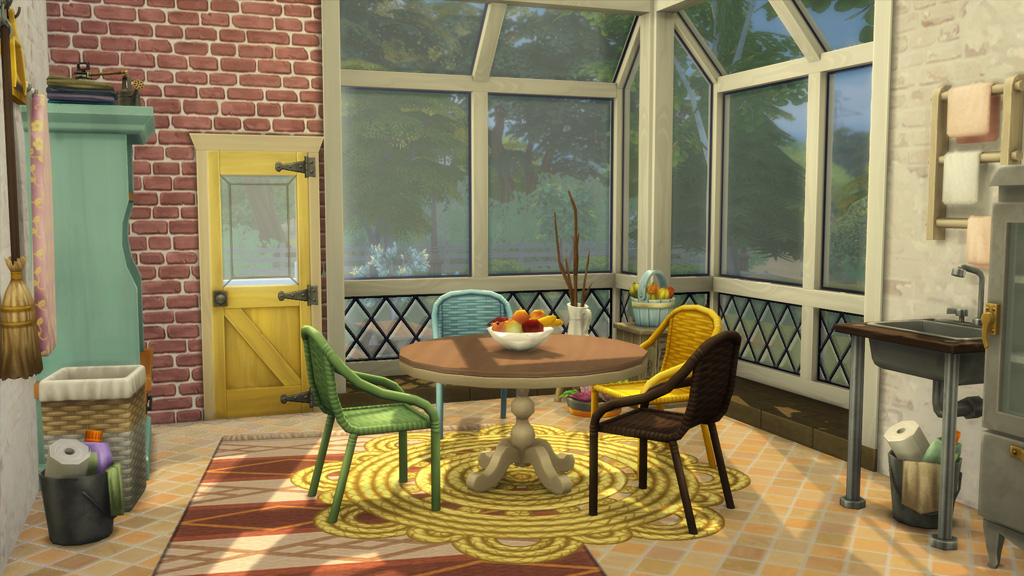 The Build & Buy of the Laundry Day Stuff is amazing. The items are beautiful and the quality is nearing perfection. There are plenty of fun color swatches for each object and it is fun to mismatch everything. I love the country style of the pack and the rustic objects are a nice addition to the game. It's a shame we aren't getting any wallpapers or floors, but if you can look through that fact this pack simply just is a must-have for every Simmer, even if it's for Build & Buy alone.
The gameplay of the pack is surprisingly good. The fact that it's not that intrusive in the game is a big plus too. The gameplay is super detailed and funny. There are little interactions and moodlets hidden in the game which makes it refreshing and interactive. I must admit I was a bit skeptical as I wasn't a big fan of the idea of a laundry pack, but Laundry Day Stuff has won me over.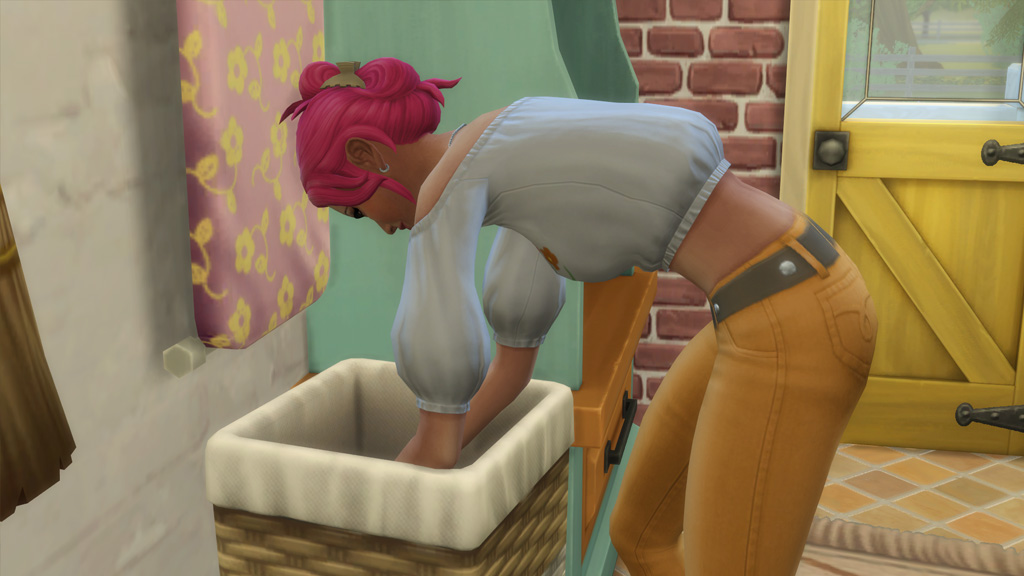 Overall it's a very well-made pack and I think it's very promising for upcoming Stuff packs. If you aren't as bitter about kitchen counters as I am, then this pack might even become one of the best Sims 4 Stuff packs out there. 😉