Collecting Geodes in The Sims 4
Geodes can only be collected when you have The Sims 4 Get to Work expansion pack. They are beautiful minerals that shows a pulsating glow when placed on your Sims lot. There are a total of 6 Geodes to collect in Sixam and all with a different color. Geodes can give your Sim a Focused moodlet when studied.
Unpolished Geodes can be used in the cloning machine when your Sims chose the Scientist Career.
How to collect all Geodes
First you need to find Unpolished Geodes. These can be found in Sixam, the Alien world. Use the Wormhole Generator in the Science Lab or a Rocket Ship to get your Sim into Sixam. When your Sim has arrived you need to find rocks that have a orb on top of it (Geode Hollow) to find the Unpolished Geodes. If you found a Unpolished Geode you can polish it into one of the 6 Geodes. This is random and it may take a few times to get the right one to complete your collection.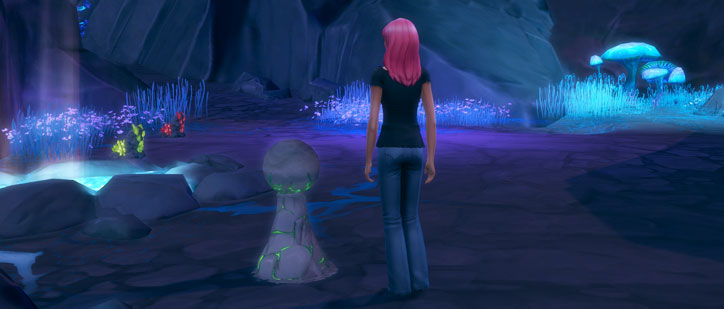 You can also unlock all the Geodes with the Buy Debug mode cheat (adds extra objects) found on the Cheat Code page. Place a lot of Unpolished Geodes in the world and polish them to normal Geodes.
Geodes Collection
Geode
Rarity
Price

Corbut


"True Blue" Xur Corbut managed to unite the ancient clans. He ushered in the modern era of tranquility where the search for the ultimate party is prized above all else. Legend has it that Corbut was able to champion the most legendary party ever held on Sixam. Everyone on the planet took part... except for one holdout. "Glumbut the Wet Blanket."
Common
§50

Eye of the Stormbore


Eye of the Stormbore looks like the terrifying red eye of an ancient creature that used to terrorize unexpecting folks slumbering away in dream land. It would sneak up, wait hours, and then look straight into your soul as you woke up. The Stormbore would then run off delighted to have surprised another poor sap. Is it any wonder they went extinct long, long ago?
Common
§50

Glumbut


Glumbut believed that partying was a waste of time. He thought it was a waste to spend immense amounts of resources trying to make Fizzy Juice 2% more fizzy. Nobody liked Glumbut very much. But hey, they named this rock after him. That's something.
Common
§50

Mylom's Tonic


Burble's Brew was an immensely popular drink a few centuries ago. Anyone who was anyone was drinking it. But, before you knew it, everyone's hair was falling out. Almost the entire population became bald. Folks scrambled to cover up the shame of their chrome domes. But, Mylom was brave enough to proudly display her bald head. And, soon others joined her until it became fashionable to do so. To this day her name is synonymous with inner beauty and strength. This stone was named in her honor.
Common
§50

Starflake


If you squint your eyes and turn your head, this geode looks a little bit like a snack food that became an intergalactic sensation when the Duchess of Hiattoid tripped on one at her coronation.
Common
§50

Zarinne


Zarinne was a legendary dancer that climbed the dance battle ranks on the colony of Funkistan. She became well known for wearing a bright orange jumpsuit which complimented her fair blue skin tone.
Common
§50