Greatest Retail Shops in The Sims 4 Get to Work
The Sims 4 Get to Work released 1 month ago. The talented Sims community has created a lot of great retail stores for us to download on The Sims 4 Gallery since then. From a cute bakery to an industrial clothing shop of even a wedding boutique. If you want to learn everything about building and running a successful retail shop read this guide. We also wrote a guide about the best way to run your Bakery.
Some retail shops really surprised me and I made a selection with some of the most original designs you can find in The Sims 4 Gallery.
Industrial Outfitters – Clothing Store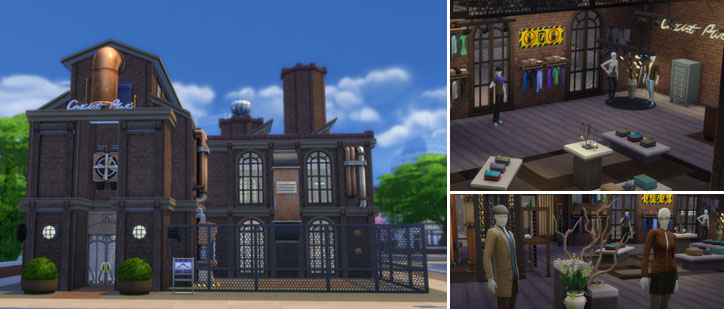 The first retail shop that caught my eye was the industrial clothing store created by Ruthless_kk. It has the most amazing spacious and realistic look. Ruthless_kk is a well known member of the Sims community and she can take on any building challenge with a perfect result. If you're not following her on The Sims 4 Gallery I suggest you start following her as soon as possible. She will always surprise you with her great builds.
Lot name: Industrial Outfitters
Origin ID: ruthless_kk
Download Industrial Outfitters on The Sims 4 Gallery
---
Starter Shop – Clothing Store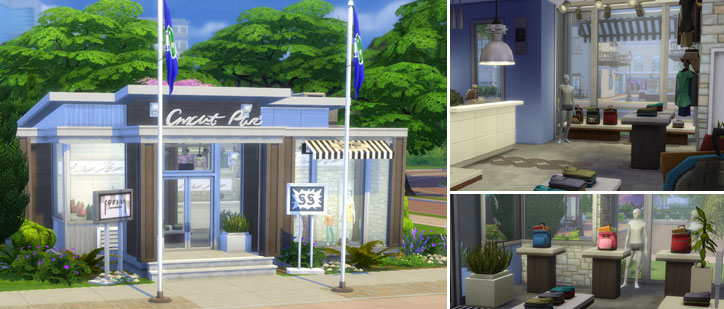 The next retail store is another clothing store designed by Dutchsimsmaster. The modern looking architecture from this store looks perfect if you just starting out with a retail store in The Sims 4 Get to Work. He became quit a famous builder on YouTube with his mostly modern looking homes. If you like this small modern store you should definitely check out his channel for more great builds.
Lot name: Starter Shop
Origin ID: DutchSimsMaster
Download Starter Shop on The Sims 4 Gallery

---
The Lemon Juice Bakery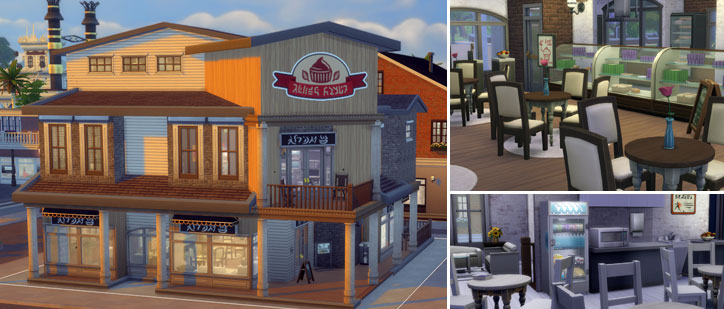 If you are looking for an amazing Bakery, this is the one! It's very well decorated and designed by one of the most creative Simmers in the Community: Chrillsims. I started following him when I first got The Sims 3 and I've been a big fan of his builds since. He has his own unique amazing style to build his houses and this retail store is one of those beauties! You should follow him on YouTube to check out his latest builds or Let's Play video's.
Lot name: The Lemon Jucie Bakery
Origin ID: Chrillsims4
Download The Lemon Juice Bakery on The Sims 4 Gallery

---
Old Town Bookstore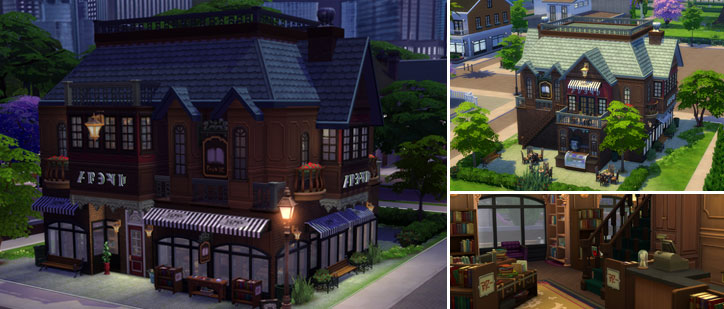 The Old Town Bookstore is a very detailed build and got featured by Maxis on The Sims 4 Gallery. No surprise there, it's looks amazing! The bookstore was build by Larifari2009 that has a great portfolio with a LOT of great builds. She's uploading new houses, retail stores and decorated rooms regularly to The Sims 4 Gallery.
Lot name: Old Town BookStore
Origin ID: Larifari2009
Download Old Town Bookstore on The Sims 4 Gallery

---
Chanel No. 5 – Boutique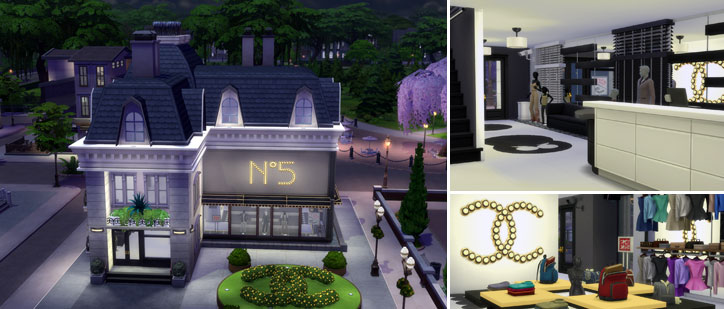 The last one is Chanel No. 5 a Paris boutique. You can find beautiful luxury items to sell in this store like clothing, perfume, shoes and it even has a photo studio on the second floor to take some great pictures. This retail store was build by CrazySimMatt and he has the most unique weird but awesome houses on The Sims 4 Gallery. Check it out!
Lot name: Chanel N°5
Origin ID: CrazySimMatt
Download Chanel N°5 on The Sims 4 Gallery
Of course these are only 5 of the many great Retail stores on The Sims 4 Gallery. Did you see a great Retail Store on The Sims 4 Gallery or do you want to put your store in the spotlight? Reply in the comments below!