Earn a gold medal at your Spooky Party
If you own The Sims 4 Spooky Stuff Pack there is a new party type available: Spooky Party! This party is all about Pumpkin carving and showing off your costume. Be the proprietor of your own Spooky Party, where costumes are the rigueur in a setting rife with frightful decor. Prepare ghoulish gastronomy to satisfy guests' carvings while they preoccupy themselves with pumpkin carving. Those too terrified to help themselves to the Spooky Candy Bowl can always ask another partygoer for a treat… just don't get tricked!
Preparations
The first thing you will have to do is prepare for the Spooky Halloween party. Set up a great and scary party room or download one from The Sims 4 Gallery. What objects do you need in the party room?
Buy a Pumpkin Carving Station to complete the main goal
Place a stereo so Sims can listen to the music
Place a bar so Sims can make drinks
You can add some more stuff if you like, make the room a bit spooky by adding spider webs, special dishes and the Sugar and Spice Candy Bowl.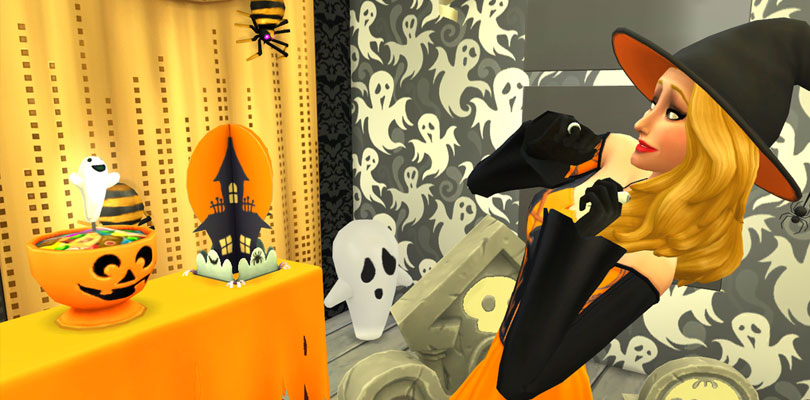 Tips to earn a Gold Medal
Spend some Simoleons on good quality Caterers, Entertainers and Mixologists.
Have more then one host when possible so you can complete the goals faster.
Start the Pumpkin Carving right away because it can take a lot of time.
Get the Spooky Party started!
When you have everything ready for the party it's time to put it in motion. Go to your phone and click on Plan a Social Event. Select Spooky Party to get more options about who the birthday is for and who you want to invite. Choose one or more hosts for your party. Next invite the guests. Select every member from your household so they can also complete goals. If you have enough money you can hire extra Sim to become a caterer or mixologist. Choose the place where you want to host your party. This can also be at a venue if you like.
How do you change costumes?
When you want to change your Sims costume you need to click on the active Sim and choose the option Change Party Costume. After that you can change the costume to for example a Fairy, Witch and Astronaut. You can also choose colors like the Fairy of the Meadows or maybe Fairy of the Forest.
Complete Goals
You need to complete a lot of goals to host a gold medal party. Every Sim can complete goals, this includes invited guests. With every birthday party there is a selection with goals to complete, not all goals listed below will come up at every party but it's recommended to prepare for it in case they do.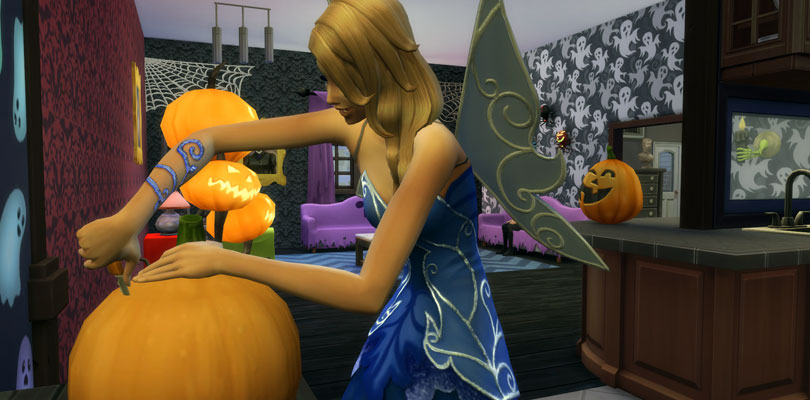 Main goal
For your event to be at all successful, you must meet the main goal. If you complete the main goal you will get a Bronze Reward. In order to get a Silver or Gold medal you need to complete the additional goals show below the main goal.
Carve Pumpkins 0/2
Buy a Pumpkin Carving Station and start carving Pumpkins.
Additional goals
You need to complete a numerous of additional goals to get the gold party medal. Good luck!
Ask for Party Treats (0/2)
Click on a Sim and select Ask for Treats.
Discuss Costumes (0/2)
This interaction can be found in friendly socials.
Dance (0/1)
Click on a stereo and start dancing!
View Carved Pumpkins (0/1)
You first need to carve a Pumpkin before you can View the Pumpkin.
Have Sims Chatting at the Same Time (0/3)
Easy to accomplish, just select random social interactions.
Perform Mischief Socials (0/3)
Any successful Mischief social will count as one.
Grab a Drink (0/1)
Make drinks at the bar or hire a Mixologist. Click on a glass to have a drink.
Spooky Party Rewards
When you earn a gold medal at the Spooky Party you will get the super Llama Costume for males and females. You can wear this costume to your next costumed party.