Now you can send your friends and family some love with The Sims Sticker Pack for your iMessage.
Hey, Simmers! Use these fun and vibrant stickers in iMessage, inspired by The Sims 4 and The Sims Mobile games. Express your love for The Sims by sharing unique thought bubbles and creative icons. Want to send a llama to your mama, or tell your friends you're craving cake? You can definitely do that. Did someone send you a selfie? Put a Plumbob on it! With over 40 different static stickers to choose from, there are lots of ways to show your love for The Sims. Download now to play with life, and make your messages more fun.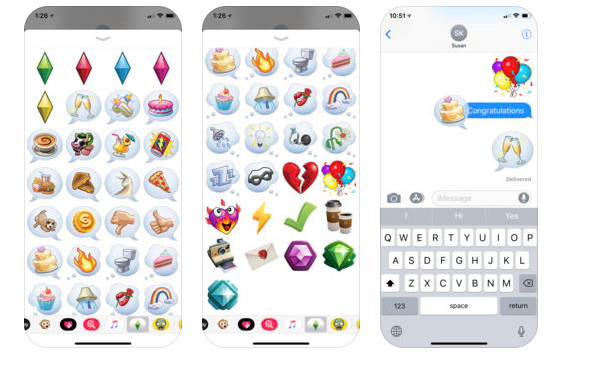 By installing this app, you consent to its installation and the installation of any game updates or upgrades released through your platform. You can turn off automatic updates through your device settings, but if you do not update your app, you may experience reduced functionality.
Some updates and upgrades may change the way we record usage data and metrics, or change data stored on your device. Any changes will always be consistent with EA's Privacy and Cookie Policy, available at privacy.ea.com. You can withdraw your consent at any time by removing or disabling this app, visiting help.ea.com for assistance, or by contacting us at ATTN: Privacy / Mobile Consent Withdrawal, Electronic Arts Inc., 209 Redwood Shores Pkwy, Redwood City, CA, USA.
Here is the link so you can download the StickerPack:
https://itunes.apple.com/gb/app/the-sims-sticker-pack/id1324259192?platform=iphone&preserveScrollPosition=true#platform/iphone