Aww, pregnancy…We all love those thrilling and joyful period of our Sims lives, so that's why I'm here today  to introduce you to this two really useful mods:
Same Sex Pregnancy Mod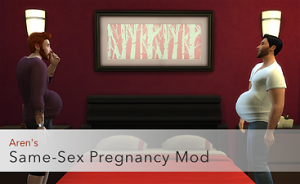 If you're playing with a same sex couple, you already know that the only chance for your sims to have children is by adoption,which is a really good thing, but what if you want to make your Sims experience the joys and emotions of pregnancy? Simple, just install and use the Same Sex Pregnancy Mod! How it works? It's simple: the mod enables the 'Try for baby' interaction on bed for same sex couples, and the Sim who initiates the action will get pregnant, but don't worry: the mod doesn't affect straight couples so you won't have female sims impregnating their husbands/boyfriends.But, there's a little warning: If you have mods that make your Sims autonomously try for babies, watch out: the mod developer didn't want to take away the ability for an elder male sims to impregnate female sims, so also elder Sims can get pregnant (both males and females, of course), but as the dev said, a fix should be on its way soon.
Download Same Sex Pregnancy Mod
Auto Pause Pregnancy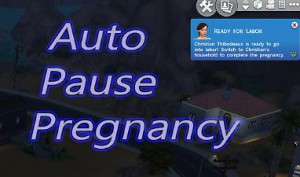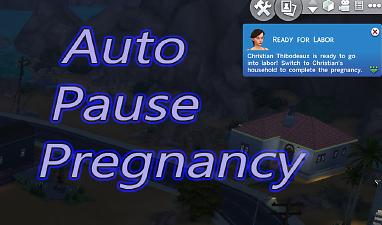 I don't know if you've ever find yourself in this situation: You're playing with a pregnant Sim, but you decide to switch to another household (with aging turned on for active household only) and then boom…He delivers the baby while you're playing another household! Annoying, isn't it? Thankfully, there's a mod that comes to the rescue, the Auto Pause Pregnancy Mod, that (as its name suggests) literally pushes the pause button on your Sims pregnancies until next time you open the household. A notification will display showing the sim that is ready for labor so that you can switch to that lot when you are ready to continue that household. Note that the automatic birth will skip only if you set aging on for current household only or if you turned it off completely, and non-controlled sims (NPCs and townies) will continue to have their pregnancies finish off normally.
Download Auto Pause Pregnancy Mod
Before you rush and download those mods, the Sim Gnome exhorted me to remember you the rules for an happy and safe modding:
Always read the installation instructions on the download page very, very carefully;
Remember to register on Mod The Sims website in order to  download the mod files;
Always say thank you to the devs and let them know you appreciate their work (okay, this is not a 'rule' but it's strongly recommended.)
Happy Modding!