Simmers you can finally Creat Your Own Bundles on Origin for The Sims 4!  All you need to do is go to your Origin application or just to the Origin website and then go to Browse Games/ TheSims/ The Sims 4 Create Your Own Bundle/ Sign In and then you can get started on your own bundles (Please be aware that if you own most of the packs or all the packs, you will not be able to use this opition). Here is what EA had to say on this new opition.
Via EA
Bundle Expansion, Game, and Stuff Packs when you buy The Sims 4 for PC and Mac in the Origin Store — and get downloadable content cheaper than buying it on its own.
WHAT'S A BUNDLE?
Buy The Sims 4 base game with Expansion, Game, and Stuff Packs to save money on your purchase and get more content for your game, all at the same time.
WHAT BUNDLES CAN I BUILD?
I already own the base game
You can create a bundle that's a combination of one of each Pack type: Expansion, Stuff, and Game Packs.
Everyone that has Origin Access has access to the base game. If you cancel Origin Access, you'll need to buy the base game or reactivate your subscription to access the Packs you buy. Learn more about Origin Access memberships.
I don't own the base game
If you don't own the base game and you don't have Origin Access, you can get a bundle with the base game and Expansion packs.
No Packs other than Expansion Packs can be added to this bundle.
You can still buy other Pack bundles after you own this one.
If you own all of one Pack type, you can't build a bundle.
What if I have the base game or Packs in my unopened gifts?
If you try to buy a bundle with content that is in your unopened gifts, you'll have to open them during checkout. After you open the gifts, head back to the bundling page and choose your Packs again.
Any gifts you haven't opened will be shown as unowned titles.
We'll make sure you aren't trying to buy anything you've gotten as a gift.
What if I own The Sims 4, but it's not in My Game Library?
Then Origin won't know you own the game. Make sure you're logging into the right EA Account with The Sims 4 on it so that you don't accidentally buy it again.
WHERE DO I BUILD MY BUNDLE?
Hover over Browse Games then The Sims.
Click on Build a The Sims 4 Bundle.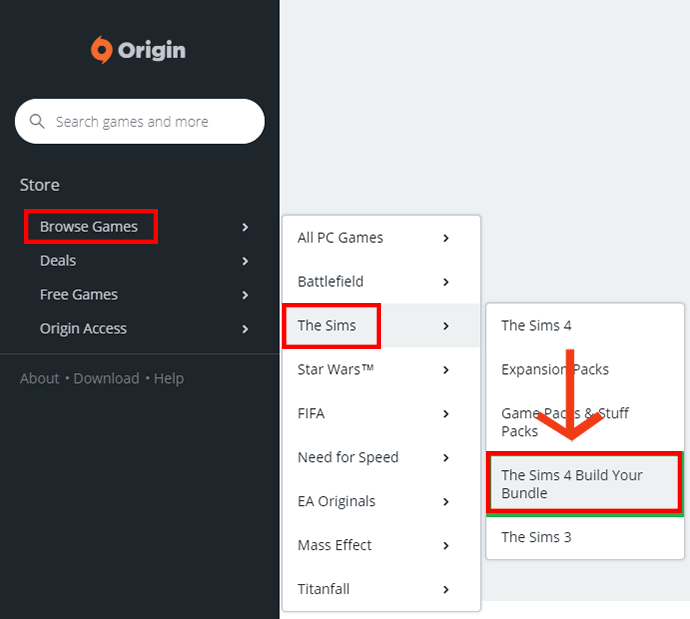 IS THERE ANYTHING I CAN'T DO?
You can't give a bundle as a gift.
Bundles are only available on PC and Mac.