The upcoming Game Pack for The Sims 4 has just been announced during this year's Gamescom ONL livestream. After waiting for longer than an ( slightly painful) hour Simmers finally got to take a first look at The Sims 4 Star Wars: Journey to Batuu. The pack is set to be released for all platforms on September 8th, 2020, meaning you won't have to wait much longer to get your hands on it.
Watch the announcement of The Sims 4 Star Wars: Journey to Batuu
Check out what Gamescom's host Geoff Keighley has to say about The Sims 4 Star Wars: Journey to Batuu. Don't worry, we've skipped towards the right timestamp for you. 😉
---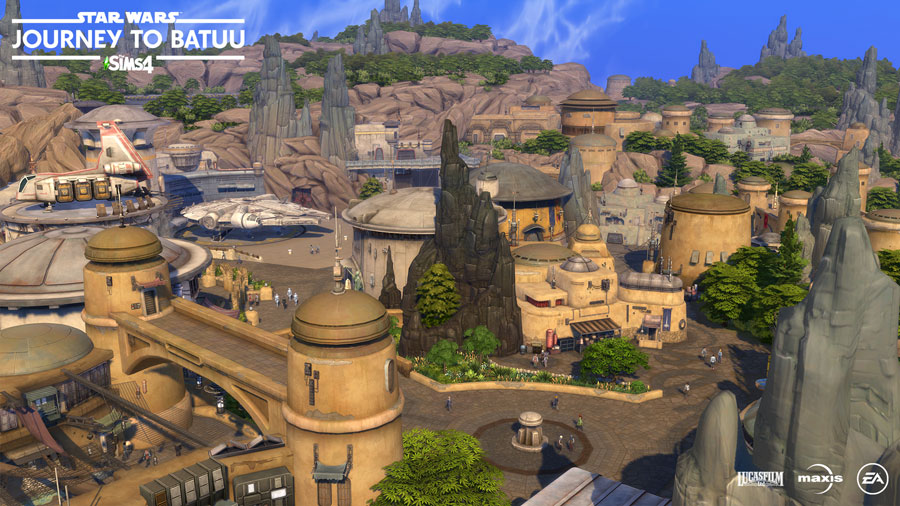 Welcome to Batuu – the Edge of the Galaxy
The Sims 4 Star Wars Journey to Batuu is highly inspired by Star Wars Galaxy Edge in the Disney theme parks. This means your Sims will be wandering the planet of Batuu, while coming across iconic pieces of the Star Wars franchise. Think of Stormtroopers, lightsabers and even the Millennium Falcon. Other than that also have some additional information about the pack. Let's take a look, shall we?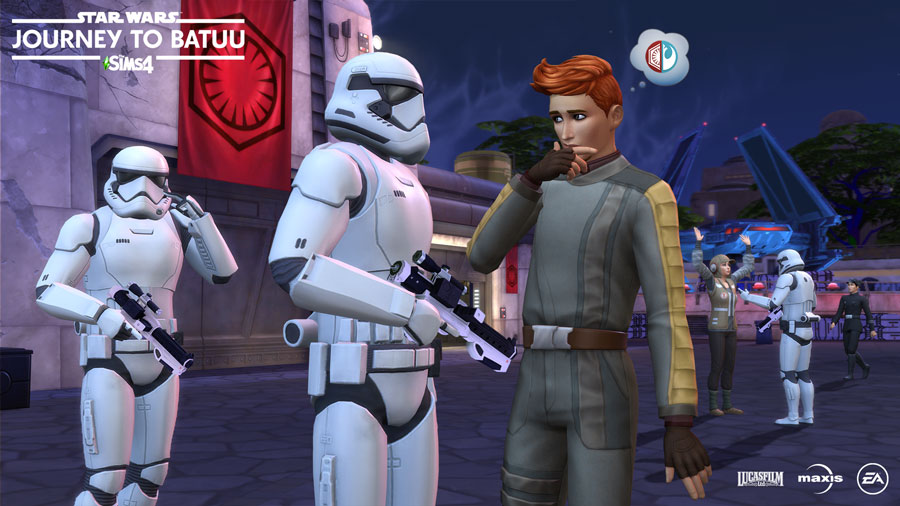 What side will you pick?
The Planet of Batuu is at war and it's up to you the decide who wins. Support The Resistance, the First Order or the local "scoundrels" by taking part in challenges and missions. You will build up a reputation with the different affiliations depending on your choices; unlocking rewards and even more missions in the process. Shift the power to whoever you want to succeed and change the world accordingly.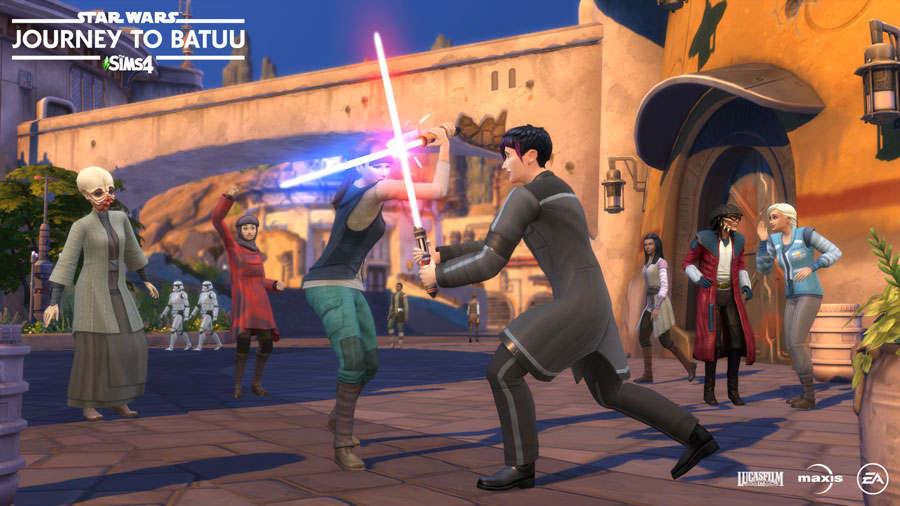 Become skilled with lightsabers
Unfortunately a lightsaber can't be simply bought at the store, no sir. Your Sims will have to collect artifacts found on Batuu to build their very own blade. Once you obtained your lightsaber you can fight other Sims in duels, how cool is that? Quick tip: higher Fitness Skill improves your lightsaber-wielding. Or… you can just train by jumping into fights (and improve your Fitness Skill that way) & just hope for the best…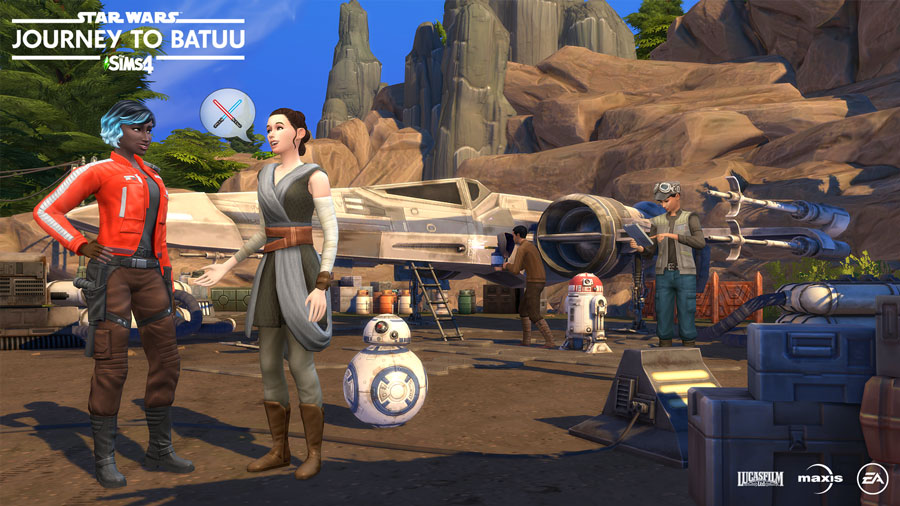 Meet official Star Wars characters or make your own
Depending on your affiliation, your Sims will be able to meet some iconic Star Wars (anti-)heroes. Vi Moradi (The Resistance), Kylo Ren (First Order) and Hondo Ohnaka (scoundrels) will be each leading their factions, while Rey Skywalker roams the streets of Batuu, I think? What is her faction…? I'm not very familiar with Star Wars, sorry. *calculating brain noises* I know she's a jedi… Yeah… Oh well, moving on!
Of course meeting galatic celebtrities is very cool and all, but are you longing for your very own R2D2? Well, you can just make one! Visit the Droid Depot and customize your own companion.  Droids will be able to help your Sims during missions by scanning crates, scramble control panels or distract rivals for you. Sounds pretty handy to me.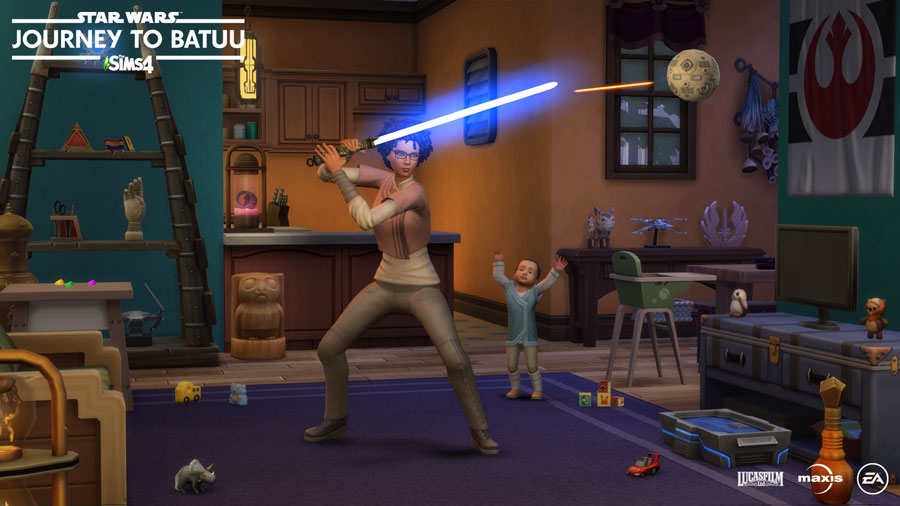 Return home, but bring Batuu with you
Sims will be able to bring back items from they Journey to Batuu. Unlock new decor, recipes & artifacts and revamp your Sims' boring everyday life into a real galactic experience. Take your droid home as a pet – "No one will notice right? Yes neighbor, that's my cat. Yes, I know he looks funny." – hold playful lightsaber training sessions with your friends – What could go wrong? – and play a game of sabacc! – Whatever that means, sorry again: not familiar with Star Wars. – And who doesn't like the steampunk-like style from the Build & Buy items?
Watch the official The Sims 4 Star Wars Journey to Batuu trailer!
---
Read the official blog by EA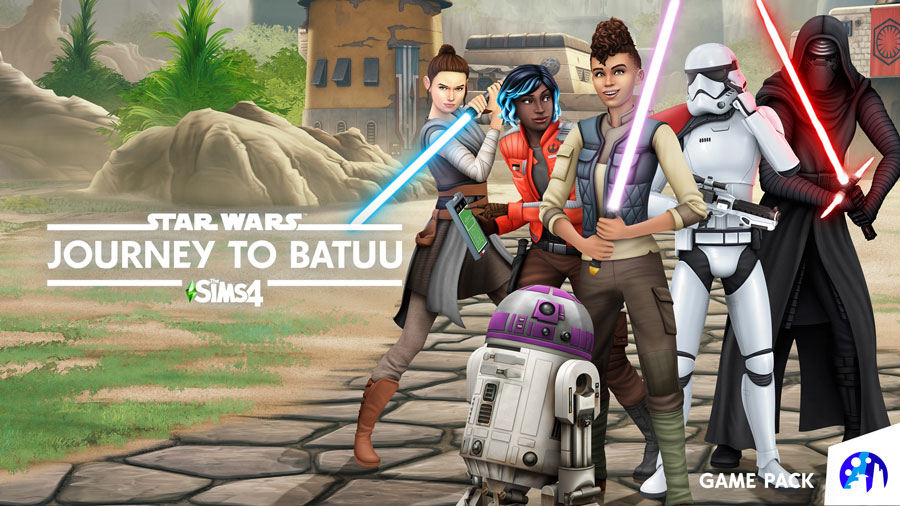 PLOT A COURSE TO THE SIMS™ 4 STAR WARS™: JOURNEY TO BATUU GAME PACK
In a galaxy far, far away, deep into the Outer Rim, the world of Batuu spins under its three suns, host to both the brave Resistance and nefarious First Order, with roguish scoundrels taking advantage of the… Read the blog