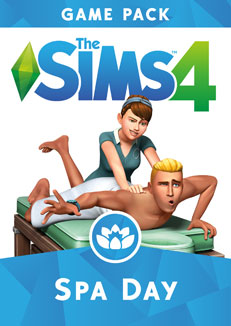 The Sims 4 Spa Day Game Pack Review – Sims Online
Review – The Sims 4 Spa Day game pack puts yoga, meditation and massages into the spotlight with the new Wellness skill and Spa Venue. Build modern houses and Spas with the new build and buy mode objects.

Written by: Sandra – Sims Online

The Sims 4 Spa Day
Date published: 07/19/2015

10
/
10
stars
The Sims 4 Spa Day Review from a Builder's perspective
Wellness, Yoga, Meditation and Massages are all introduced in this second game pack released for The Sims 4. They all come with their unique objects and animations for you to enjoy in your game.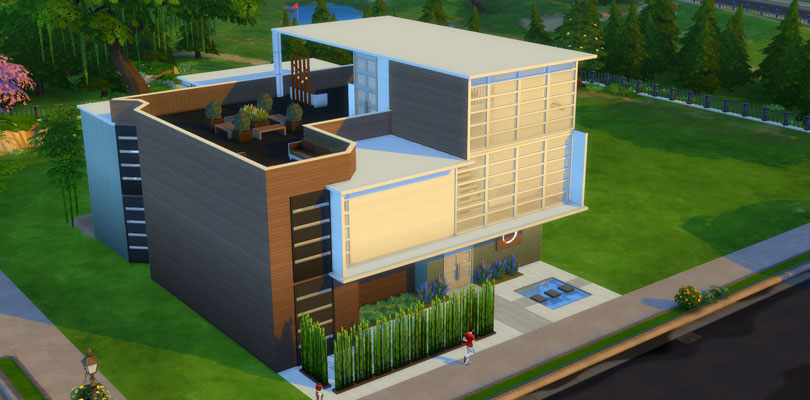 Create modern buildings with the new Build mode objects
This game pack comes with great additions to the build mode. Like the new glass fence. This fence looks stunning on every modern house, especially on a rounded deck. There are also a new modern staircase with glass railings that goes really well with the glass fence. There are also new columns, waterfalls to place in your fountains and something that looks like step stones when placed in the fountain.
Now let's talk about the windows and doors because they are perfect! Modern windows with colored glass with matching doors of course. And new tiled wooden windows with also matching doors. There are new windows for every wall height!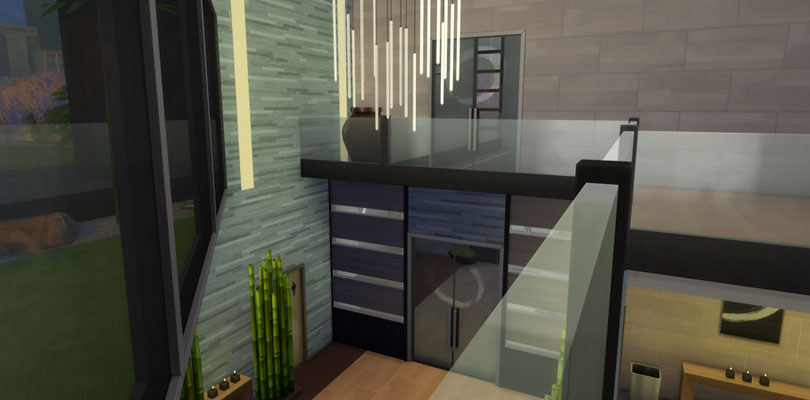 More wooden wall and floor patterns!
What every builder needs, modern looking wooden wall and floor patterns. Whenever I'm building a new house these are always somewhere (or everywhere) to be found in my builds. I love the diversity of the many colors with these wood patterns.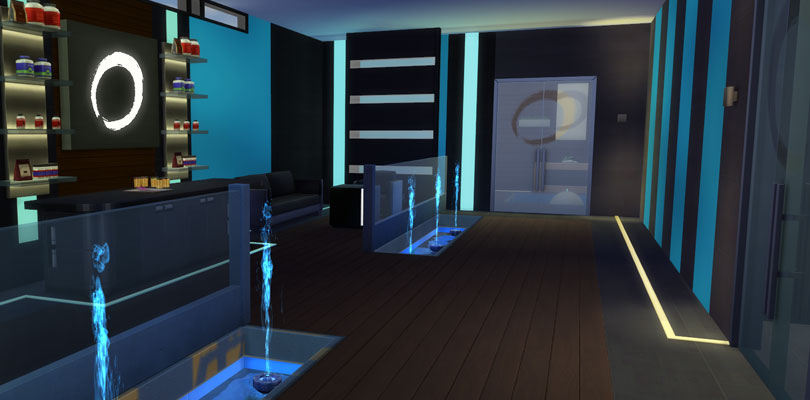 New Lighting to set the mood
The new lights that are in The Sims 4 Spa Day game pack are amazing! A lot of diversity in modern lighting and even back-lit wall mirrors, two-story ceiling chandeliers and modern pool lights! When you think this is amazing, there is also a glowing floor and wall pattern.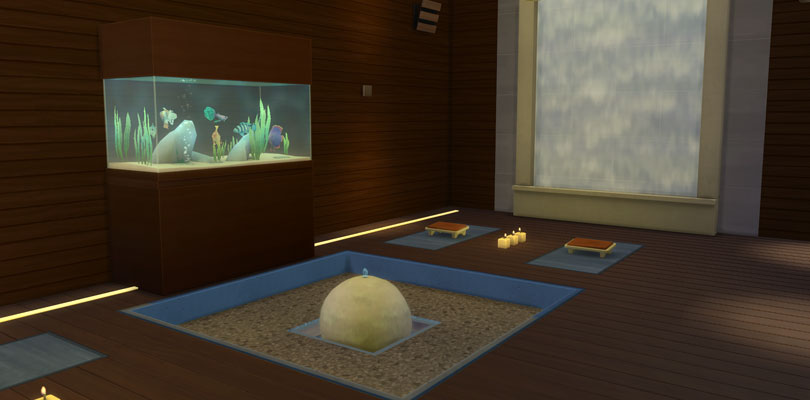 Exclusive decorations
Yes the aquarium, the object everyone was waiting for to make a return in The Sims 4. They come in 2 different styles and you can add up to 6 different fish in the tank. Change the colors of the light to match the setting of your interior.
The new plants are all very modern looking and there are 2 kinds of bamboo plants to place in your home. When you decide to get this pack, you will be surprised how great all the new items are!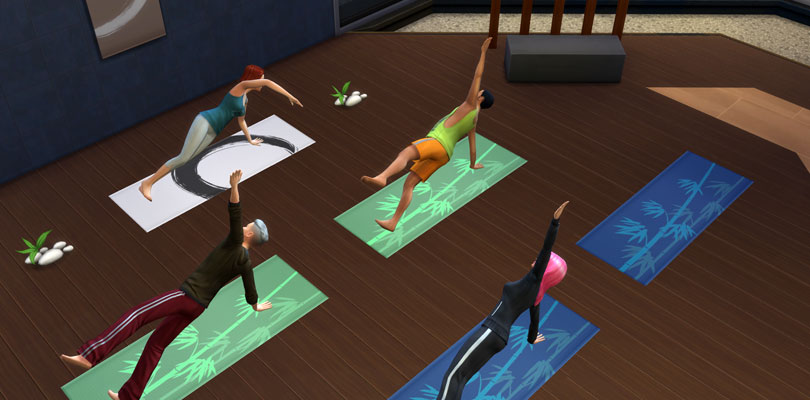 Visit the Spa and join Yoga classes
When you enter your game you'll get the option to place a pre made Spa Venue in your world. This venue has a large room to take yoga classes, massage rooms, sauna, mud baths and a meditation room. This is all you need to enjoy a relaxing day at the Spa. Every pre made spa venue is beautifully build and a great place to take screenshots of your Sims in a great setting.
The massage tables and chairs are managed by NPC's to massage your Sim when they need some relaxation. Choose between different massages like a Swedish massage or maybe a stone massage. Your Sims can also do yoga and take a yoga class. Yoga classes are really fun to participate in and even more fun to watch. Some Sims have a low level Wellness skill so they will fail horribly at some yoga poses.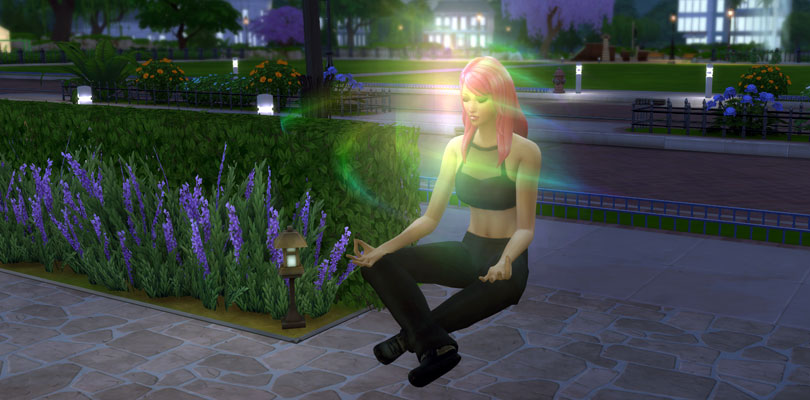 Yoga, Meditating and Massages
You can learn all these things by leveling up the Wellness skill. With yoga you can do routines to give your Sim a specific moodlet. Meditation will give your Sim the ability to levitate and eventually teleportation! And massaging Sims will give them a positive moodlet. I had the most fun with the yoga poses, there are a lot of different poses to master. It's really fun to see your Sim struggle in the beginning.
The Verdict
If you need to choose between between different expansions, game packs or stuff packs I would choose this one! This is seen from a builders perspective. The Sims team really surprised me with the content and I would highly recommend everyone to get this game pack for their Sims 4 game! It really is worth the money.
Pros
You will get a lot of modern objects for build and buy mode.
The Yoga and Massage animations are hilarious when practiced on low level skill.
Beautiful new Hairstyles and stylish Yoga/Gym clothing.
Cons
I honestly can't say there are negative aspects with this game, it kept surprising me when playing and building.
---
Get The Sims 4 Spa Day in the Origin store
Want to see the trailer or the items from the Spa Day game pack? Visit our Spa Day page. Or click on the button below to buy it directly from the Origin Store and start playing the game within a couple of minutes!