This last week SimGuruConor has released a two-part developers blog about The Sims 4 Paranormal Stuff. In my previous post I've told you all about the gameplay features mentioned in his blog, but the blog contained more than that. It also showed a bit of a conversation with two of the other developers who worked on the content.
Giving it the right vibe as an Audio Artist
The audio artist of The Sims 4 Paranormal Stuff is Briana Billups. She started working for Maxis back in 2018. The first pack she designed audio for was The Sims 4 Get Famous and she has worked on several other packs ever since. Her job is to combine the visuals of the game with the appropriate sounds, music and voices within the right vibe for the game. It's all about finding balance.
With a game such as The Sims you'll expect a more wacky & playful vibe, rather than something horrifically terrifying. Briana says in the interview she went for more of a "Casper the Friendly Ghost" and less of a "Poltergeist" route for the pack, but also admits she kept some things scary. So much so she even scared herself while playtesting one of the features in the game.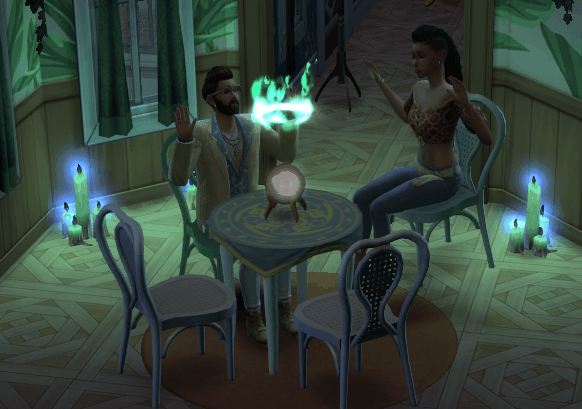 Creating spooky visuals as an Art Director
The second interview was with Stephen Edwards, the art director of The Sims. You might remember him from his 2019 interview about the development of The Sims 4 Island Living! Together with the talented artists from several departments of Maxis he creates the visuals of the game, leading them from concept to final product.
After picking a theme for the upcoming content, it's time to gather inspiration. Even for a supernatural pack such as this one, he admits to taking inspiration out of real life references. The designs for The Sims 4 Paranormal Stuff remind me personally of the beautiful city of New Orleans, so I think the content will fit in great with a world such as Willow Creek.
As the art director he understands how important storytelling is for a game such as The Sims 4. When asked about his favorite work for The Sims so far, he says that working on supernatural themed packs allows him to go a little bit more all out. I can't wait to see what direction the team went with all the new Create a Sim and Build & Buy items. The trailer looks promising. 
Read the official dev blogs about The Sims 4 Paranormal Stuff

Hello Simmers! Welcome to a small 2-part Dev Blog about our newest Stuff Pack, Paranormal Stuff! This pack has been an absolute blast to work on, and I'm excited to share what this pack is all about!
I'll try not to reveal too many spoilers for the pack either, so I'll keep things somewhat brief. Our topics for today are the new Scared Mood and…. read part 1
---
Welcome back to another dev blog about our latest Stuff Pack! This week let's talk about the Seance Table, Paranormal Investigator Career, and an interview with our Art Director! So let's just get right into it! The Seance Table is here! Talk to ghosts! Scare your friends! Summon the unexpected! This thing is capable of all sorts of… read part 2