Let me paint you a picture. White beach right outside your door with the bluest ocean you'll ever see and an island full of rich culture, amazing people and packed with adventure around every corner! Sounds perfect, right? Well, this dream destination is about to become a reality for your Sims as they can now head over to the tropical island of Sulani, the new world from the latest Expansion Pack for The Sims 4: Island Living! Let's take a dive into this mermaid-filled ocean and see what this pack is all about, shall we?
This review was sponsored by EA Gamechangers, however opinions given are my own honest, unbiased thoughts on the product.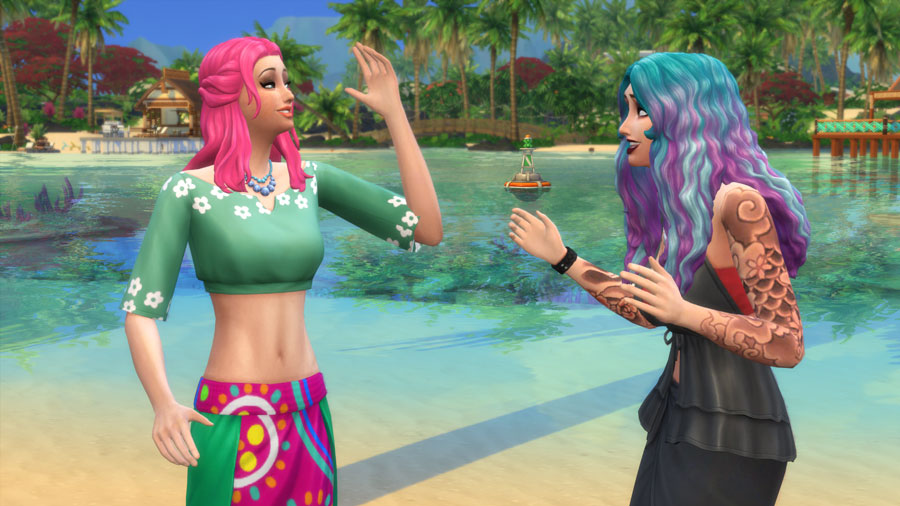 Tropical fashion in Create a Sim
The Sims 4 Island Living adds a lovely collection of clothing to the game. The summer vibes of the items are perfect for living in a tropical paradise such as Sulani, or if you own The Sims 4 Seasons I think it will be a great addition for warmer weather and climates as well. As there seem to be a few themes in CAS I'll go through the different aesthetics during this review, rather than each age group like I usually do. First up is the more everyday kind of clothing!
Summer all day and night? Better dress light!
Sims can jump right into a whole new wardrobe with all the new items Island Living has to offer. The clothing is flowy, happy and most of all: perfect for the tropics! I love the variety the pack brings to the CAS as the new outfits are very diverse. With all the bright colors and fun patterns you'll find yourself living a dream life instantly. Think of beautiful Hawaiian inspired prints, brightly colored fabrics, breezy (sometimes even sheer) textures, stunning accessories; Island Living has it all!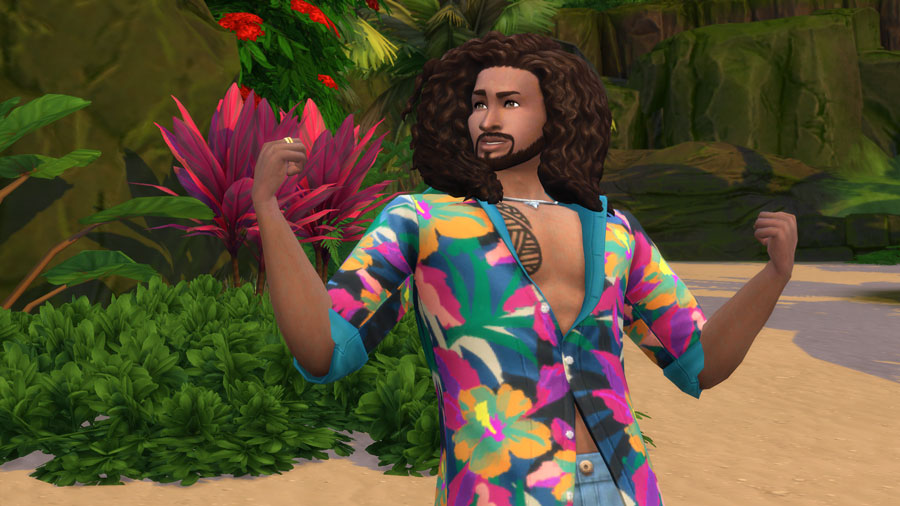 Especially combined with the Seasons pack, I think Simmers will love the new everyday clothes. Even outside of Sulani the items will be perfect for the Hot Weather category. Think of wrap skirts and short shorts, slightly opened button-up shirts and a lot, and then I mean A LOT, of crop tops. While crop tops are highly fashionable right now, I think I would like it a bit better if we were given either a few longer shirts or more high-waist bottoms as I usually prefer to cover up the stomach more.
While both masculine and feminine Sims get a wide variety of lovely items, children and toddlers don't get as many. However, the items they do get are of great quality and I think my personal favorites are the extremely detailed dresses and the crochet crop top for children. Finish off the look with the cute new bow sandals (not for toddlers, booooo!) and you've got your little ones the most adorable outfit right there.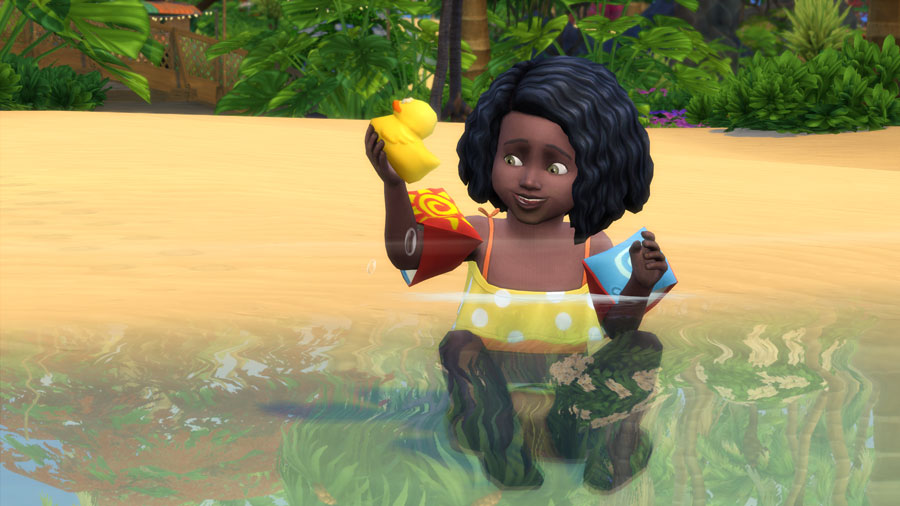 Prepare your Sim for a tropical swim
What would a pack such as Island Living be without an appropriate amount of  swimwear? Incomplete, that is what it would be! Good thing the devs put in quite some waterproof outfits for you in there as well. The crochet bikini, new board shorts and rash guards (or rashies as our friends down under would say) are awesome. Even toddlers get a rash vest which comes in a few cute options. Talking about toddlers… How ADORABLE are these floaties?! I mean, just look at them!!
With all the new water activities you must dress accordingly. Are you taking a part-time job as a lifeguard, don't forget to put on your whistle! And when you're not out there saving people's lives, how about you try out the jet skis or snorkeling activities? You can put on a full-on wetsuit with scuba mask & flippers or keep it more casual with just a pair of diving glasses with a regular snorkel. Either way, your Sim will be prepared for the occasion.
"How ADORABLE are these floaties?! I mean, just look at them!!"
I think the only two items I did not like in CAS are actually of the swimwear variety. Masculine Sims get an over the knee swim trunk which is basically a base game recolor. And while I am not totally against that as I'm all for more options, I think the colors the swim trunk came in are just blend and boring. The other item is the one piece swimsuit for feminine Sims. I like the design, but the texture seems suede-like to me and it just looks a little off because of it. That might be a personal thing though, I'm just merely giving my opinion here.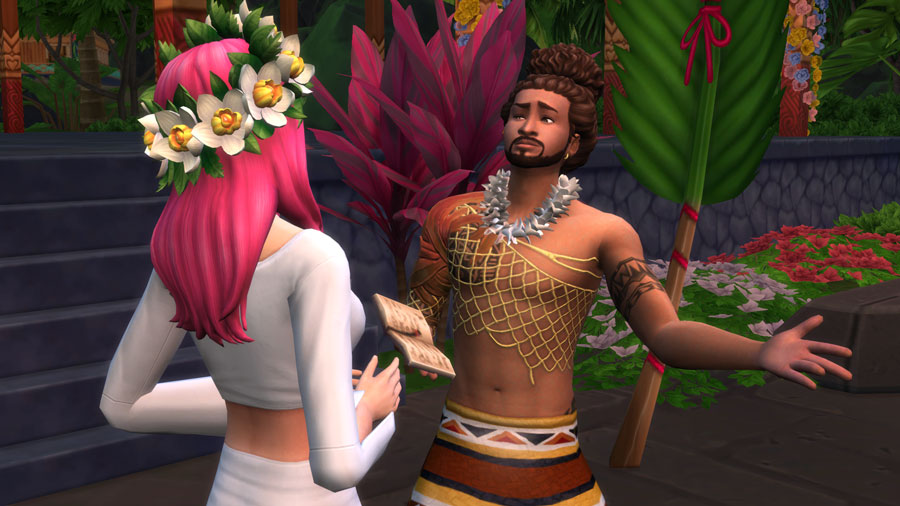 Traditional vibes for the native tribes
As the rich culture of Sulani is highly inspired by different cultures in Oceania it wouldn't have felt complete without traditional clothing. All the traditional items are incredible, colorful, detailed, just downright flawless. Think of beautiful wrap skirts for both feminine and masculine Sims or hula outfits, complete with lei necklaces and bracelets. Even toddlers get a hula skirt, so if you want to make a native family with little kids, you can freely do so!
I think one of the greatest gain to CAS would be the traditional tattoos that come with Island Living. They are stunning, extremely detailed and available for legs as well! Up until now we only had a tiny ankle tattoo of a dolphin, so these were a welcome addition. I'm glad my Sims don't actually have to suffer through the pain of getting such huge pieces done though. Yikes…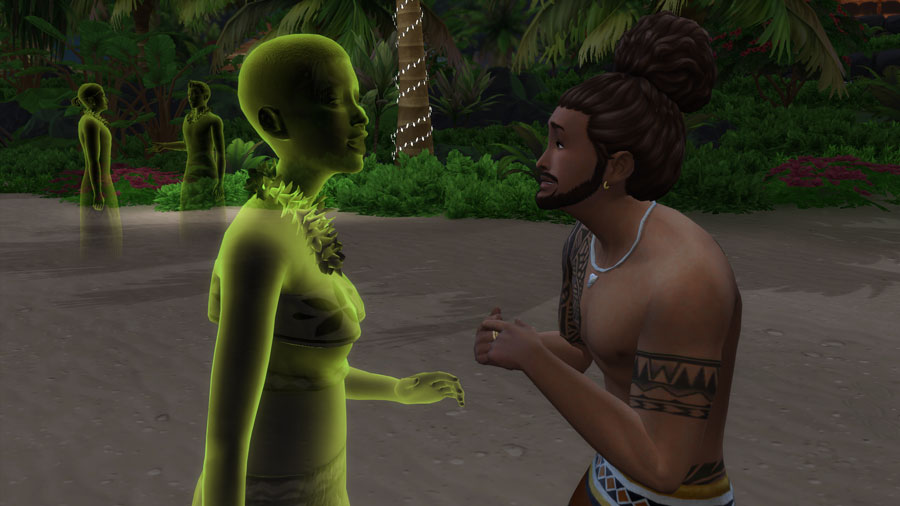 When living upon the island, I think that the new traits Child of the Island and Child of the Ocean are perfect for native Sims as they would naturally have the deepest connection with Sulani. Sims with the Child of the Island trait can even summon the elementals, which will trigger ancestors to appear whom you can interact with!
A wavy bun underneath the Sulani sun
Finish off your Islander look with beautiful thick and wavy locks. The wavy hair comes in a few different do's and each of them is unique and styled in wonderful ways. There's actually a huge variety of them too, which pleasantly surprised me. I think the curls just look amazing on anyone. Chances are a certain demigod will be jealous of your Sims' good looks. So… You're welcome Sims! You now officially look breathtaking.
I personally love the colored options for the Mermaid hairstyle. Besides these fabulous curls, there are a couple of straight hairstyles too, like a loose side braid. The fauxhawk looks great on both feminine and masculine Sims and children get the hairstyle as well. I'm a bit bummed out toddlers didn't get any hairstyles though. I get that it's a short lifestage, but.. come on! Another pack without hairstyles for toddlers? They have over two years worth of content to catch up to do. Apart from The Sims 4 Toddler Stuff, EA added only two hairstyles in Seasons, but any other pack left them out so far… I should call Child Protective Services for neglect! 😉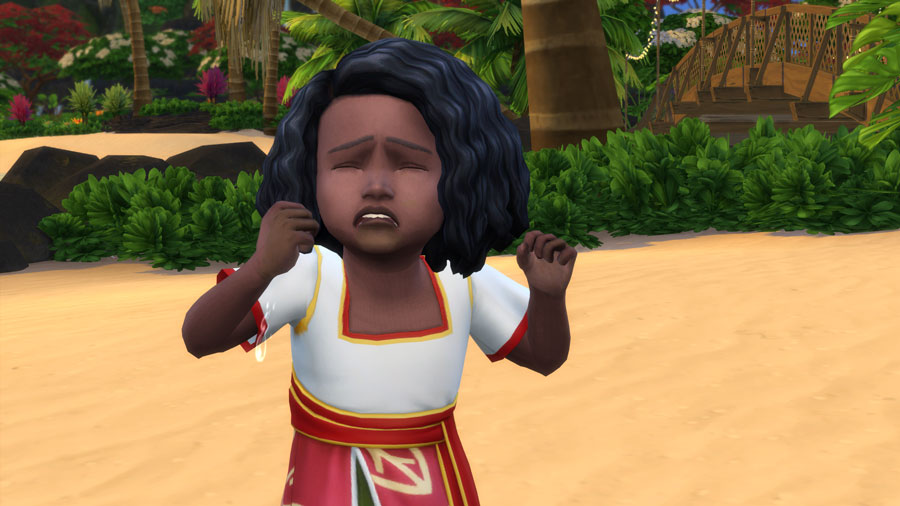 Traditional meets modern in Build & Buy
Before I talk more in-depth about Build & Buy mode, can we first appreciate the fact that lounge chairs are finally a thing now! HURRAY! No more needing to place an ottoman and chair together with moveobjects and play pretend. The pre-Expansion patch added one simple lounge chair for you to the base game, so now you can pick between that one or the two that come with Island Living. Fun fact: You can bring "lightweight" lounge chairs with you in your Sims' inventory.
Very much like CAS, the Build & Buy of The Sims 4 Island Living is a mixture between traditional and more modern pieces. Together with the new stilt foundations from the base game update and the open water lots from Island Living, you can create the most amazing beach houses The Sims 4 has ever seen!
"Everything just… belongs, you know?"
Build mode is keeping it locally sourced
You know what I love most about the Build Mode items of Island Living? The fact that everything looks as if it actually belongs in the world that came with it. As if your Sims went out, gathered up resources and built their homes from scratch with the materials the nature of Sulani has to offer. Volcanic stone, natural tinted woods, BEAUTIFUL flora, everything just… belongs, you know? It's gorgeous.
I mean, we even get two new terrain paints for sand. How many sand types can you need? I don't know, but I take what I can get to be honest. Well… I say that, but I must admit I highly dislike the ornamental spandrel, but hey, I'll just use the other one! Other than that I think Build mode really nears perfection for an island themed pack.
Some of the items look more rustic and while a lot is kept natural, you can mix it up nicely with a bright pop of color here and there. A good example of this are the wallpapers, the faded paint comes in very bright tones, while there are some nice neutral tones as well. The faded appearance makes it seem as if the paint has suffered under some environmental influences, which is a very neat design.
You can add so much detail to your builds to really bring that island vibe to your creation. The doors and windows that come with Island Living are perfect for life in a tropical paradise. Especially the sliding doors and open "windows" are a welcome addition. However, I must admit that outside Sulani, I'm not sure if I'll use these items much due to the lack of glass. I wouldn't want to try that out during a cold winter night in Brindleton Bay or Willow Creek.
The roofing is by far the cherry on the literal top of your builds. How incredible does the straw roofing look?! And if you go ahead and plop on the matching roof trims, you might notice it does not only look great from the sides, but when you now look underneath your roof, it actually colored the bottom as well! Such a great detail. You have NO idea how long I wanted that!! Now if the other roofs could start doing this as well, I'd be one happy builder.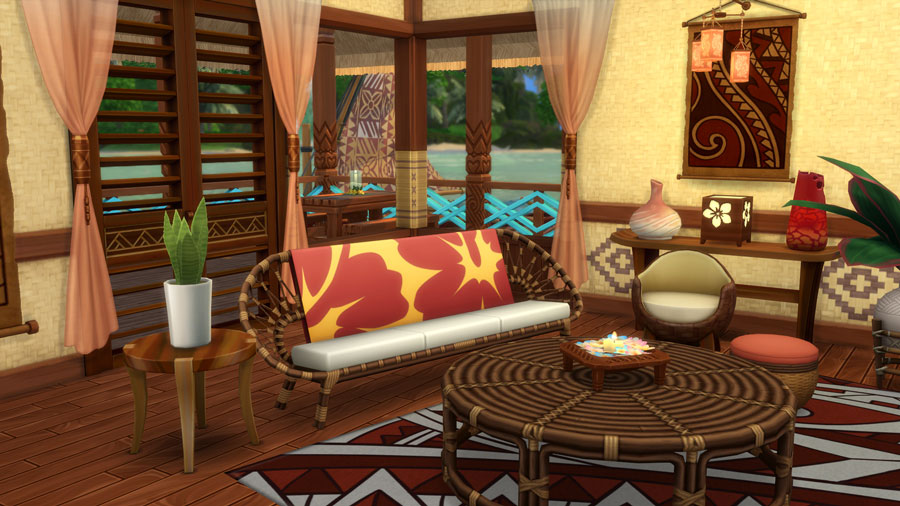 Carved wood brings nature inside your home
United with the carved wooden items (such as the amazing columns & stairs!) from Build mode, you can continue the natural aesthetic inside your beach house too with the stunning Buy mode catalog. Honestly, after seeing Build mode I didn't think it was possible, but I liked the Buy items even better than Build. I know, it's insane! The dev team from Island Living just really nailed this pack.
All of the objects are just so extremely detailed, it's beautiful! Don't believe me? Well, just look at a couple of the items above. I mean. Don't you just LOVE that table? Or the little coconut chair? The couch? I guess they might be really "styled", but it's an island pack, so what did you expect? 😉
The sheer curtains, the potted plants, the lovely candles… Piece by piece, they add an amazing atmosphere to a room. There aren't that many of clutter items, but I honestly don't really miss it as much as I normally would. With the décor that is present, such as native wall sculptures, I could fill up the house quite nicely. Besides that my Sims already have enough to see outdoors, so keeping the house more minimalistic is fine with me this time.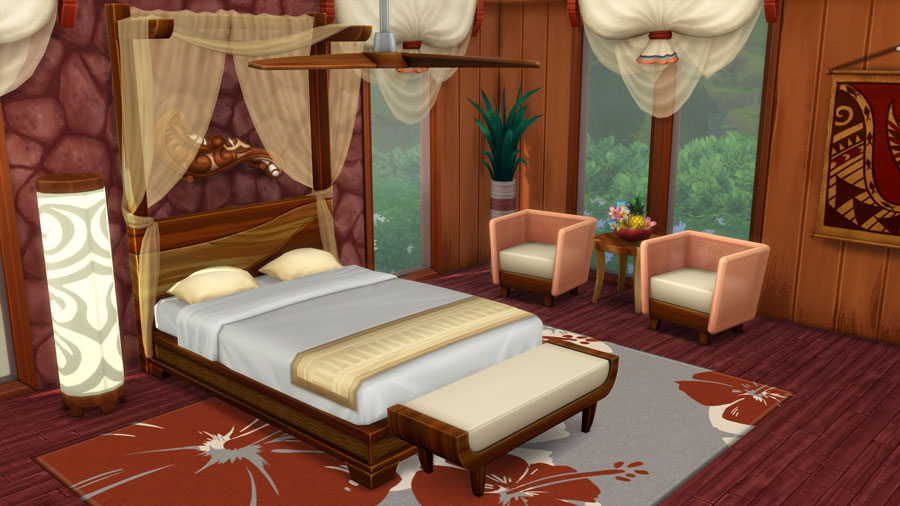 Breezy modern furniture for a dreamy holiday vibe
Moving on to the modern aesthetic of Buy mode! There are some items that have a certain contemporary appearance and I can totally envision using them in a holiday mansion owned by rich Sims. The items will also look great in other worlds such as Oasis Springs or Del Sol Valley, because of their warm climates. Let me explain why.
"Kitchen Gate has officially ended!"
Some of the clothing has sheer fabric and now we can see it in Buy mode as well. The sheer backdrop for the square chair and the matching couch is a great example of such incredible detail. I personally think my favorite modern items would have to be the new beds, especially the one with the sheer curtains. It just looks so dreamy. See-through, breezy, flowy items seem to be a common theme in Island Living and it's perfect for warmer climates!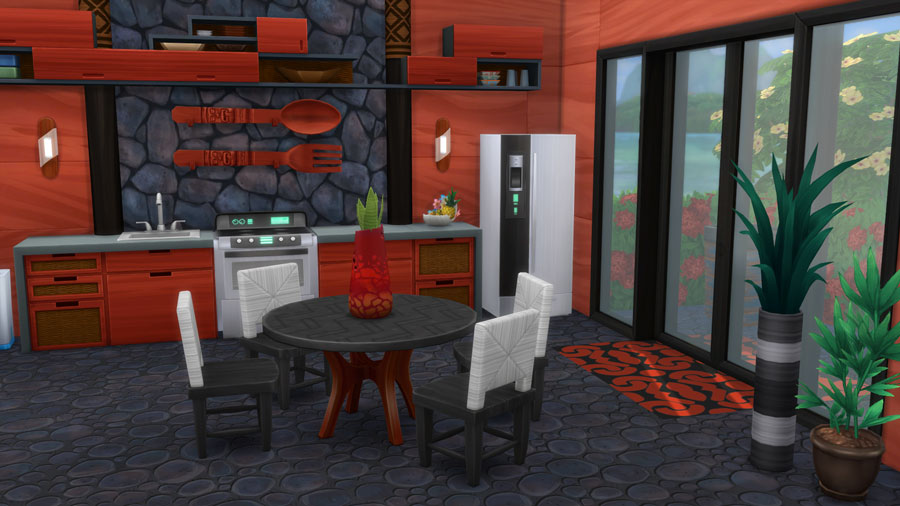 But now, it is time to talk about the biggest surprise from the Build & Buy catalog… Kitchen Gate has officially ended! Our prayers have been heard and our angry letters, e-mails and petitions have been read. The Sims 4 finally has an Expansion pack that adds a complete set of KITCHEN COUNTERS!! It's not a full-on kitchen with appliances, but yay counters! And their sleek modern design happens to be amazing too! A great victory for SFERK!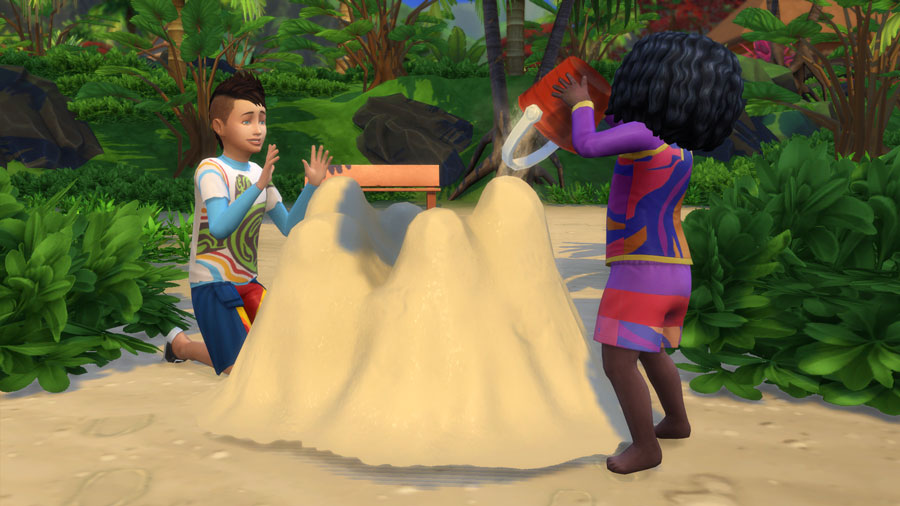 Wave boredom goodbye with the new Gameplay
You think you'll get bored on an island such as Sulani? Beach, please! I don't think you'll get tired of it that easily! The Sims 4 Island Living provides your Sims with so much to do, you wouldn't know where to begin at first.
Explore the tropical island of Sulani
Obviously an Expansion Pack called Island Living has to come with its own world and boy did EA come through! The new island that comes with the pack is called Sulani, a tropical paradise for your Sims to explore. And believe me, there's A LOT to sea, uh… I mean see. Whoopsea. Argh. Did it again…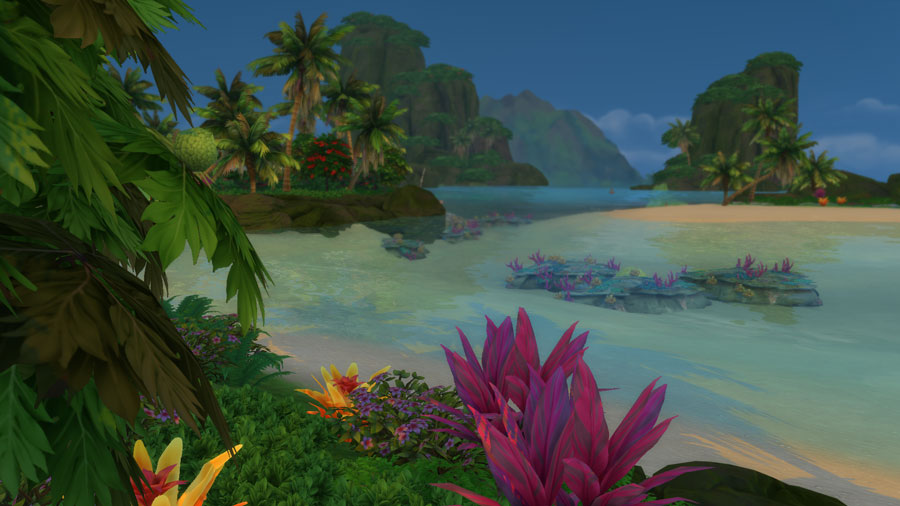 To my pleasant surprise Sulani is not just a vacation destination. I guess it would have been cool to have a tropical resort at some point, however I actually prefer it this way. Looking back at Selvadorada from The Sims 4 Jungle Adventure Game pack, I rarely return to the jungle while it is stunning over there, which sometimes feels like a waste of such a beautiful world. So making Sulani livable was the right choice if you ask me.
The first thing you'll notice when you enter the world of Sulani is the amazing blue sea. It's just such a gorgeous view, I'm jealous of my Sims! The flora and fauna is rich and diverse, making the island feel alive and complete. You can really notice that the environmental developers of this pack went all out and I think you'll have a great time checking out all the little corners of the island, such as the volcano and waterfalls!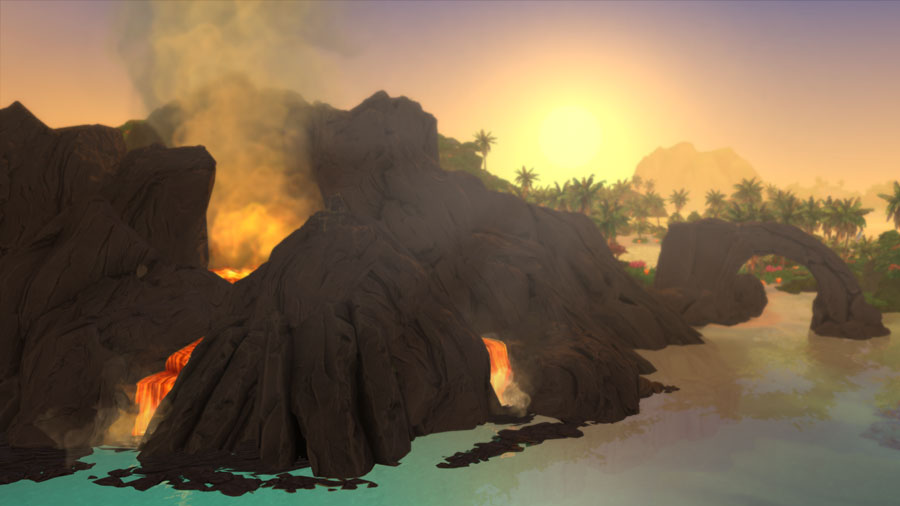 Apart from the beautiful ocean I think Sulani has a lot to offer on the shore as well. There is a lot to do such as searching for the new shell collection or building sandcastles with your toddlers as a fun (and super cute) family activity… or just build one by yourself, I won't judge. Don't try to build one in the shallow water though, it will fall apart which is yet again another example of the incredible details of Island Living.
Does that sound too active for you? Island Living adds the ability to sunbathe and I love how they did it. I think a lot of Simmers missed this in The Sims 4 Seasons, so it's great that they decided to at least add it with this Expansion. And the way they did it is actually better than I expected. Tan lines will take your Sims clothing into consideration and even custom content will properly work with this, given that the model is made correctly. Don't want tan lines? Just sunbathe naked! But not too long, or you might get burned… Ouch!
The townsquare in the bay of Sulani is called Ohan'ali Town. It feels alive and fun while you roam the town as the island has its own traditions and festivities. The events do not give a notification like the festivals of The Sims 4 City Living, so keep an eye on that if you want to partake in the traditions of Sulani. It's a great way to try out the local food as well.
The new lot traits are a really great addition to the world as well. You can live Off the Grid, which is actually quite easy in Sulani. When you live near the volcano you might live through the occasional eruption with the Volcanic Activity trait. The Island Spirits trait summons little spirits on your lot that can give you a moodlet when interacting with them. And the last is funny one, it is called Clothing Optional which does not need any further explanation I think. In case you are wondering, children and toddlers will be banned from these lots.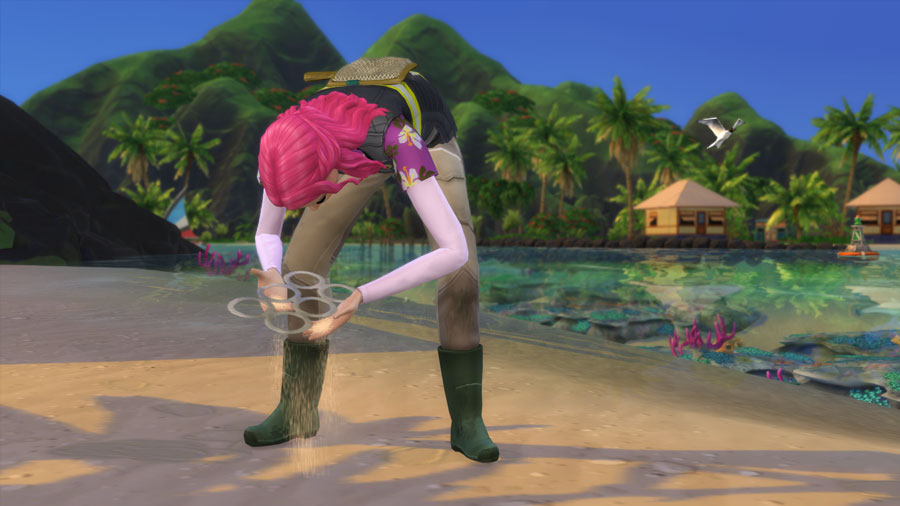 Help the island thrive with the Conservationist career
The new semi-active Conservationist career is a nice touch to the Island Living Gameplay. I think that it's a great way to explore the island more while still doing something else on the side. The career starts up a bit slow, but once you get to higher levels you'll get more diverse tasks and then you'll really start to see the effects your job has on the island.
You read that correctly. The Conservationist career actually has a positive effect on the environment of the island. You slowly clean up the island while you pick up trash, survey the shore & flora and clear up the natural habitats bit by bit. Sulani has three states of conservation and the career is a great way to help you organically move through them. You'll be greatly rewarded as the island will eventually thrive. Just wait and see until butterflies flutter around the clean beaches, sea turtles will appear more often and even bioluminescent algae will light up the sea at nighttime.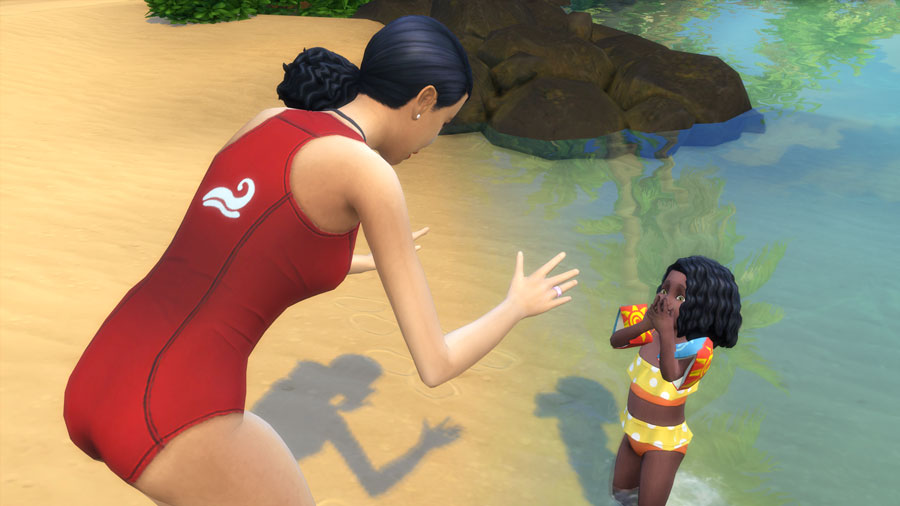 Adult Sims can now also take a part-time job instead! Island Living added three new jobs, while the old teen-only jobs became available for Young Adults – Elderly Sims as well. You can become a lifeguard, fisherman or diver. All three are great choices for inhabitants of Sulani. Still tight on money? Your Sims can do odd jobs now too. It's a quick way to earn a little bit of money. Most of the hustles are rabbit holes and sometimes they require a certain skill for you to complete successfully. Both the part-time jobs and odd jobs are a nice touch, but nothing I would call spectacular.
"I guess we'll have to do with their little butts sticking out of the water."
Dive into the clear blue waters with new activities
For the first time ever in The Sims 4, Sims are able to enter natural open waters, rather than pools! For now it's Sulani specific, but the developers already let us know that it is not off the table for other worlds too. Hopefully the team will be adding this feature to worlds like Brindleton Bay and Windenburg as well. A girl can only hope. To my delight toddlers AND dogs can actually enter the ocean as well. Toddlers will be able to splash around in the water as long as an adult is near. The animations are super cute!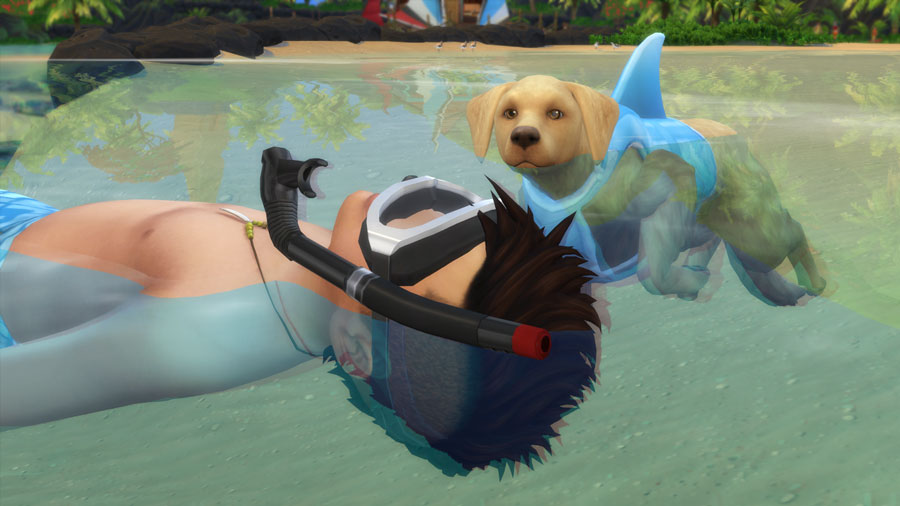 Now, let me address the elephant in the room first. Or should I say blue whale in the pond? Is that a thing? Oh well, it is now! Anyhoo… Unlike what one of the renders of Island Living suggested, you may not swim underwater. Which is very misleading and it sucks to be honest. I would have loved to make screenshots of my Sims checking out the sea creatures and corals. But too bad. The actual deep sea diving and snorkeling takes part in a rabbit hole. I guess we'll have to do with their little butts sticking out of the water when they snorkel at the surface.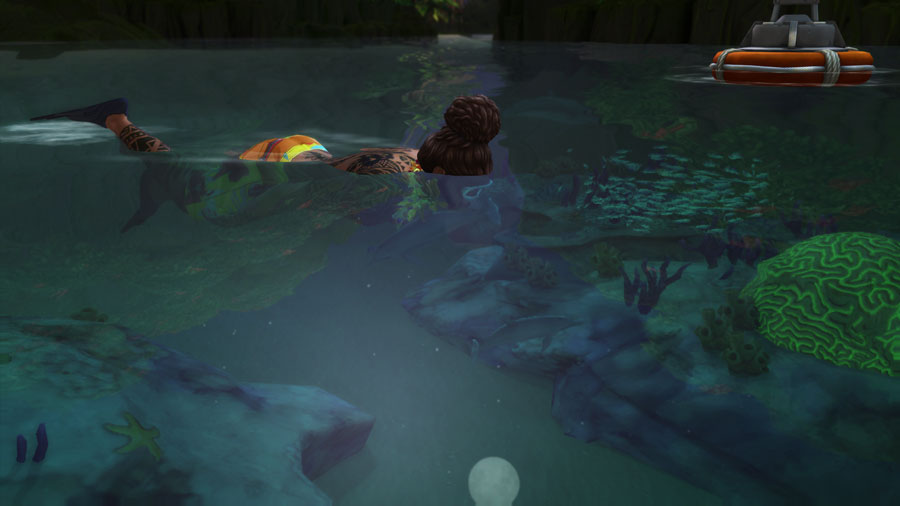 Other than that the water activities in Island Living are super fun. I was surprised by the realism of the movement of the water when you float yourself at the surface or when your chilling in one of the water loungers. Oh! And have you SEEN the loungers?! Apart from the basic one, there is a pizza slice and the cutest little whale you've ever seen. They're so cool! I love that you can do more than just lounge on them as well. You can try to get a tan or be a douche and splash around to annoy other Sims.
And now it's time for BOATS, BOATS, BOATS!!! And jet skis… Water vehicles, if you will. The sail boats and jet skis of Island Living are a great way to travel from one spot of the coast to another. I loved how much you can actually do with them. You can even use them to fish in the deeper parts of the water. No "Fish here" signs needed! The path-finding of the boats is actually a lot smoother than I expected. The jet skis can look a bit silly sometimes when you're speeding through the ocean, doing cool tricks and all that, and then you have to make a sudden turn to dodge someone, but other than that I think the animations are really well done. You should definitely try them out!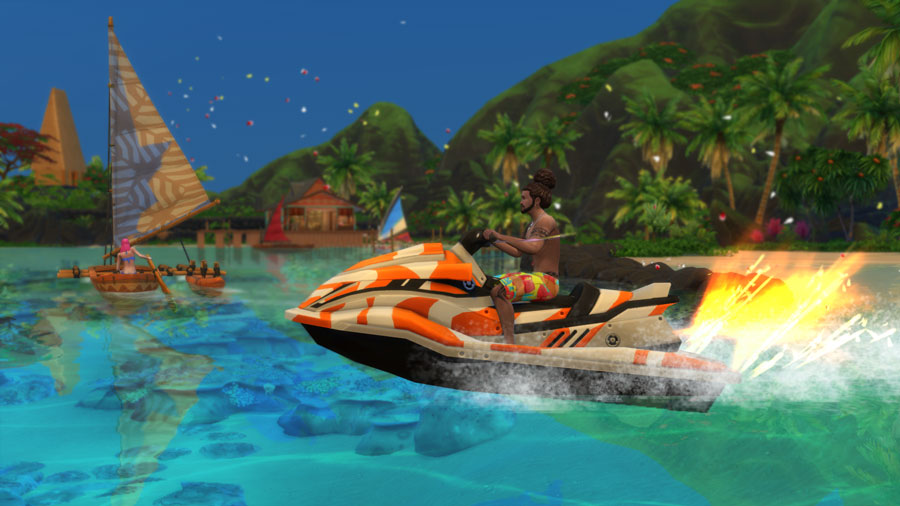 Mermaids make their splashing entrance into The Sims 4
Simmers who love to play with occult Sims are in luck this year. Island Living adds the third occult of the game with the arrival of Merfolk! Mermaids and Mermen can be made in CAS, you'll find them under the occult button, OR you can become one by some special gameplay interactions. If you want to find out exactly how to become a MerSim, you can float over to our in-depth Mermaid guide!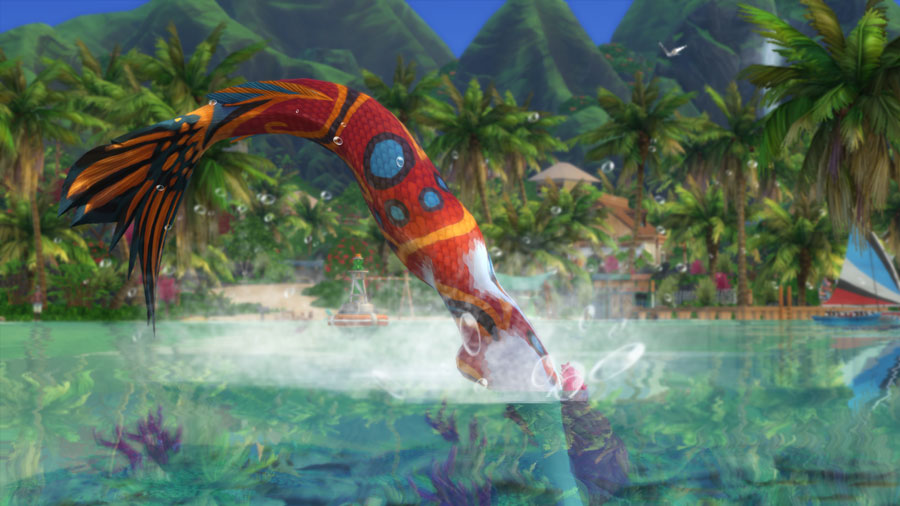 As CAS is initially the beginning of each new game, let's have a chat about that first. The Mermaid specific options are really, really cool. There are some amazing new eye colors as well as a creepy set of shark teeth, hilarious! I love how the Merfolk have two appearances, this way you can get really creative with their fishy side, while still looking normal as a regular Sim.
Further I love the tops for feminine Sims in particular. Some are a bit risqué, other options are the typical classic Mermaid tops such as the scallop shell bikini top. However, the latter is available for regular Sims too. But then… there are the tails! If you love Merfolk, you're gonna loooove the tails. Such incredible details as the shimmering of the scales, just wow. The color options and pattern varieties are very well done. Kudos to the SimGurus for that!
"I sometimes feel a bit seasick watching them "gasp for air"… It just looks a bit silly to me."
Moving on to the actual gameplay of our new fishy Sims, the first thing I tried out was going into the beautiful ocean of Sulani. The animation of when they switch between their two forms could have been more exciting. BUT when I later saw how often they switch forms in certain situations, I'm glad it's this subtle.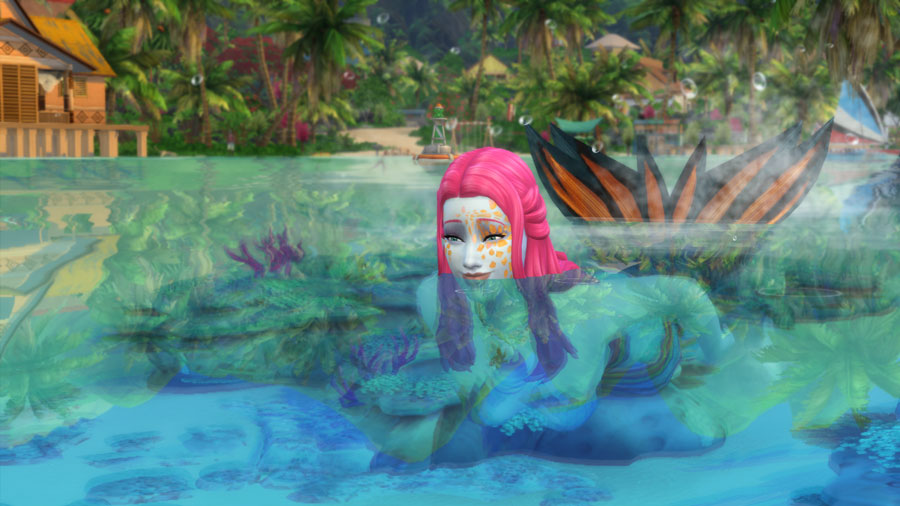 What is not so subtle is the way they swim. And don't get me wrong, I love the animations and different swimstyles. I just wish they would do the exact same animations, but deeper in the water. You know, how Mermaids usually swim… I sometimes feel a bit seasick watching them "gasp for air" in a very erratic manner. It just looks a bit silly to me.
Apart from the way they swim I really enjoyed playing around with Mermaids. You'll notice that instead of Hygiene, your Sims will need to keep up their Hydration. Merfolk will have powers that they can use on other Sims and their surroundings, but using these powers will consume Hydration. They can call upon other Mermaids using a conch shell, or sing a variety of songs that will impact the moodlets of the other Sim. I love the powers that the Mermaids have and I think they are very accurate as far as Mermaid folklore goes.
Sometimes they're even hilariously absurd. I was playing around with them and suddenly I heard a weird sound, turns out Merfolk sporadically whistle like a dolphin… I couldn't stop laughing the first time I realized where the stupid sound was coming from! I was so confused!

Find yourself a dolphin buddy!
Speaking of dolphins, your Sims can interact with dolphins!! And they are so FREAKING CUTE!! Mermaids can summon a special azure dolphin using their powers and if the island is in a pristine state you might even encounter an albino dolphin! Regular Sims can find grey dolphins swimming around buoys on a couple of moments throughout the day. You can then try to befriend them, which can be quite difficult as they might flip you off due to their own free will and stubbornness.
You'll be able to see your relationship with the dolphin in your Sims' relationship interface, where they are shown much like rodents and toys that you can have friendships with. As your friendship with the dolphin progresses, you'll see that more options will appear while interacting with the dolphin. Eventually you can make them collect items for you or you can ask it to do tricks. I think my personal favorite is the little dance that they'll do for you or the way they squirt water at your Sim. It's just so adorable!
To learn more about these adorable new friends, you should totally read our guide "Fantastic Sea Creatures and Where to Find them". But unfortunately for your Sims, the sea does not only contain friends!  *Queue Jaws themesong* When your Sims are out in the open waters, they can bump into a new foe… sharks! Sharks are not able to directly kill your Sims, but they will try to pull them underwater, which can result in Death by Drowning.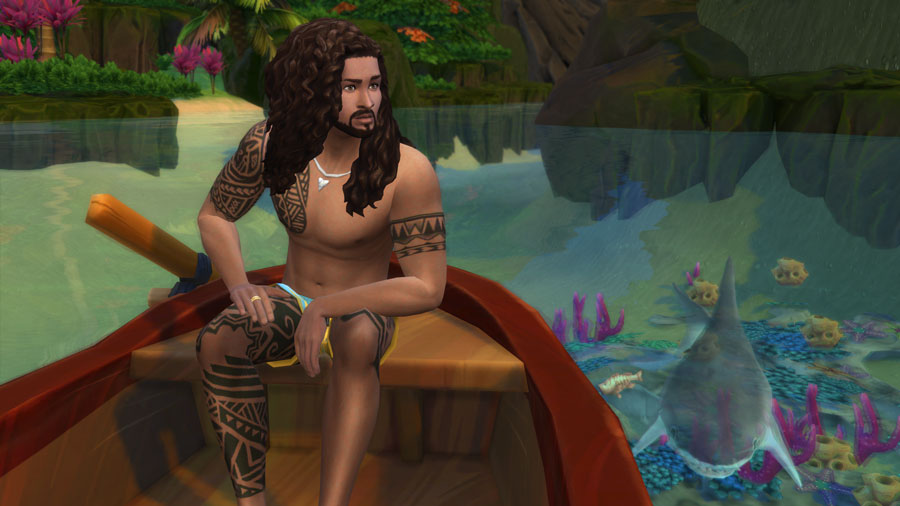 Will The Sims 4 Island Living be a
best sheller
?
The fact that one of the first big mods for The Sims 4 was a tropical version of Granite Falls, I think it's safe to say that island themed packs are very popular within the Sims playerbase. The Sims 4 Island Living took its time to arrive, and I'm glad it did! EA took their sweet time to make this pack and in result I think we're getting a great pack in return.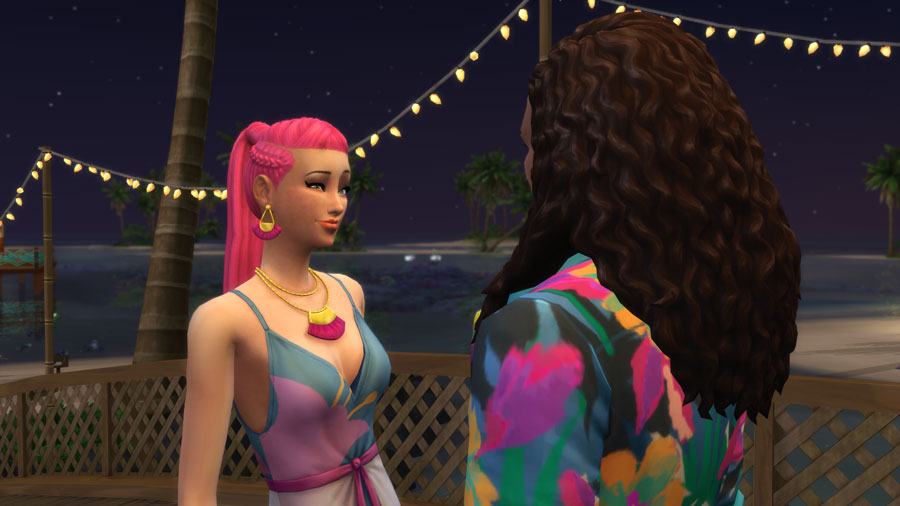 Create a Sim is fun, creative and incredibly detailed. All the CAS items are amazing and I think that anyone who likes to spend time in CAS will enjoy the items very much. I like that all the age groups are represented in the different styles. I think my only real point of critique would be that it's a bit sad toddlers weren't getting any new hairs. I think a curly bun would have been great for them. Unfortunately this happens more often than not with new content.
While I have one minor complaint about the CAS, I just simply can't find anything negative about the Build & Buy objects. There is enough of every category. The only thing that I could think of that I feel was missing in The Sims 4 Island Living is a hammock. It would have been such a logical choice to put it in this Expansion Pack, so I guess that is a missed opportunity right there. Other than that the Build & Buy scores 11/10 for me. I mean, we finally get a kitchen in an EP, what more could we want?!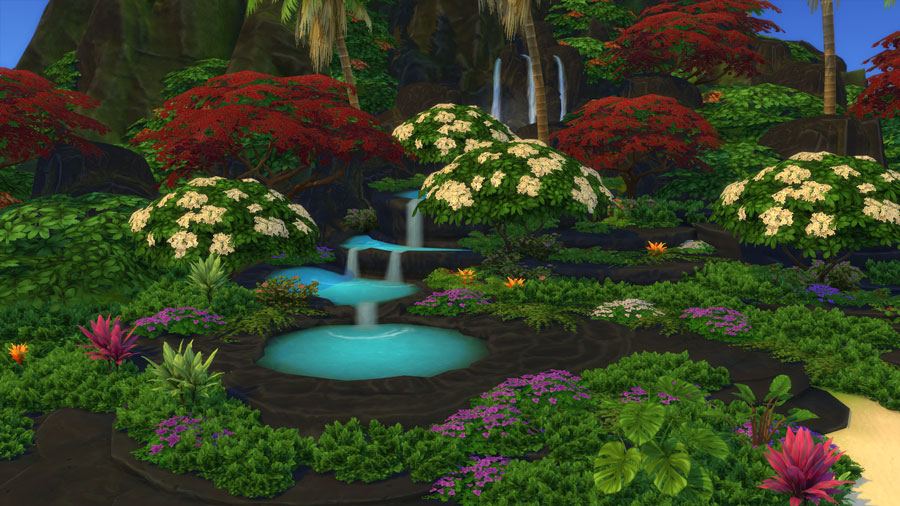 The beautiful tropical paradise of Sulani offers a lot of great gameplay and I wasn't bored once while playing Island Living. The scenery just adds so much to the game! I think that the Oceanic cultures translate very well into the game too which is a big plus for me. The new water activities are pretty well done as your Sims react dynamically to what happens around them and it's a great source of entertainment for your Sims AND for you.
As I love to play with occult Sims from time to time I really liked the Mermaids. I am not sure how often I will play with them, but I welcome them to my game nonetheless. I think the silly little details such as the dolphin noises and the shark teeth add the right amount of comedy to them. BUT! Neither Mermaids nor regular Sims can actually swim underwater, which I think is the biggest flaw of the gameplay of The Sims 4 Island Living. Further, you might play through all their abilities quite fast as they don't have a point system such as Vampires, which is a missed opportunity in my opinion.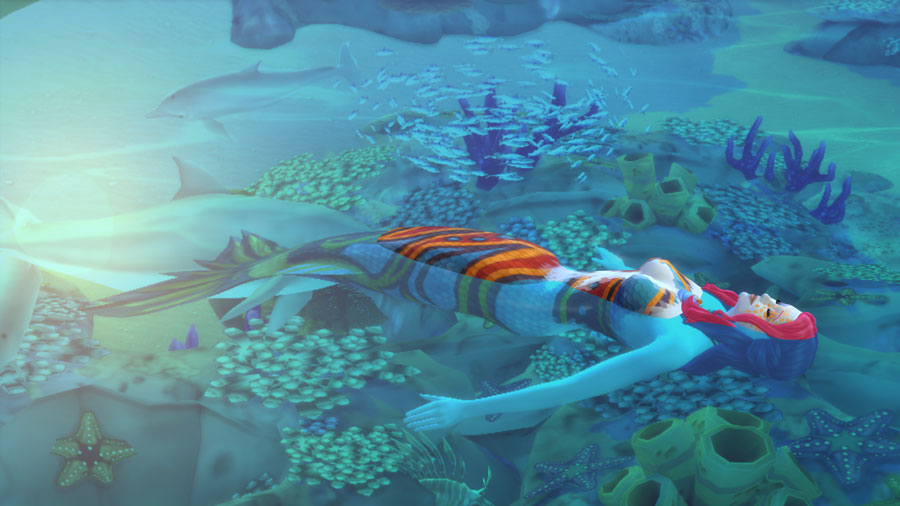 If you look at The Sims 4 Island Living as a whole I'm convinced that the Expansion Pack will be one of the most popular packs of the game. No flaws were so big that it damaged my opinion on the EP. My conclusion is based on each individual part of the game and as you could read in my review above I'm very impressed with all of them.