Sponsored by EA
2 months ago I was invited at SimsCamp to try out The Sims 4 Cats & Dogs. I'm glad we can finally share our thoughts about this amazing new highly anticipated expansion pack! First I want to give you a quick overview why I think this is the game everyone has been waiting for.
Top 5 reasons why this pack is perfect
Create A Pet
This tool is so advanced you can easily spend hours to create one pet if you like. You cannot only create foxes but if you're creative enough you can also create gremlins, rats or even pets from Disney movies.
Interactions and animations
The facial expressions and the animations of pets are spot on! It almost feels like you're watching a Pixar movie.
The amount of new build and buy objects
There are so many new objects in this expansion! Even if you're a builder and never play the game itself it's a huge recommendation to get this pack full of new windows, doors, curtains etc.
The New World; Brindleton Bay
Wait until it's nighttime and explore the harbor. You'll see what I mean.
Becoming a Vet and Run your own Clinic
I really can't wait to build my own vet clinic! There is so much cool stuff to decorate it with. There are also over 20 diseases pets can have so it will be a fun challenge to figure out the treatment for each pet.
Animal interactions
This pack is filled with adorable interactions between animals and Sims. For example your toddler can talk to their cat or dog, pet them and even imitate them. But you can also yell at your pet as a mean interaction.
Play with your pet or sit on the couch and ask your pet to come sit with you. Pets can also decide to do this without asking. The animations are adorable and very realistic.
Train your pets
Did you know dogs can learn new interactions when you train them? They can learn how to fetch, speak, sit, roll over and lie down.
Both cats and dogs can run an obstacle course and I think it's very cute they decided to let cats join in on this!
Many new building objects!
Expect a lot of new build object in this pack. I wrote down a list with all the new build objects coming in The Sims 4 Cats and Dogs.
1 Gate
1 Stair railing
4 Medium height doors
6 Short doors
3 Small doors for cats and dogs

1 Column
1 Spandrel
3 Trees
3 Shrubs
1 Fence

13 Windows!
5 Wall sculptures
10 Wall patterns
2 Floor patterns
3 Roof sculptures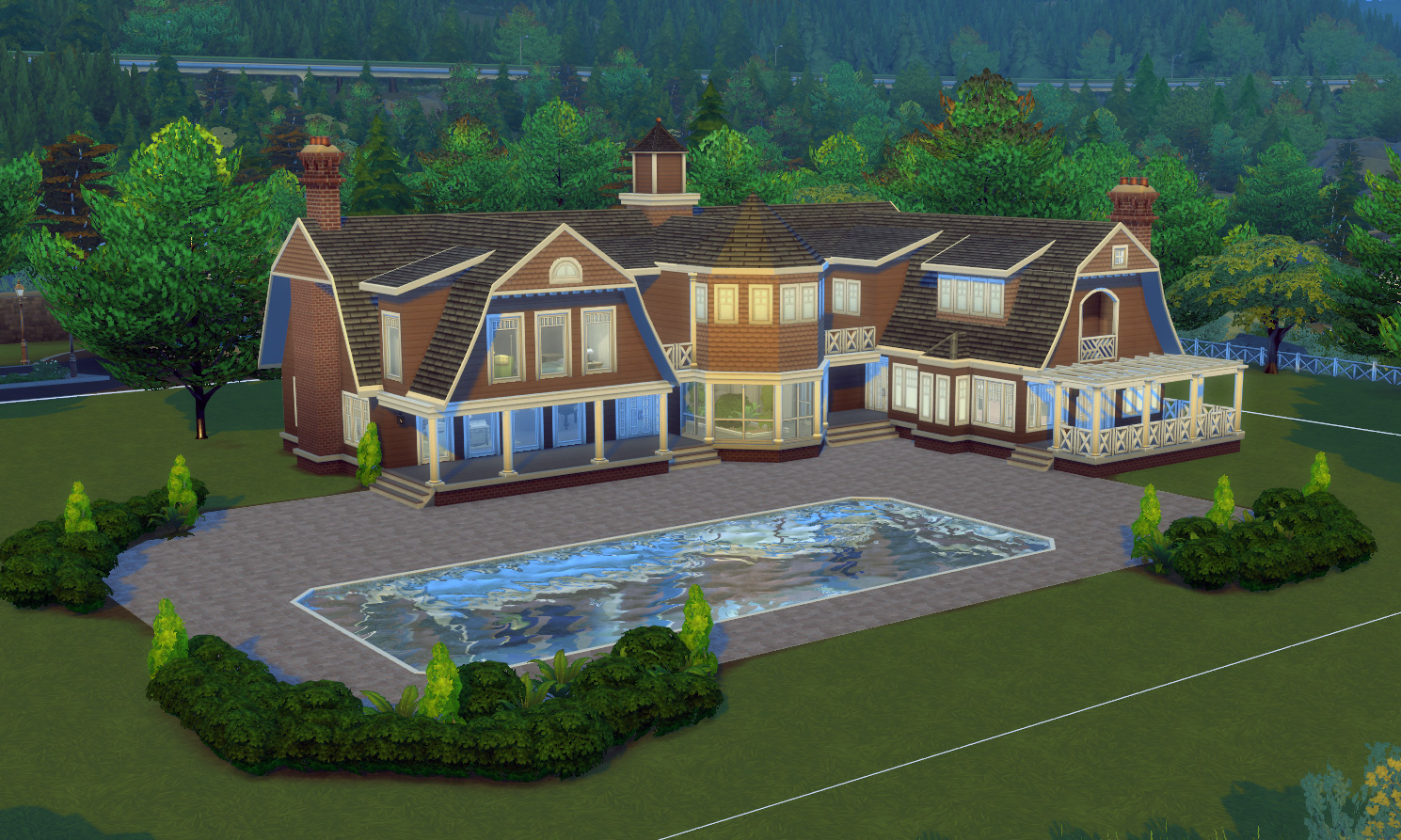 New objects for buy mode
I just love the style they used for all the objects in this expansion pack. You can expect around 260 new buy mode items! I personally love the robot vacuum cleaners, automatic pet feeders and the beautiful large fireplace.
4 Beds
2 Pet beds
4 Living chairs
4 Dining chairs
1 Sofa
6 Loveseats
1 Barstool
1 Coffee table
3 Dining tables
6 Accent tables
5 Display shelves/cabinets
1 Desk
1 Picnic table
1 Sink
1 Toilet
4 Pet toilets

1 Tub
1 Bar
1 Aquarium
14 Pet toys
3 Food stalls
6 Indoor plants
72 Paintings and posters
1 Mirror
12 Curtains
2 Awnings
16 Sculptures
6 Clutter items
22 Rugs
2 Fireplaces
12 Wall decorations
11 Misc decorations

7 Cat trees
3 Pet feeders
2 Kids toys
3 Table lamps
1 Floor lamp
1 Outdoor light
1 Wall light
3 Ceiling lights
2 Pet mailboxes
2 Vending machines
2 Bookcases
3 Dressers
2 Robot vacuum cleaners
2 Robot vacuum cleaner docking stations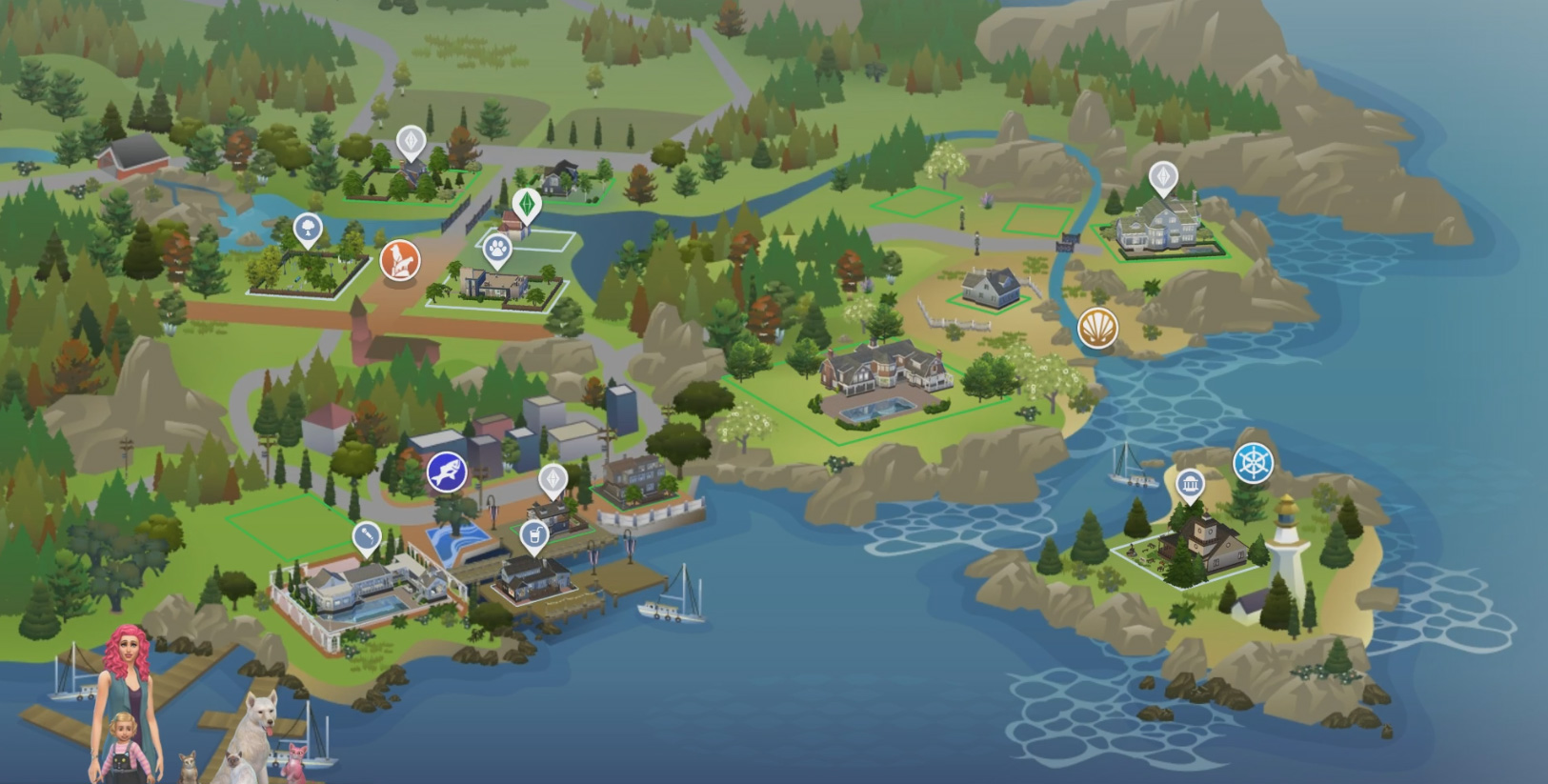 Brindleton Bay is the Perfect World for Pets
Your Sims and their pets are going to love this world! It has a lot to offer like a cat fountain, lighthouse, dog park, open causeway and an old town center. If you take the boat from the harbor to Deadgrass Isle you'll find a pet cemetery (with ghost pets!), lighthouse and a maritime museum.
This is by far my favorite world! There are many paths to walk your dog next to the beach or at the harbor. There's even a place where you can find stray pets to take home. Oh I did mention the pet cemetery, it's a great to hang around at night and spot different ghost pets. You can also add them to your household and resurrect them if you'd like.
The new world comes with 2 64×64 lots to build on. This is very good news for me as a builder! The amazing historical look with the dutch colonial homes really gives this world a homey feeling.
Pet Cemetery
Becoming a Veterinarian
When you have The Sims 4 Get To Work you know how the system will work. You'll need to examine patients and give them a proper treatment. The veterinarian career is a bit similar.
First you'll need a lot to build a clinic on. When you're low in cash you can even buy budget equipment, it works perfectly fine but it will look a bit old. If your clinic is completed you can treat patients. Try leveling up the handiness, charisma and the veterinarian skill and improve your clinic.
The most fun part are the animations when pets are being examined or going into surgery. The Sims never fails to surprise me! If you want to run a successful clinic you need to take a few thing into count; it needs to be clean, well decorated, give the proper treatment, don't stress out the pets and be nice to all your guests. It's a lot to handle but the game can tell you where you can improve in your clinic so you don't have to guess how you get a higher rating.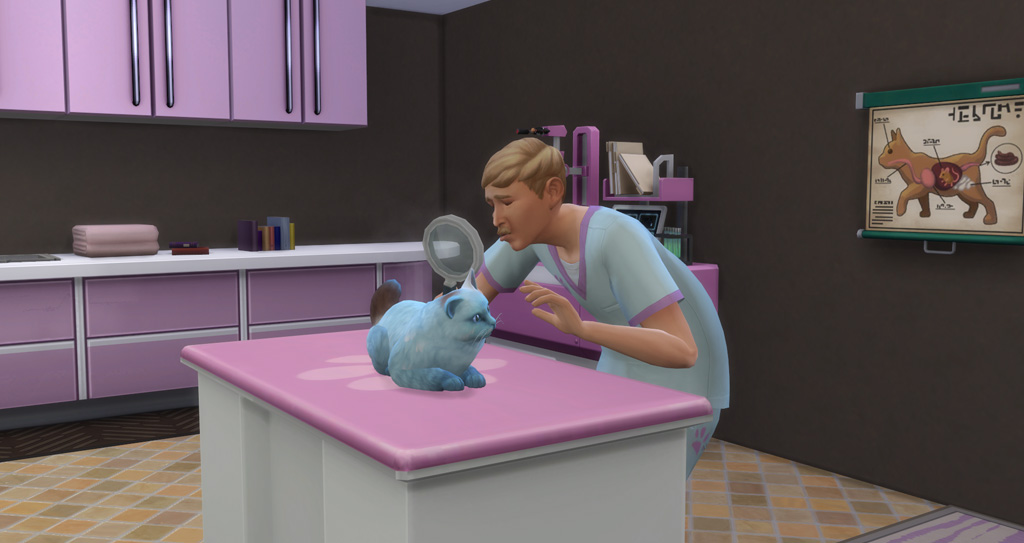 If you're interested in learning more about the Vet career, I suggest you check out the vet livestream.
Go to the Vet
When your pet is sick you can travel to the vet clinic for a treatment. First you will have to check in the patient. Your Sims needs to wait until all examinations are completed. After they found out what's wrong with your pet they'll give you 3 options for a treatment. You can choose the basic treatment that will cost less but the pet needs to wear the cone of shame for a while. You can also choose for the expensive treatment that will cure your sick pet instantly or you can choose for no treatment at all. Sick pets can be real money makers because they will sometimes poop out gold bars.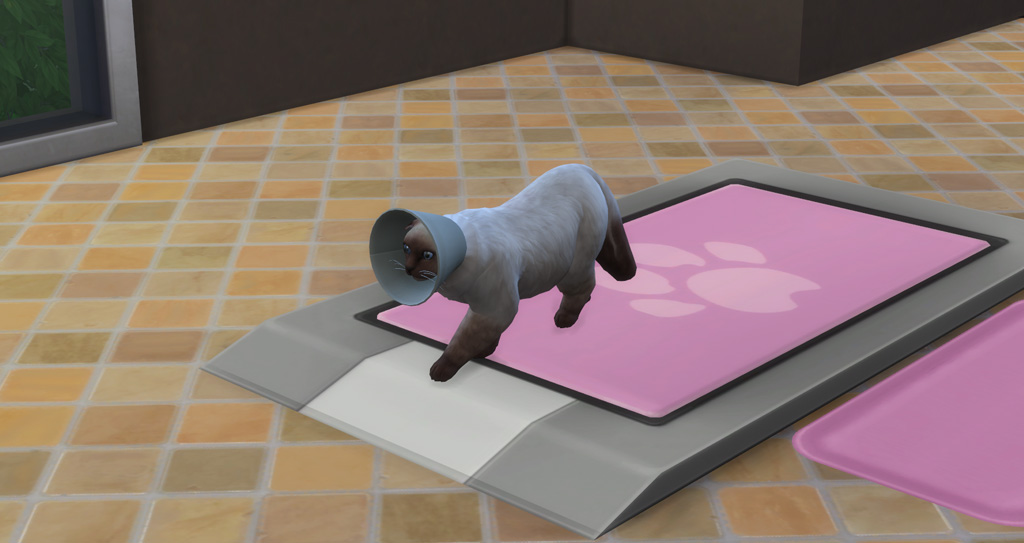 Do I mind that I can't control the Pets?
No I don't! It makes the game much more surprising and way more fun to play with. You can easily call you pet by clicking on the whistle in the household menu bar. They'll come right to you. Your Sim can give orders to their pets for example you can tell your dog to chase the birds, go hunting, come sit, play fetch and much more!
But how can you get kittens and puppies if you can't control them?
When pets have a good relationship with each other you can command the pet to mate with another pet. After that it takes 7 days before a kitten or puppy is born.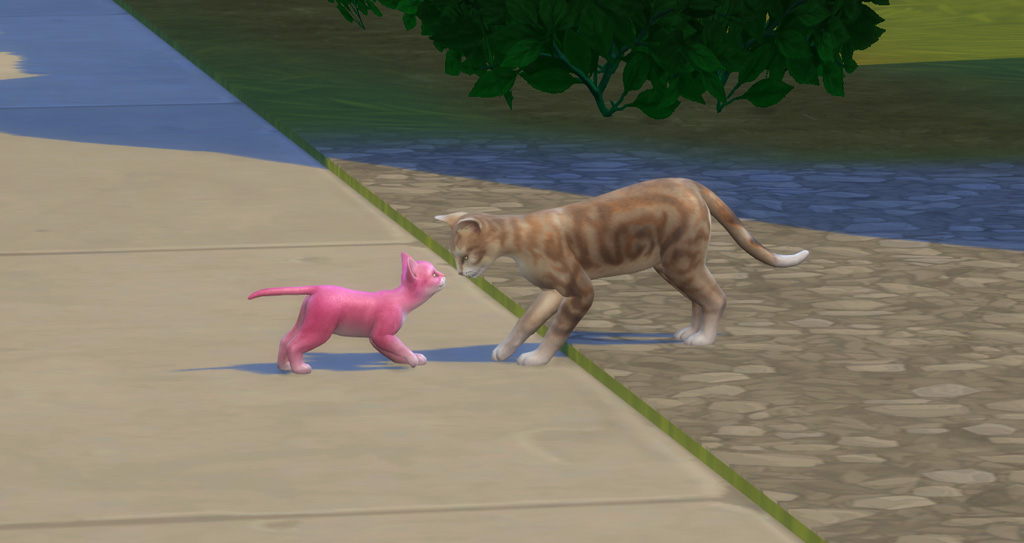 Give your pet treats
Pets can eat different pet treats. This way you can make a pet age up, age down or even resurrect a pet.
Age-Down Treat
Treat that causes your pet to age down.
Age-Up Treat
Treat that causes your pet to age up.
Ambrosia Pet Treat
Treat that resurrects your pet. This will cost your household 2,000 Simoleons.
Cooler than Liquid Nitrogen Nutrition Bar
Get cold
Poop Randomizer
This will randomize the poop of your pet. This way there is a chance to get golden poop that sells for a lot of Simoleons. You can even use poo for gardening.
Scorching Cinnamon Chew
You pet will feel hot
Swampwater Taffy
I think this treat can make your pet sick but I'm not sure.
The Stinkinator
This will make your pet a smelly pet.
Wellness Treat
This will boost your pet's wellness.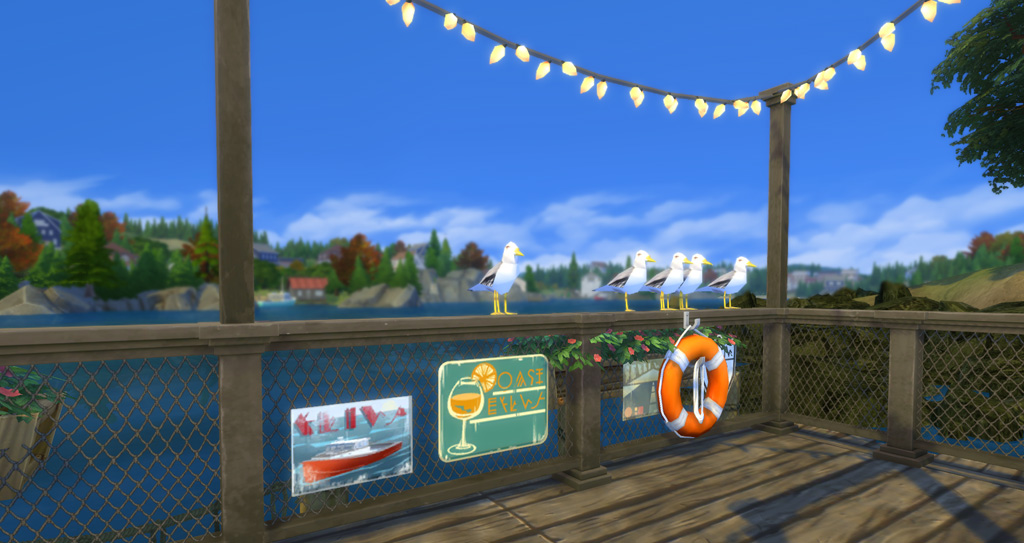 Collecting Feathers
In The Sims 4 Cats & Dogs you can find new collectibles. When your dog or cat chase birds they will sometimes leave a feather behind. You can pick up this collectible and hang it on your wall. Completing this collection will reward you with a beautiful owl statue instead of a standard plaque like most collections get.
More things to collect
In the new world you'll sometimes find a new herb plant. You can give these to your cat and change their mood.
Catnip
Catnip will boost your cats energy making them insanely hyper!
Madnip
Madnip will make your cats enraged with pure anger!
Napnip
Napnip will help calm your cat and put them to sleep.
Nuzzlenip
Nuzzlenip will make your cat friskier than usual.
More screenshots!