Talk Show Challenge
Talk shows are undoubtedly a pretty big deal in the world of TV – they're everywhere and we all watch them. Everything from morning talk shows to late night roasts have sets that have been carefully designed to fit a whole range of specifications, including space for guests, audiences and performers.
Your challenge: Build a talk show set. You can choose what type of talk show it is – it might be a morning news program (similar to NBC's Today)…
…a daytime talk show (think Ellen)…
…or perhaps a late night talk show (what about Tonight with Jimmy Fallon?)
So you can see the possibilities are endless! Well, not quite.
Rules
You have a space of up to 30×30 to work with.
Use tall walls. Remember, viewers won't see the whole height of the walls – this is to allow for things like lighting.
Proper lighting, that focuses on the presenters and keeps the audience in the dark.
Space for people to get around. Realistically, TV sets won't be cramped up – where would the cameras go?
An audience area with seating. Think about making sure everyone can see.
One floor only.
Focus on the interior design of the set – the exterior can just look like a sound stage.
You can design a set for any type of talk show you like, be creative! Think about colors. A morning show would be more likely to use lots of oranges and yellows to create a morning atmosphere, but a nighttime talk show might use more dark colors such as blue and gray. Think about where your set is – perhaps a news show could have a big window looking out over the town or a nice view? How about trying to squeeze in a newsroom for your backdrop?
The possibilities are endless. Let's build!
This challenge is written by SMagazine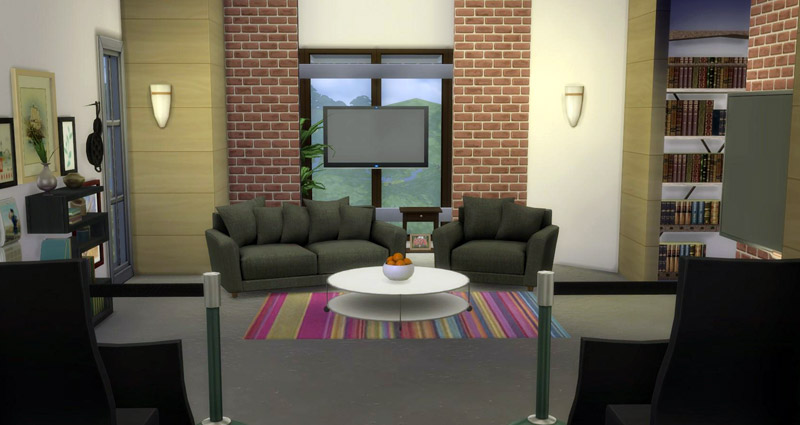 ---
Submit your entry on
Facebook
or
Twitter
for a chance to be featured in this article!
---
About the Building Challenges
We can all build large and expensive houses in The Sims 4, but what's the challenge in that? Time to limit the options and test your building skills. I'm creating building challenges for you to compete in. You can use these challenges in Let's Build video's on YouTube, challenging a friend or testing your own building skills.
If you want to upload the house you build for these challenges use hashtag #TheSims4BuildingChallenge in The Sims 4 Gallery so people can find them easily. Same goes for twitter.