A few days ago many Simmers came to Twitter to express that an incident happened between an EA Game Changer and minor Male Simmers.
SimGuruLyndesy took to Twitter and wrote a statement about the incident.
Here is what she had to say:
— Lyndsay (@SimGuruLyndsay) March 6, 2019
What's more damaging to the company and the minors who were affected by the incident is that many of them told the SimGurus back in December, but the SimGuru's did nothing about the incident, which allowed the EA Game Changer to target more minor Male Simmers.
— aidan (@aiidaannn) March 6, 2019
As more Simmers came forward to explain what was going on with this disgusting behavior, SimGuruKate came to Twitter to release a tweet to explain that the Game Changer has stepped down from the Game Changer program and had this to say:
Thank you for this statement Lyndsay. Simmers, please understand that we (including me) are unable to comment publicly on ongoing investigations. If you are being harassed or threatened please report to the appropriate individual immediately. https://t.co/02sp7nH2nM https://t.co/FsTNB1MQnI

— ҜΔŦ€ ØŁΜŞŦ€ΔĐ (@SimGuruKate) March 6, 2019
This didn't make Simmers very happy though since they are still wondering why the Maxis team or the EA team could not take appropriate action to remove the EA Game Changer when many of the victims came forward back in December.
But with all the bad news, SimGuruLyndsay came back to Twitter to release an official Statement about the incident: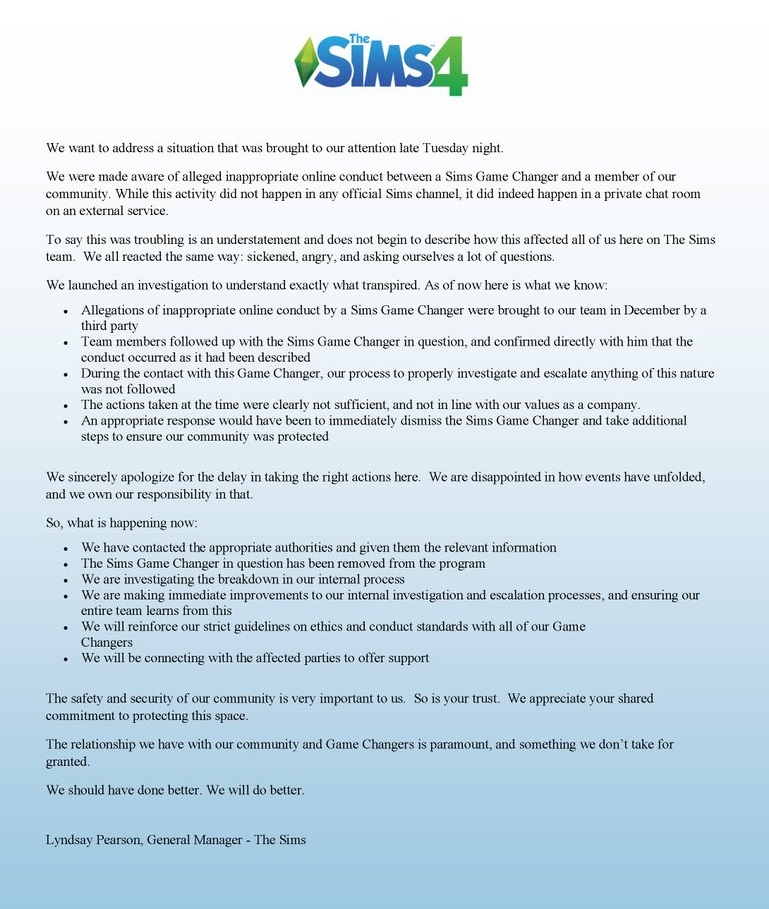 Please be safe when online Simmers and if you ever feel like you are being targeted by an EA Game Changer. Please don't be scared to address it to the company or the SimGurus since we hope they have learned from their mistakes and will take action very quickly.