Weddings are a special type of a social event. The main goal of the event is to get married (Thank you captain obvious). You only need to place a Wedding Arch to complete the basic objective and you don't need a lot of guests to earn a Gold Medal on your Sims' wedding.
Preparations before the Wedding
The first thing you will have to do is prepare the lot and Sims for the Wedding. Set up a romantic room or download one from The Sims 4 Gallery. Make sure your Sims are engaged otherwise you can't select Wedding in the social event menu. You also want to safe money for the wedding because it will cost between 1,000 to 1,750 Simoleons. It depends how many Sims you want to hire.
What objects do you need to perform a wedding?
Wedding Arch (required)
Have a Wedding Cake ready in your inventory or hire a Caterer (Stove, counter and refrigerator needed)
Place chairs around the wedding arch so guests can watch the ceremony
Place a bar so Sims can make drinks
A musical instrument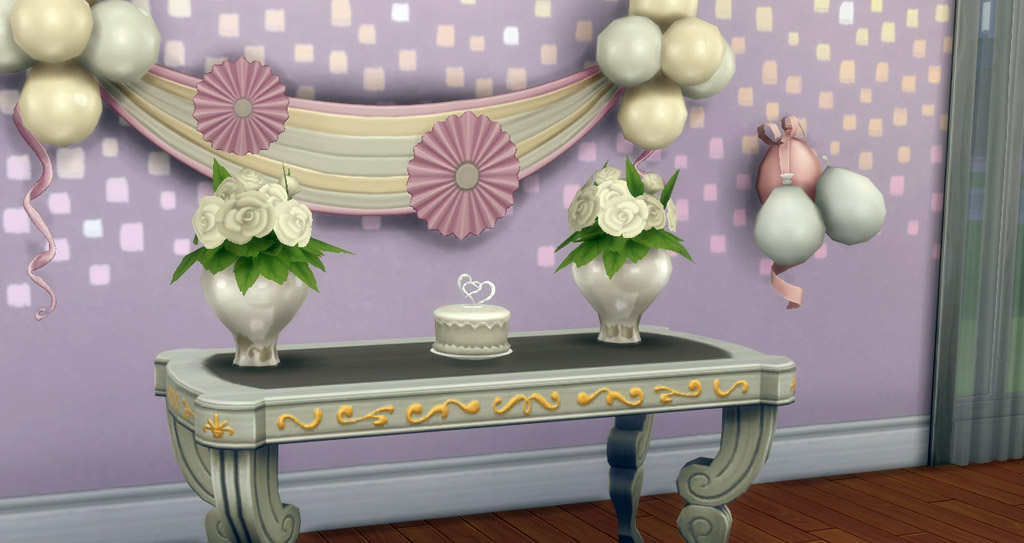 Baking the Wedding Cake
You can create a Wedding Cake the same way as the Birthday Cake, bake a cake and put a wedding topping on it. You can make the cake before the wedding starts and place it (with the topping) in your inventory. You can take the Wedding Cake out during the most beautiful event of your Sims. The caterer can be too late to bake the cake so you better prepare it yourself.
Pick out the perfect dress/suit
When you want to be fully prepared to wear the perfect dress or suit at the wedding, add one to the formal wear slots so you can change without a dresser present on the wedding location. After you saved your Sim with the perfect clothing for the wedding you can just click your Sim and change their outfit.
Tips to earn a Gold Medal at your Sims' Wedding
Spend extra Simoleons on a good quality Caterer, Mixologist and a Musician.
Put down a plate of food for the guests and your household
Place a bench or chair so guests can watch the Wedding
If you have The Sims 4 City Living you can add the lot trait: Party Place, this makes completing goals easier.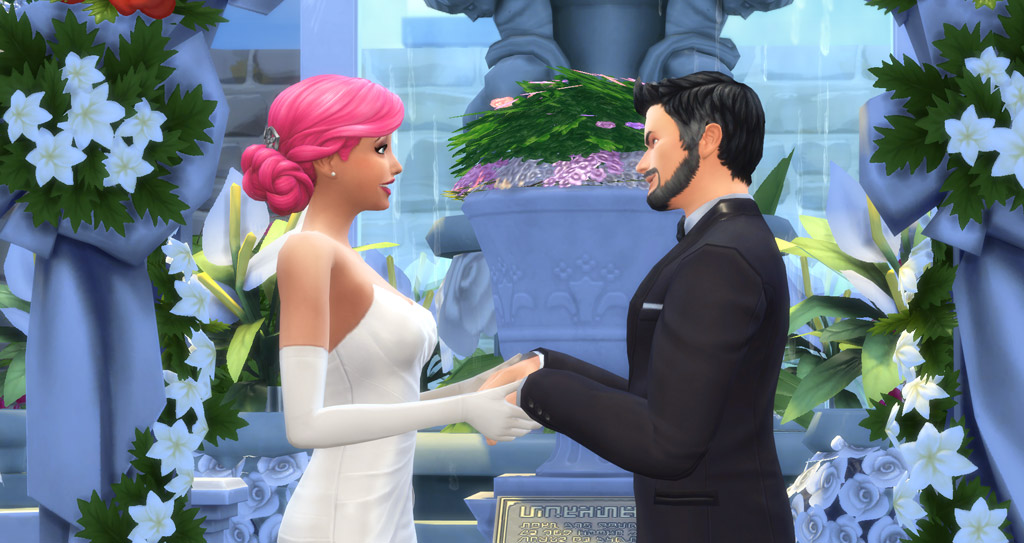 Get Married!
When you have everything ready for the wedding it's time to put it in motion. Go to your phone and click on Plan a Social Event. Select Wedding to get more options. Pick the hosts for your wedding. Next invite the guests. Select every member from your household if you have any left so they can also complete goals. If you have enough money you can hire extra Sim to become a caterer or mixologist. Choose the place where you want to host your wedding. This can also be at a venue if you like. The wedding will last for 9 hours so make sure you complete the goals in time.
Complete Goals
You need to complete a lot of goals to host a gold medal wedding. Every Sim can complete goals, this includes invited guests. With every social event there is a selection with goals to complete, not all goals listed below will come up at every event but it's recommended to prepare for it in case they do.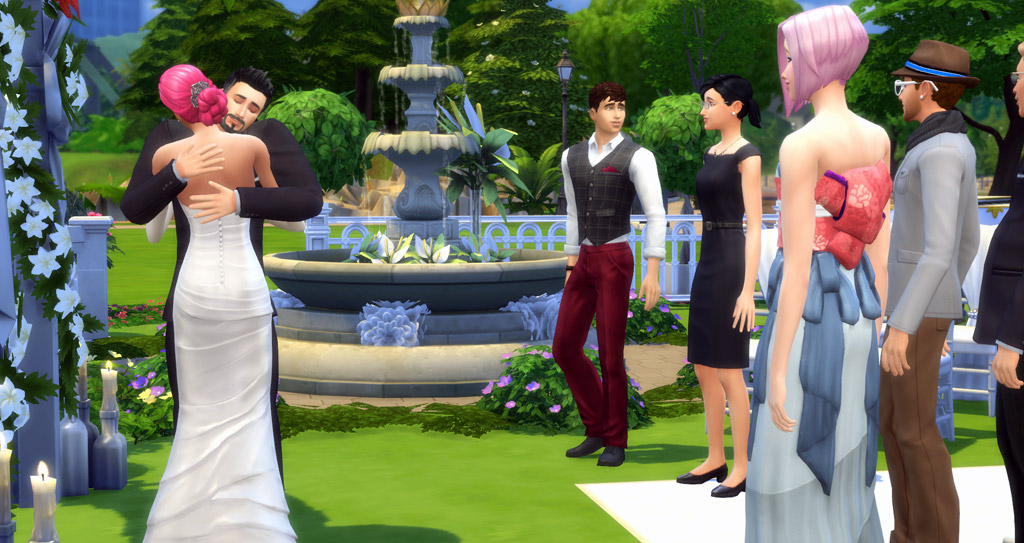 Main goal
For your event to be at all successful, you must meet the main goal. If you complete the main goal you will get a Bronze Reward. In order to get a Silver or Gold medal you need to complete the additional goals show below the main goal.
Get Married! (0/2)
Click on the Wedding Arch to get married.
Additional goals
You need to complete all of the additional goals to get the gold party medal. Good luck!
Have Drinks (0/3)
Make drinks at the bar or hire a Mixologist. Click on a glass to have a drink.
Have Guests Watch the Ceremony (0/1)
When the ceremony begins, guests will come to the wedding arch to watch.
Talk to Guests for 2 Hours (0/2)
Click on one of the guests and choose a social interaction that involves talking.
Take First Slice (0/1)
Click on the wedding cake to take the first slice.
Have the Betrothed Kiss (0/1)
Let the just married couple kiss each other.
Eat Food (0/4)
When there is a group serving prepared you can call the guests to dinner.
Betrothed Flirt With Each Other (0/3)
Let the married couple flirt with each other.
Thank a Guest for Coming (0/1)
Click on one of your guests and thank them for coming to the wedding.
Wedding Rewards
When you completed the wedding you'll be given several rewards. You can find these rewards in your household inventory (Build mode).
Bronze medal
You'll get a skill book to level up Charisma: Charisma Vol. 1: Diplomacy for Dummies.
Silver medal
You'll find the Wedding Pillar with Floral Basket and an In Full Bloom Centerpiece in your household inventory.
Gold medal
When you earn a gold medal you'll get the silver rewards and these appliances: Royal Crabtree Tea Set, The Food Annihilator, and Tea Magic Personal Brewer along with Silver Rewards.
Elope to skip the wedding
When your Sims just want to get married there is also an option to elope. There are two ways to do this:
You can select Elope from the Romance menu once your Sims are engaged or buy a Wedding Arch and click on it to get married.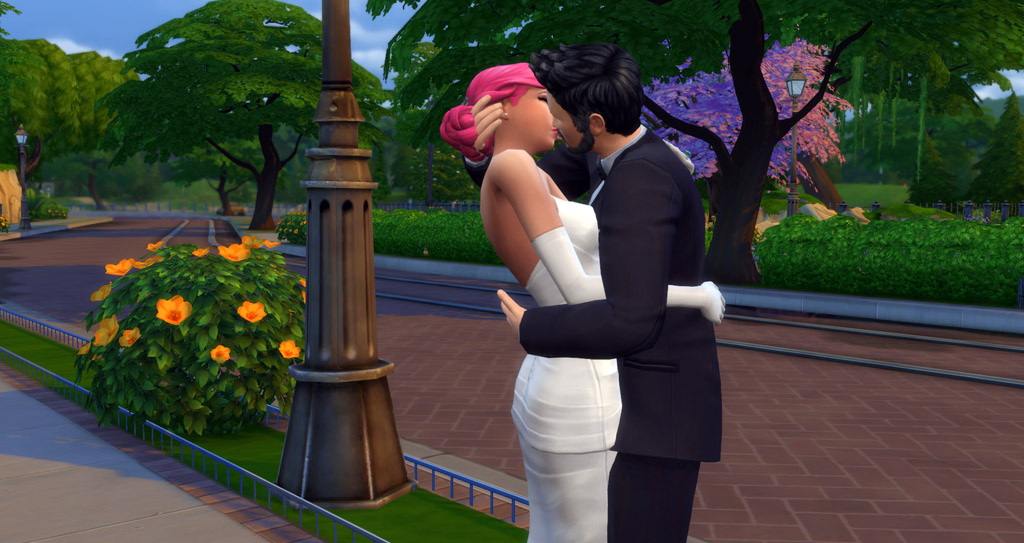 If you have any questions regarding Weddings in The Sims 4 feel free to ask them in the comments below.