There are many ways for your Sim to level up their rank and unlock Vampire Powers in The Sims 4 Vampires. Drink Plasma, research Vampire Lore or use Vampire Powers to gain Vampire Experience. Using Powers aren't always successful but this will improve when you rank up the skill ladder.
How to unlock all Vampire Powers and reach the next Rank
Drink Plasma from other Sims
The only way to level up in rank is to drink from Sims. Substitutes only satisfy the thirst but will not give you Power Points.
Research Vampire Lore
You can search for information on Vampires on the Computer or read Vampirica Tomes.
Use Vampire Powers
Use Vampire Powers to collect points and reach the next Vampire Rank.
Interact with other Vampires
When you meet another Vampire there are multiple ways to make it to the next rank. You can Spar with a Vampire, or Request Vampiric Training.
Unlock Vampire Powers with cheats
And of course you can use cheats to unlock Vampire Powers.
When you look at the power bar you'll see stripes between each rank. When you come across one of them you'll get Power Points. How much you'll get depends on the rank you are leveling. Eventually you can unlock all powers without taking any more weaknesses after you reach the highest rank.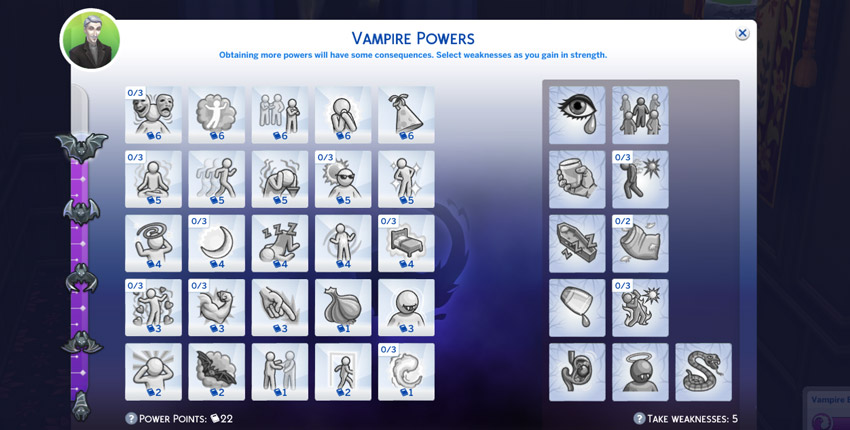 Reset your Sims' Vampire Powers
Drink the Draught of Reconfiguration from the mix bar to reset all Vampire Powers of your Sim. You will unlock this recipe at level 14 with the Vampire Lore Skill. You'll need 2 Wolfsbane, 2 Garlic and 2 Plasma Fruits to make this cocktail. Oh I almost forgot, you also need 1,000 Simoleons…
Vampire Ranks and their Powers
There are a total of 25 Powers to unlock and you can choose between 11 weaknesses. If you are having problems to unlock all these Powers, you can also use cheats to unlock them.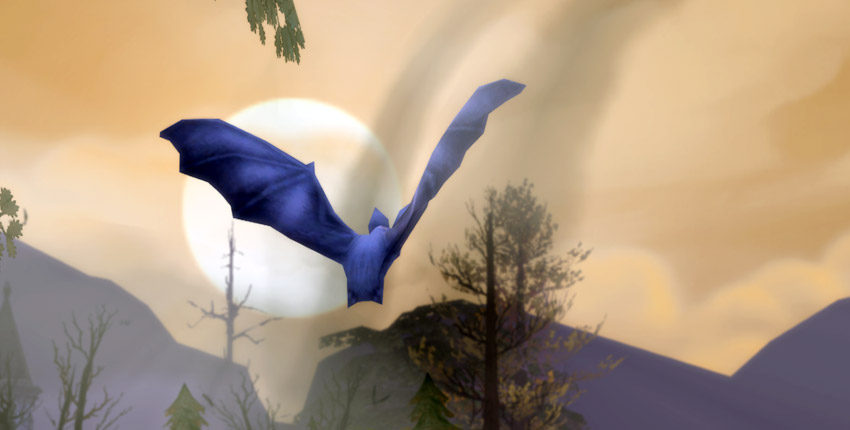 Rank 1: Fledgling Vampire
As a starting Vampire you have 5 Vampire Powers to choose from. You'll start off with 2 Power Points to spend so you can already buy your first skill. Choose wisely because you can't rearrange skill until a certain level in the Vampire Lore skill. You can search through the list below what you can expect from every Power. With every stripe you come across you'll get 1 Power Point extra to spend.
Detect Personality

Learn all about another Sim's traits and learn other Sims' personalities instantly by visiting their frontal lobe.

This won't work if you try this on a Vampire that's a higher rank as your Sim.

2 Power Points

Bat Form

Gain the ability to fly anywhere as a bat. This can be very useful if you want to teleport somewhere. Your Sim can escape from rooms with no doors if you have this skill. This skill can be set as a standard traveling method; click your Sim and click 'Vampire' and choose your traveling method. When you Try for a baby as Bats with another Sim this skill will be past on to your offspring.

2 Power Points

Cast Hallucination

Make another Sim talk to themselves! Everyone needs a friend, yes?

1 Power Points

Eternally Welcome

Gain the power to lock & unlock doors at other Sims' homes even if you're just visiting.

2 Power Points

Occult Student/Occult Disciple/Occult Master (0/3)

Use less Vampire Energy! Your Sim can expend less energy for the same effect. Further study will reduce Vampire Energy costs even more.

1 Power Points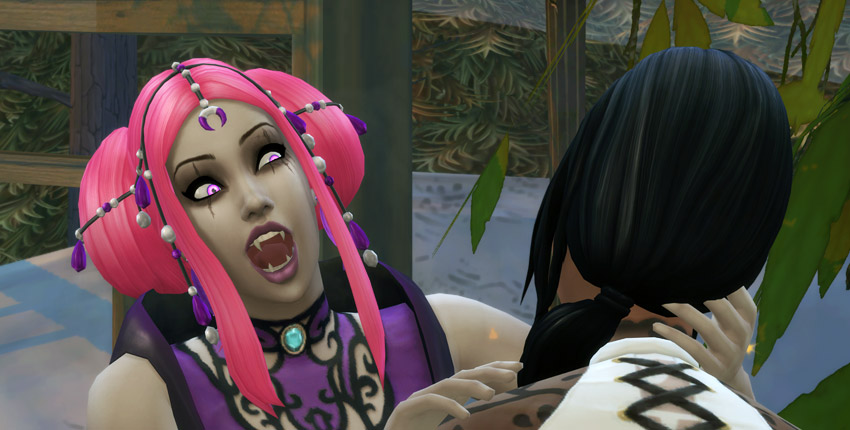 Rank 2: Minor Vampire
You Sim is now a Minor Vampire. You unlocked 5 new powers! To use these powers you'll have to choose one weakness for the powers to work. For every stripe you pass in your Vampire Rank bar you'll get 2 Power Points. This comes in handy since the Powers costs more this time.
Vampiric Charm/Vampiric Allure/Vampiric Fascination (0/3)

Make nearby Sims find your Sim attractive. The higher the skill, the more effect it will have.
Conflicts with Undead Aura.

3 Power Points

Vampiric Strength/Vampiric Brawn/Vampiric Might (0/3)

Win fights more often and work out more efficiently. Vampiric Strength grants your Sim an edge when it comes to fitness, sparring or fighting. When you reach rank 3 it unlocks the ability to crush Metals and Crystals into elements.

3 Power Points

Command

Control the minds of other Sims. Make your Sim command others to perform Cleaning, Repairing, and other joyful household tasks instead.

3 Power Points

Garlic Immunity

Gain immunity to the negative effects of Garlic objects like the Gourmet Garlic Garland, Garlic Braid or the Garlic Wreath.

1 Power Points

Vampire Creation

Gain the power to turn other Sims into Vampires.

3 Power Points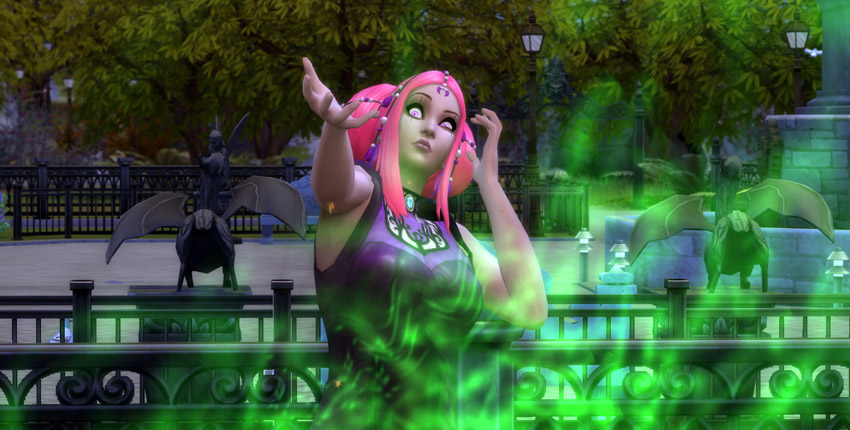 Rank 3: Prime Vampire
As a Prime Vampire you will unlock 3 Power Points for each stripe you pass in the rank bar. You'll be able to choose 5 new skills. Take on a Weakness.
Mesmerize

Put another Sim into a trance so your prey is moving too quickly.

4 Power Points

Child Of The Moon/Creature of the Night/Master of Darkness (0/3)

Become stronger in the night time! Your Sim will be able to wield more powers, will learn skills faster, will tire less quickly, and will be happier. Embrace the moon and soak in its benefits!

4 Power Points

Irresistible Slumber

Put another Sim to sleep.

4 Power Points

Manipulate Life Spirit

Gain the power to Drain Life Spirit from other Sims, or Restore Life Spirit from those who have been drained. This interaction can be found under 'Drink Plasma'.

4 Power Points

Vampiric Slumber/Greater Vampiric Slumber/Vampiric Trance (0/3)

Increases rate of Power gain during sleep and lets your Sim sleep more soundly.
Conflicts with Fitful Sleep.

4 Power Points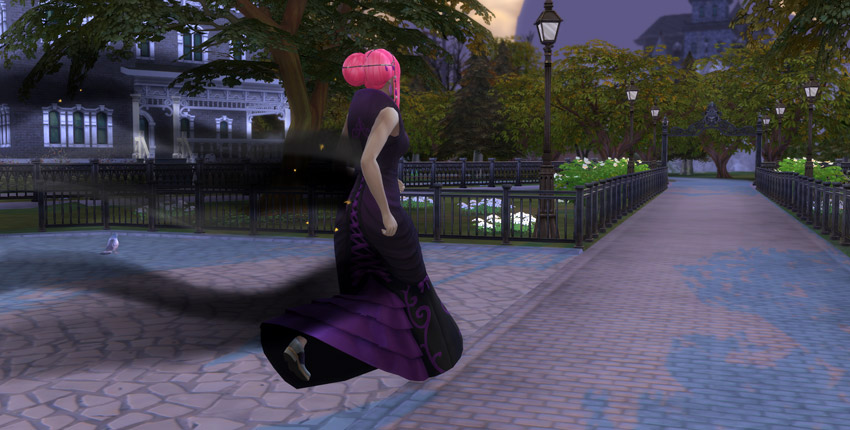 Rank 4: Master Vampire
At this rank you will get 4 Power Points for each stripe in the ranking bar. You also unlocked 5 more Vampire Powers! Take on a Weakness.
Dampened Emotions/Suppressed Emotions/Deadened Emotions (0/3)

Become more resistant to changes in emotion. If you fill this skill up to 3/3, Love, Anger and Disgust are a thing of the past.
Conflicts with Eternal Sadness.

5 Power Points

Supernatural Speed

Gain the power to run at super speed. This skill can be set as standard running; click your Sim and click 'Vampire' and choose 'Enable Vampiric Run'.
Conflicts with Eternal Sadness.

5 Power Points

Deprive Needs

Deplete the Needs of another Sim! Manipulating common Sims is key to weakening prey. Deprive Needs allows one to deplete the Hunger, Energy, Bladder, or Hygiene of a chosen target. Make them uncomfortable, then strike!

5 Power Points

Sun Resistance/Greater Sun Resistance/Perfect Sun Resistance (0/3)

Gain resistance to the harmful effects of sunlight. With Sun Resistance your Sim can better withstand its rays. When you reach rank 3 Your Sim becomes completely immune to the sun.
Conflicts with Thin Skinned.

5 Power Points

Odorless

Hygiene Need doesn't decrease anymore.

5 Power Points
"What do you call a master vampire?
A real pain in the neck!"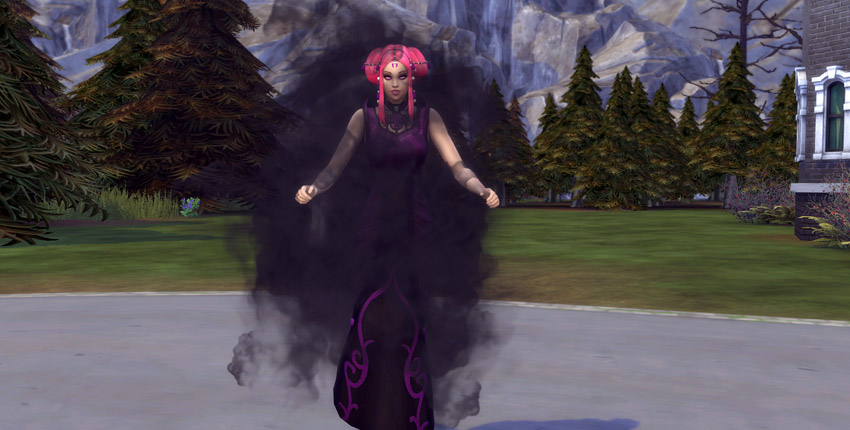 Rank 5: Grand Master
A Grand Master Vampire can continue learning new vampire powers without having to take any new weaknesses. Each stripe you pass after this rank will give you 2 Power Points to spend. There is no limit until you gained all the Vampire Powers. Take on 2 Weaknesses.
Influence Emotion/Alter Emotion/Control Emotion (0/3)

Make nearby Sims feel a specific emotion.

6 Power Points

Mist Form

Gain the power to teleport anywhere as a cloud of mist also from a locked up room. This skill can be set as a standard traveling method; click your Sim and click 'Vampire' and choose your traveling method.

6 Power Points

Beyond The Herd

Social Need doesn't decrease anymore.

6 Power Points

Tamed Thirst

You Vampire Sim will never drink from other Sims on their own when low on Thirst.
Conflicts with Insatiable Thirst.

6 Power Points

Immortal Pleasures

Fun Need doesn't decrease anymore.

6 Power Points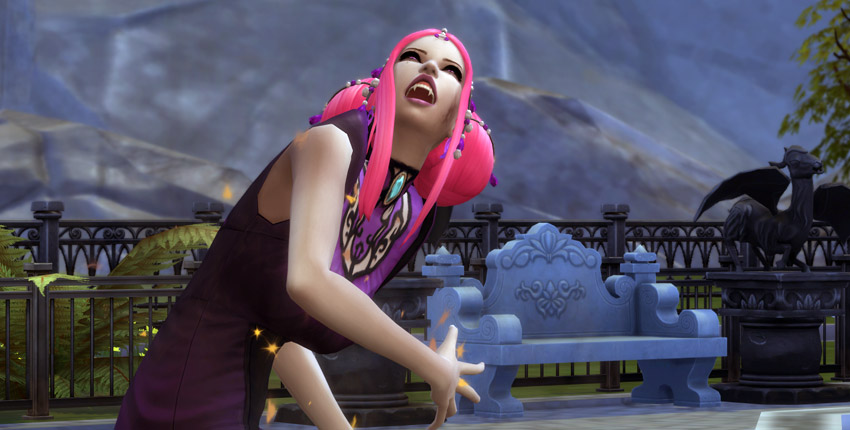 Vampire Weaknesses
When your Sims takes on more Powers he/she has to choose more weaknesses. When you reach the final rank you'll eventually need to choose 5 weaknesses in total.
Withered Stomach

Your Sim will become nauseous and vomit from eating normal food.

Guilty Drinker

Become guilty when drinking from Sims without permission.

Uncontrollable Hissing

Your Sim will occasionally disgust others by hissing uncontrollably.

Sloppy Drinker

It takes much longer to satisfy Thirst when your Sim is drinking Plasma.

Thin Skinned (0/3)

Makes the sun more harmful than normal.

Sleep of the Undead

You Vampire Sim will be only able to sleep in Coffins.

Fitful Sleep (0/2)

Power gain is reduced while sleeping.

Insatiable Thirst

Your Sim gets Thirstier more quickly.

Day Phobia (0/3)

You Vampire Sim is weaker during the day and likely to fail if they use Powers.

Eternal Sadness

You Sim will occasionally get really, really sad.
Vampire Power Fun Facts
Really powerful Vampires sometimes pass down their experience to Sims they turn.
When you have the Bat Form or Mist Form set to standard, if your Sim is teleporting while holding a baby or toddler it will teleport with you. Very useful when it's past their sleeping time to bring them to bed.