Exclusive Grim Bunny Wallpaper
A new wallpaper has arrived! This time it's The Sims 4 Grim Bunny. This one took me 2 hours to create and I love the end result. I'm actually using this one as background myself. Feel free to share them on your blog, website or social media and I would appreciate it if you gave credit. If you like it you can always comment below. Click on the picture to see the large version of The Sims 4 Grim Bunny Wallpaper!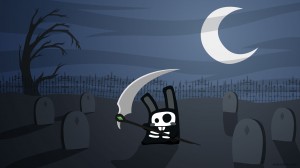 For more wallpapers you can visit the wallpaper page.