Max out Retail Skills with Cheats
Hire Employees that already maxed out their Retail Skills! This will only work on your active Sim when using these cheats.
I wrote a little tutorial on how to hire your own created Employees to choose from. Or you can download the employees I created for you to download. You can also hire some famous celebrity's with this trick to work at your store.
Max out your Employees Retail Skills with Cheats
Create your employee(s) in Create a Sim and place him/her in the world
Use the retail cheats below to max out their Retail Skills:

stats.set_skill_level retail_workethic 5
stats.set_skill_level retail_maintenance 5
stats.set_skill_level retail_sales 5

Buy and click on the dresser to 'Plan Outfits' and save the household in your library
Go to the option menu (ESC) and choose 'Manage Worlds'
Go to the gallery and place the employee(s) somewhere on an empty lot and go back to your real household.
Go to your Retail Store and hire your new Perfect Employee(s)!

Hire pre-made Employees with Maxed Retail Skills in your store
If you want to hire fast employees, I created a download with 3 Sims Online Employees for you with their retail skills already maxed out. You can change them the way you like, they will keep the skills but looks different. You can even turn them into Grim Reapers for your store if you like. (Grim Reaper outfit comes with The Sims 4 Digital Deluxe upgrade)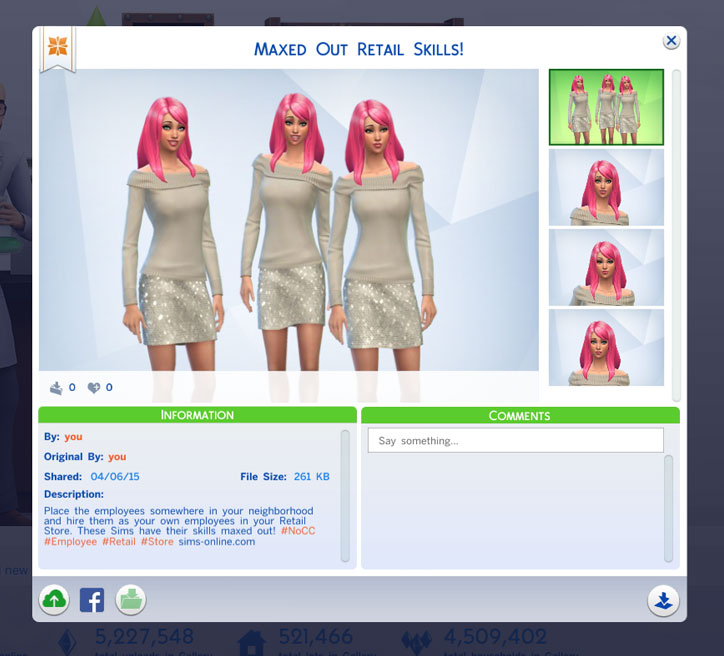 Thanks you Elanor for finding them and thank you Rens (Simlicious.nl) for testing the download.