Last week The Sims team released a blog post called Meet The Climates  which allowed Simmers to learn about a family that can be playble once Seasons releases on June 22nd 2018 and also allows Simmers to learn about the seasons too. Sadly the blog post is not out yet so we had to google translate it.
Via EA
MEET THE CLIMATE FAMILY
Part One!
Hello, fan of The Sims! When we last saw the Climate family , nothing had happened yet. We had just introduced them and left you in the air, which was not very nice, was it? Then, without further delay, we present: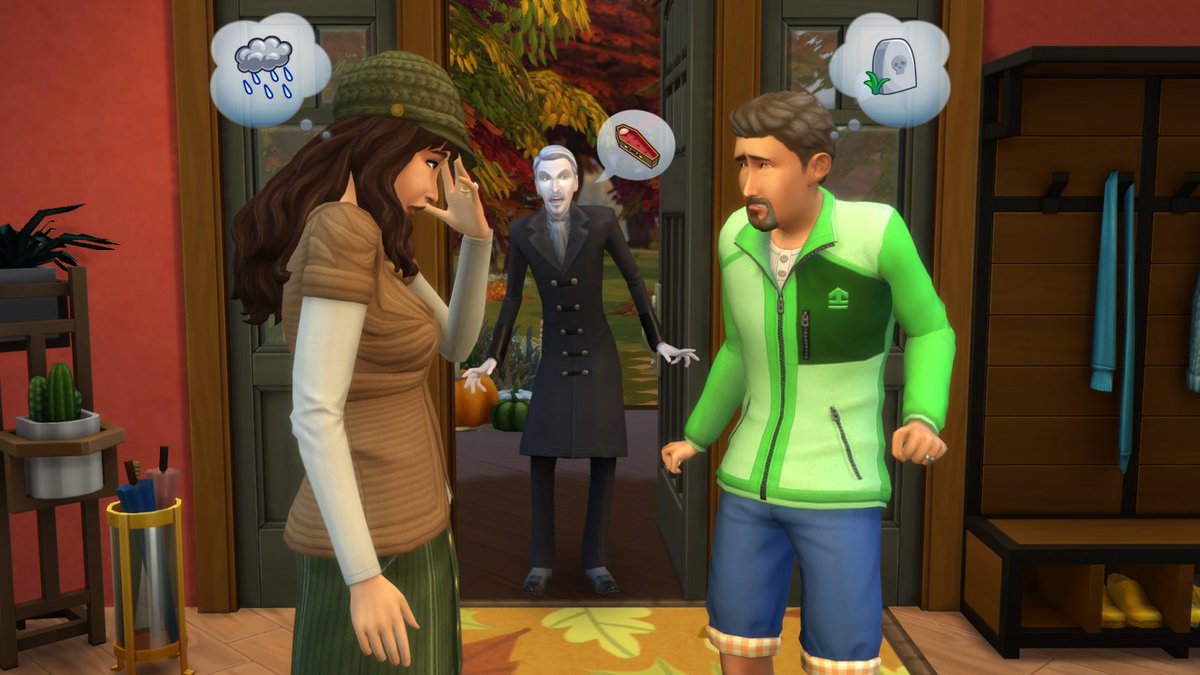 Part 1: Love Bites
There's a week left for the Harvest Festival …
Janine has too many things to do. With Harvest Festival approaching, the time remaining to thank correctly is ending fast. The family took a vacation during the summer and had a great time, but now their to-do list is bigger than a sales champion.
She sipped her cup of hot chocolate. The cold in the air means it's time for your favorite snack. The rich aroma of chocolate fills the room. This is your favorite time of the year.
t the top of your list? Invite Vladislaus Straud, cousin of her husband, Arthur for a visit. The last time they talked, something seemed … odd. Then, after a few weeks without answering his calls, Janine finally picked up the phone and invited him for a visit at the Harvest Festival. She really needed help. The turkey was not going to bake alone.
Dark clouds approach. That's weird. It's been sunny all day.
"Arthur, can you put the leaves outside before the rain comes?" Janine asks.
Her gentle, half-foolish husband interrupts her experimental cooking in the kitchen.
"Ah, of course, my dear!"
Arthur calls Summer, who obviously complains. A typical teenager. The two begin as Janine continues to advance on her to-do list.
Things will get complicated on Harvest Day. There is no doubt. There will be a great meal, the traditions of the family … and Vlad. Argh, Vlad. An eternal bachelor, Vlad asked Janine and Arthur to find him a "healthy woman" and "well-served," whatever that means. The request seemed strangely specific. What do these Forgotten Hollow people really do?
Janine marks a few days in the calendar:
The arrival of Vlad
Reserve for dinner at a local restaurant
The Harvest Day
The big day
"Hey, Arthur, are you going to collect these leaves or just scatter them around the yard?"
She smiles at her sodden husband. So many things to do.
Two days until the Harvest Festival …
"Oh, it's so good to see you, Vlad," Janine tells her cousin (by marriage).
"Do not be so sarcastic, my dear," Arthur whispers in his ear.
Apparently unable to recognize normal human experiences, Vlad does not notice her intonation.
"Yes, yes," says Vlad. "About my partner. Have you found a tasty woman for me?"
"We do not call them that way here in Willow Creek," says Janine. "But the answer is yes. My colleague, Beth, will meet us at the restaurant."
"Sensational," says Vlad. "I see you're eating well."
Arthur coughs awkwardly and walks out of the room with Janine. Summer pulls her mother aside and asks what's going on, but Janine ends the affair and tells her to get ready, as they'll be off for dinner soon.
Janine, Arthur, Summer and Vlad find Beth, who is waiting in the restaurant. Vlad completely ignores the menu and immediately begins to talk to Beth.
"Is not it weird how he keeps asking about her diet?" Janine asks Arthur. "Who cares if she only eats organic food?"
"Maybe he worries about health issues," Arthur replies.
Janine nudges her husband, making him cough into his food. "He just asked her blood type. That's weird !"
"Did not he say he was thinking of doing medicine?" Arthur asks, his voice indicating that he is beginning to think it is suspect.
Dinner proceeds and ends without major incidents, though Vlad just tries a cocktail and makes a strange comment, saying he'll "eat later".
Arthur pays the bill and everyone goes to the door. Beth soon says she would love to attend the grand Harvest Day meal. A little shocked that she had invited herself so openly, Janine, Arthur, and Summer agreed.
"Of course," says Janine. "What could happen to bad?"
Harvest Day …
Finally, the big day came, in many ways. Summer, recognizing that her mother is tired and annoying to have Vlad around, decides to help rearrange the table for the grand meal. When the delicious scents of the kitchen arrive in the dining room, the bell rings.
In two seconds, Vlad arrives at the door. "I'll get it!" He shouts at his family, who has given up trying to understand his strange behavior.
"It's Beth!" He exclaims.
"We know," the family responds in unison.
"We're going for a walk, right?" He shouts.
Before Janine can say that the grand meal is ready to be devoured , he disappears with his O-positive companion.
"He can not come back here," Janine says quietly as she watches the young pigeons in the garden.
"I agree," says Arthur.
"It's a good thing you found a way out of those leaves.
But as soon as she says that, she repents. Vlad and Beth disappear, rolling on the pile of leaves and ruining everyone's appetite.
"What's going on out there," Summer asks.
" Nothing !" His parents yelled at the same time.
"Let's eat," Janine says.
At the table, Janine, Arthur and Summer start their delicious meal.
"Summer, we want to tell you something," Janine begins. "We want you to know that we are grateful to have you, to our family, but we have a surprise."
"Vlad will not move here, will he?"
"No," your parents reply in unison.
"But someone else will," says Janine. "You're going to win a little brother. I'm pregnant."
For the first time, Summer does not have a sarcastic or funny answer. She stops, thinking of her mother's words. She looks at the smiling parents. Such a beautiful moment.
"What did I miss?" Vlad asks, coming in suddenly.
"NOTHING," everyone says. They smile because of their secret, even though it will not remain a secret for long.
"Beth had to leave," says Vlad. "What a pretty neck. I mean, what a beautiful woman."
"Aham," replies Arthur. "Want some turkey, Vlad?"
"No thanks," Vlad replies. "Just ate."
This episode of The Climate Family is hosted by The Sims 4 Seasons Expansion Pack, * which will be released on June 22, 2018 for PC and Mac. This story also contains content from The Sims 4, The Sims 4 Vampires, * The Sims 4 Family Life * and The Sims 4 Gourmet Escape *, all available now for PC and Mac by Origin.