Simmers, how do you feel about spooky stuff? If you love it, then you really have to hope that this rumor is going to be confirmed.
Right, as the lovely people at Sims Community found out, a localisation tester who works at EA called Marcos de Lima, listed on its Linkedin profile  all the projects he's been working on, and among them there's also a so far unknown "The Sims 4 (Spooky Stuff)".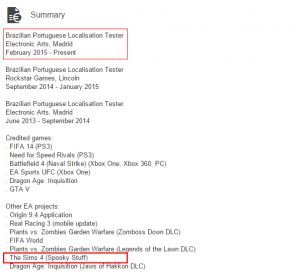 Please be warned that is purely a rumor and not a confirmed news, so take this informations very carefully and don't be disappointed if it won't happen ( we really hope it will of course!)
Anyway, we should say  this is not the first time that spooky stuff is mentioned! As the more attentive of you may recall, during the Sims 4 Producer Walkthrough video, a screen hinting at a "spooky costume party" was leaked, among other content ideas.
So, the only thing to do now is to wait and see…Of course, we will update you as soon as new informations will become available, so be sure to stay tuned to get all the latest news!!
How do you feel about this new stuff pack and which content would you like to see in it? Let us know in the comment!
Source: Sims Community