It is officially summer, meaning more revealing clothes.. yikes! But fear not! The Sims 4 Fitness Stuff Pack is here to save the day! Well, at least for your Sims…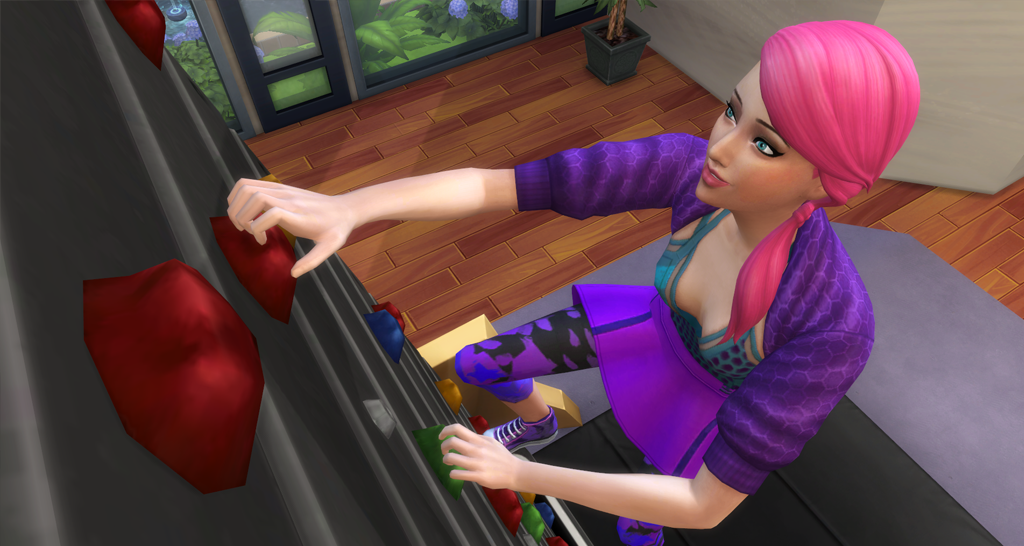 Create A Sim
Sims can get in shape in a new set of active wear, making working out much more fashionable. The new CAS items are very well designed and the quality is really good. Unfortunately there aren't any items available for kids and besides two pairs of leggings there aren't any accessories either. You would say a pack like this would be perfect to pop in a nice new set of workout sunglasses or something like that.
That said, the items that actually come with this pack are really well made. The designs are nice and there are plenty of color swatches to pick from. The hoodie with the zipper detail in the front (feminine wear) is my personal favorite. I feel as if The Sims 4 Fitness Stuff Pack comes a bit short on CAS items; Quality over quantity, I guess.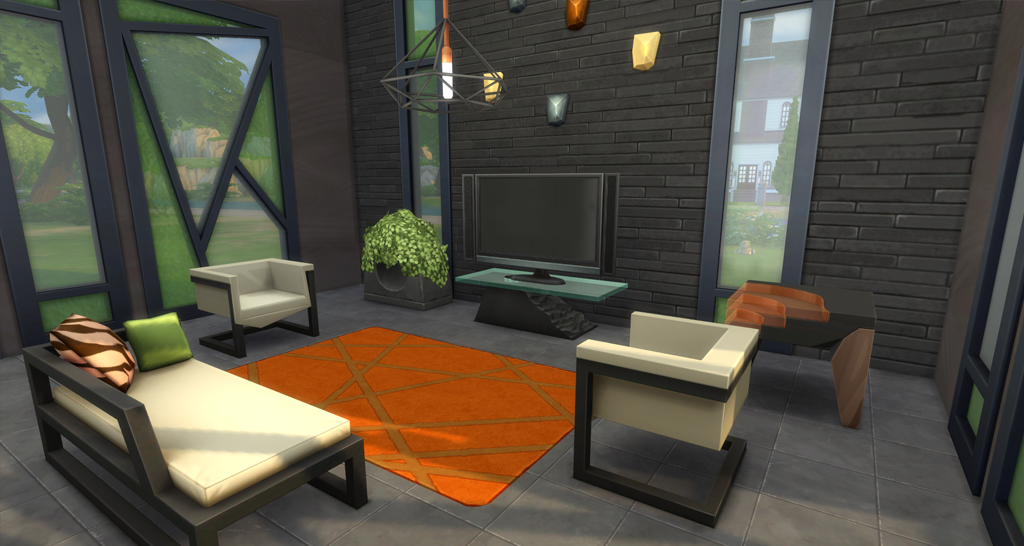 Build & Buy
The Sims 4 Fitness Stuff pack focuses on objects that are suitable for an active lifestyle. Obviously this means we are getting some new workout equipment as well. The treadmill and the exercise machine aren't anything new, but the quality is very nice. However, we are getting one more exciting item; The big star of this pack: the Top Hitz Rock Climbing Wall!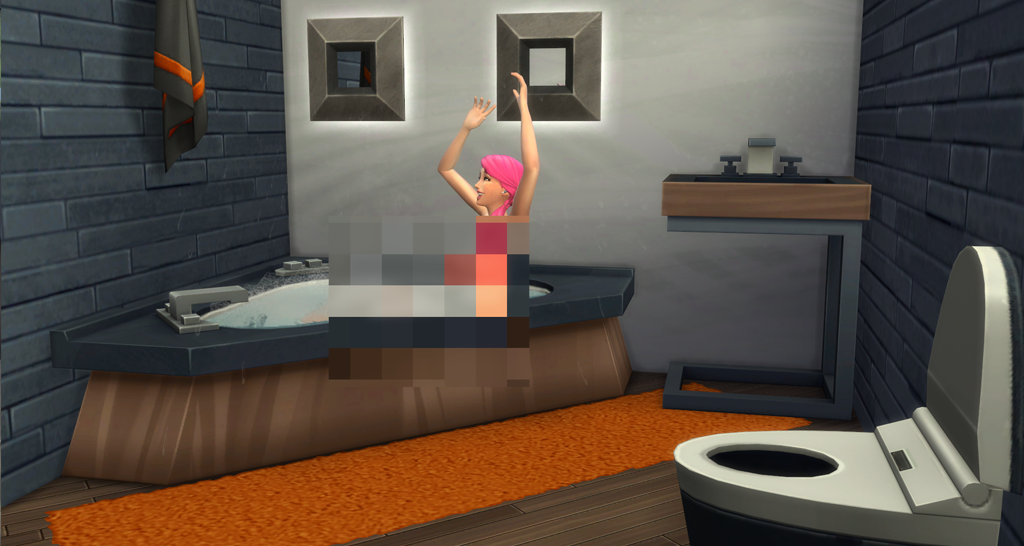 The new Build & Buy items are designed with wood and stone elements. When you use them you can give an earthy, yet modern vibe to your Sims' home. The items look very luxurious and I recommend using them in expensive looking builds. The two-sided mirror is perfect to divide a room in different areas and I can see my sim hopping in the new triangular bathtub any time!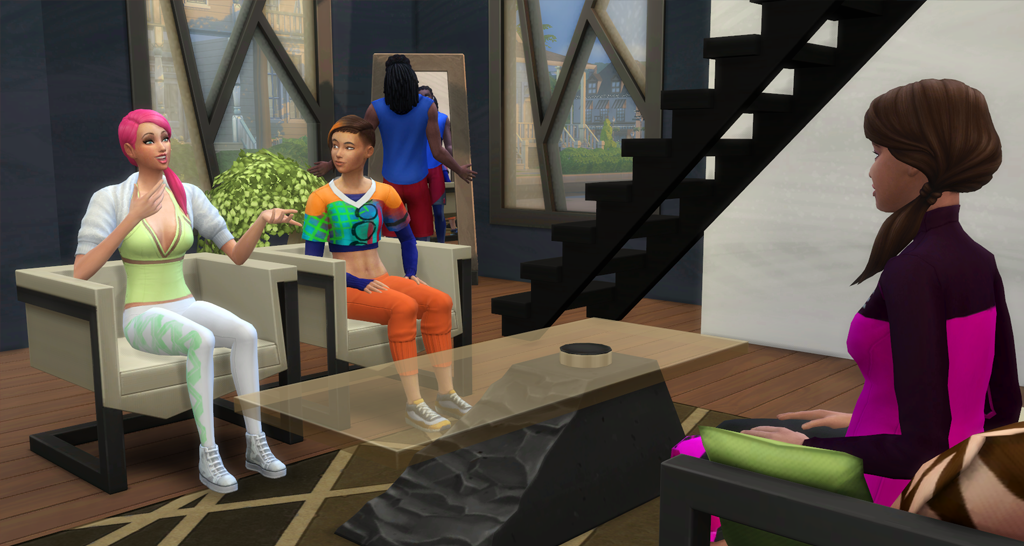 It's a shame that we are getting a mere 28 items, three of which are lamps that are exactly the same design, but different heights. For Build Mode we only got two windows, a door and two new wallpapers. They are beautiful, but it's unfortunate we did not get any floors that would suit a gym. It feels a bit empty for a "Stuff" pack as it seems to lack.. you know, stuff.
Gameplay
As the name of the pack suggests, the gameplay adds more ways to work on your Sims' fitness. The Top Hitz Rock Climbing Wall is by far the most amazing addition of this stuff pack. The Climbing Wall works with an unlock system. Each level of progress is fun to watch and I love the new animations that they added. Your Sims will get better at it and eventually you'll end up with a fire-spitting wall. Be aware that your Sims can actually catch fire from this. Speaking of dying.. if the Climbing Wall is broken, it is possible to electrocute your sim with it too. YAY! Two new ways to kill our Sims!! *maniacal laugh*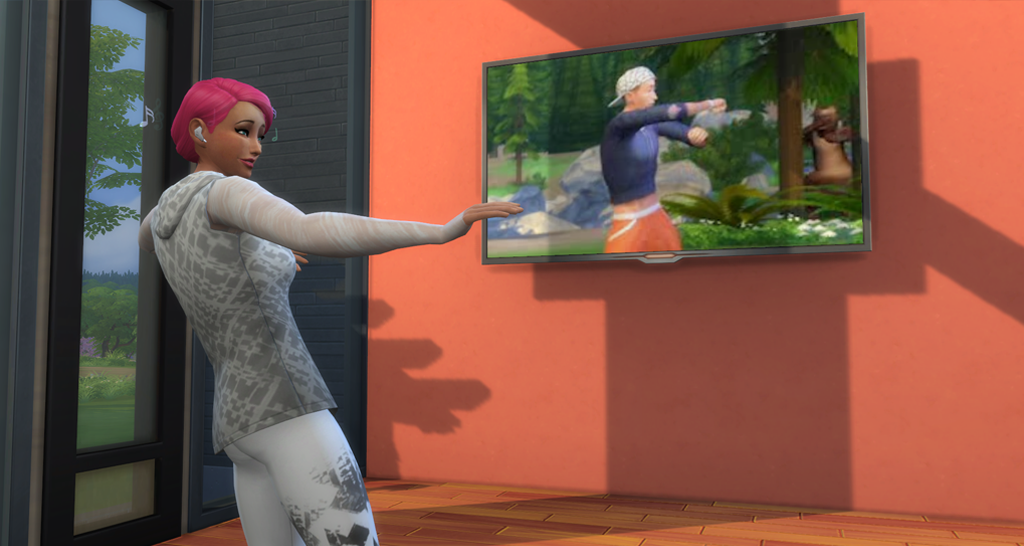 While we did not get a new TV, we did end up with a new interaction for televisions. Your Sims can now use the TV to workout. Plumboomba let's your Sims dance in front of their TV's, while the Power Sculpting focuses more on the cardio. There are two cons to these workouts. Plumboomba does not skill up the Dancing skill (The Sims 4 Get Together), but instead levels up Fitness. I understand why this is, as the skill is from another expansion, but your Sims are instantly really good at dancing, which feels a bit silly. Next to that, your Sims can not join eachother for this workout method, so only one sim will be able to use the TV at a time. When another sim uses the TV instead, the workout of your sim gets canceled.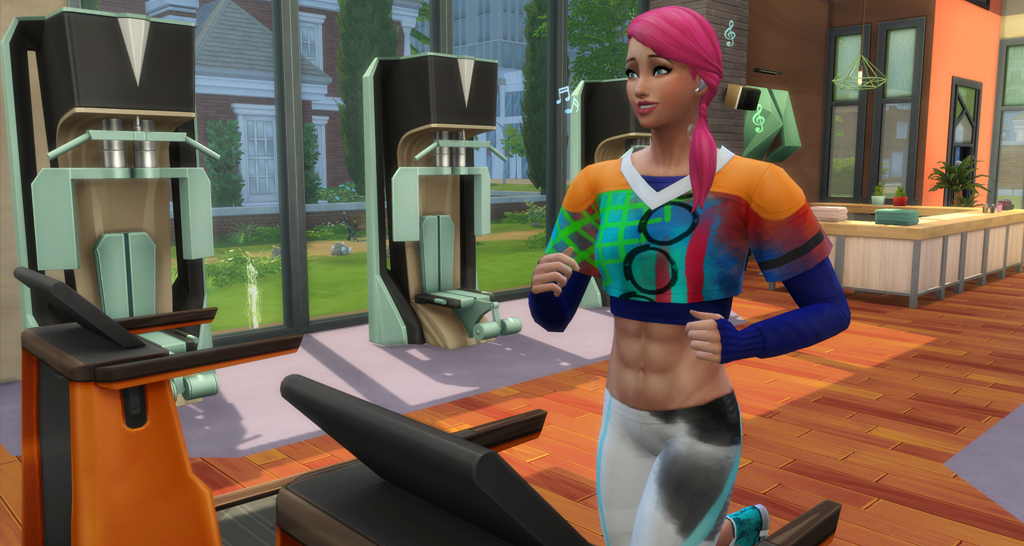 The last thing the Fitness Stuff Pack adds to the gameplay is that your Sims can purchase their own pair of earplugs. You can buy these via the computer and they'll appear in your Sims' inventory. They can listen to music with almost everything they do, which comes in handy if your fun needs are low. I did find it a bit strange that my sim could take a shower with them without them breaking, but I am not complaining.

Conclusion
Everything added to The Sims 4 Fitness Stuff pack is of great quality. The items are very well designed and the textures look great. Unfortunately there aren't as many CAS and Build & Buy items in this pack as we would like, making the pack feel like it is slightly lacking in content.
The new Top Hitz Rock Climbing Wall is my favorite item of the whole pack, but I think no one disagrees with me on that. I did find the unlocking system easy to follow, but annoying as well. It suggests you should give your sim some time between workouts, but I then waited for two whole sim-days and still got the same message. It's unclear and I think that a new moodlet might work better for this.
All in all I still think the items are designed good enough to be worth the money. The Top Hitz Climbing Wall is so great it makes up a lot for the lower amounts of content. It adds a whole new activity to the game and it is very exciting to watch your sim conquer (or not, that can also be hilarious) the "Wall of Doom".