EA has just released some information about the announcement streams that will be held during the weekend of EA Play. Many EA titties including The Sims 4 will be live streaming on June 8th, 2019.
The Sims 4 is scheduled to be showcased last at 12pm PST/ 8pm BST and 9pm EST, but that's not all Simmers since you will need to get ready for some brand new content being announced, since it has been confirmed that there will be an announcement for The Sims 4 during EA Play!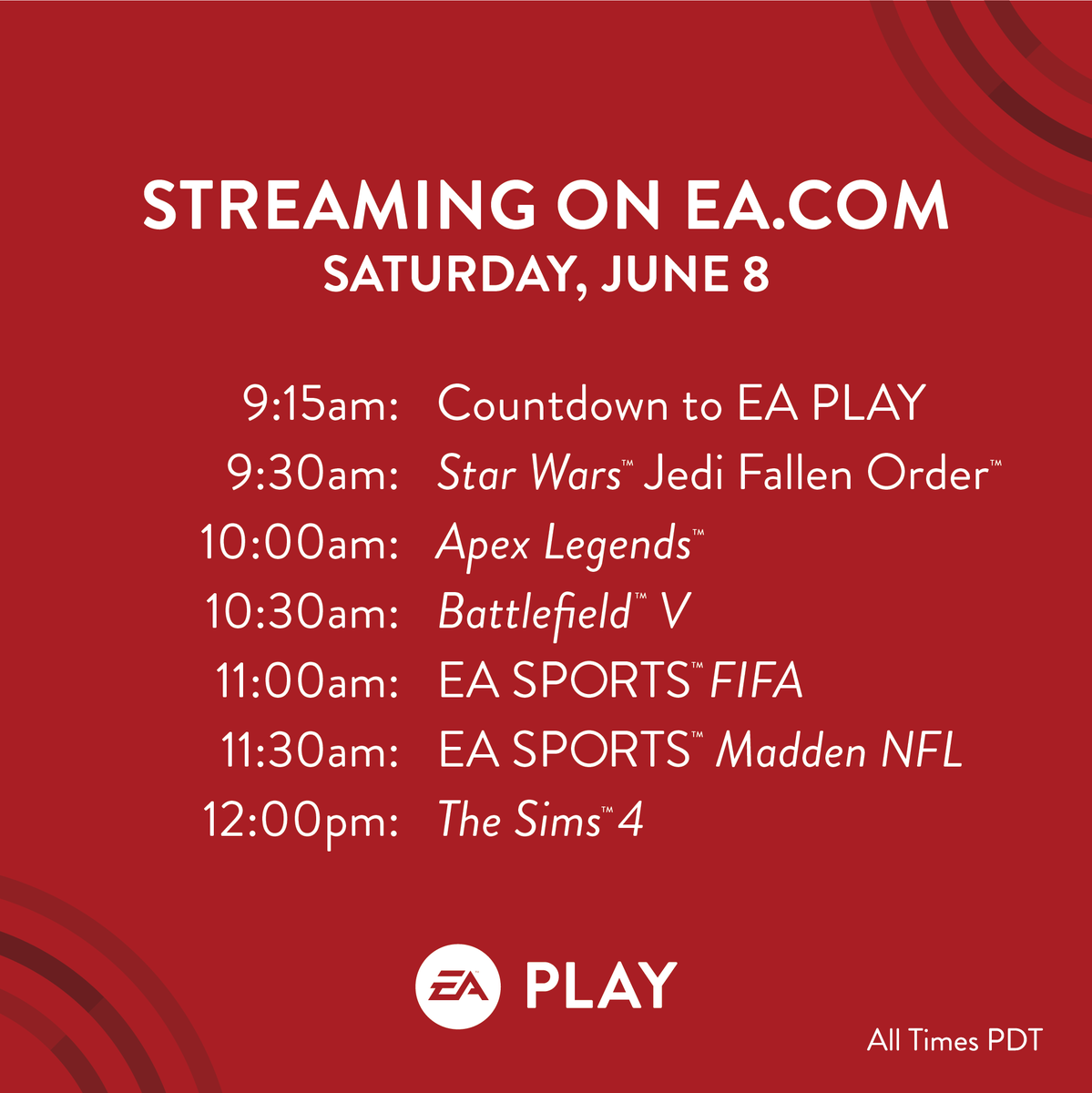 EA has also written a new blog post to give Simmers and other gamers who are attending the event more information about the live streams that will be showcased during EA Play. You can read more about the live streams down below:
Via EA
ALL THE EA PLAY 2019 LIVE STREAM DETAILS AND MORE!
Watch three hours of live streams from some of our biggest games
The countdown is on! EA PLAY is only 10 days away. We're here today for two things: a reminder to register for tickets if you want to join us in Hollywood, and for everyone else, a rundown on all the great content we're set to bring you through live streams.
First things first: if you don't have your ticket already, let's fix that. Apex Legends™, Star Wars™ Jedi: Fallen Order™, Battlefield™ V, Anthem™, The Sims™4 and some of your favorite EA SPORTS™ games will all be at EA PLAY, and best of all, the event is completely free*.
For those that can't make it out to Hollywood, we have a whole lot of content for fans to get into. We're taking you deeper into our games this year with three hours of live stream content on Saturday, June 8, bringing you gameplay and insights from six of our biggest franchises. It all starts at 9:15 a.m. with the Countdown to EA PLAY followed by the franchise live streams.
Here's the schedule for the live streams (all times PDT):
9:15 am: Countdown to EA PLAY
9:30am: Star Wars™ Jedi: Fallen Order™

Hosted by online personalities Greg Miller and Andrea Rene

10:00am: Apex Legends

Hosted by commentator Alex "Goldenboy" Mendez

10:30am: Battlefield V

Hosted by online personality Julia Hardy and EA's Adam Freeman

11:00am: EA SPORTS FIFA

Hosted by Alex "Goldenboy" Mendez

11:30am: EA SPORTS Madden NFL

Hosted by NFL Network's Adam Rank

12:00pm: The Sims 4
To watch, be sure to tune in to EA.com or EA's YouTube or Twitch channels. If you are only interested in a couple of the games, you can also tune in at the specific times listed. For all EA PLAY content throughout the weekend, including exclusive gameplay reveals, trailers and breaking news, be sure to stay locked to EA.com. 
EA PLAY is all about the games and all about the fun, so here are a few other things to expect from our two-day celebration:
Try to score a touchdown via The JuJu Smith-Schuster Fan Experience
Star Wars™ Jedi: Fallen Order™ theater experience
Star Wars™ Jedi: Fallen Order™ photo opportunity
Merchandise booth with brand-new Apex Legends gear for sale
Custom EA SPORTS FIFA soccer pitch
And more!
Please download the EA PLAY app to get more information and timings for all of these great onsite experiences! The app is available on the App Store or Google Play.
Join us at the Hollywood Palladium on June 8th and 9th for a weekend of games and fun with your family and friends.
---
Want to stay up to date on all things EA PLAY? Be sure to check EA.com for updates, recaps, and breaking news.
Also, make sure to like us on Facebook and follow us on Twitter and Instagram so that you don't miss a second of EA PLAY.
In other news SimGuruFrost has also confirmed that there will be no Maxis Monthly live stream happening in June due to EA PLAY also being held in the same month.
Hey Simmers, important announcement time! ??

With EA PLAY right around the corner there will be no June Maxis Monthly.

We have LOTS of exciting things to show you! You'll just need to wait a little big longer.

June 8th, 12PM @ https://t.co/K6ZZE7CWlX. We'll see you there! ? https://t.co/a4K8ViVHCN

— SimGuruFrost ✈️ EA PLAY/E3 (@SimGuruFrost) May 29, 2019
We hope you are just as excited for EA Play as we are! We will not be attending EA Play this year but don't worry, we will be covering the news and announcements for The Sims 4 here at our website so stay tuned.