The Sims is celebrating its 20th birthday of the franchise and they are handing out goodies to the community. The Sims 4 received a rather small patch for the PC/MAC in which Simmers could get a brand new object, but more on the patch later in this blog. Let's first have a quick look at the other celebratory events EA has in store for us.
Up to 75% Discount on The Sims 4
Origin is having a sale with discounts as high as 75% off on your The Sims 4 packs or base game. However, not all packs are included in the sale, so keep that in mind before purchasing. Expansion packs are currently off 50% giving you an advantage of 20 bucks a piece! That's pretty neat if I say so myself. The sale is active up until February 6th, 2020.
Are you not interested in the sales, but still want a chance of getting the pack of your choice? The Sims is currently giving away TWENTY packs via their Twitter!
20 YEARS OF THE SIMS!? We're doing a giveaway of twenty The Sims 4 codes to base game/pack of your choice!

How to join:
?How have you brought The Sims to real life? Show us a Sims-inspired blast from the past!
?Include #TheSims20thBirthdayGiveaway
Must be 18+ to participate. pic.twitter.com/38GW1Fzl1a

— The Sims (@TheSims) February 4, 2020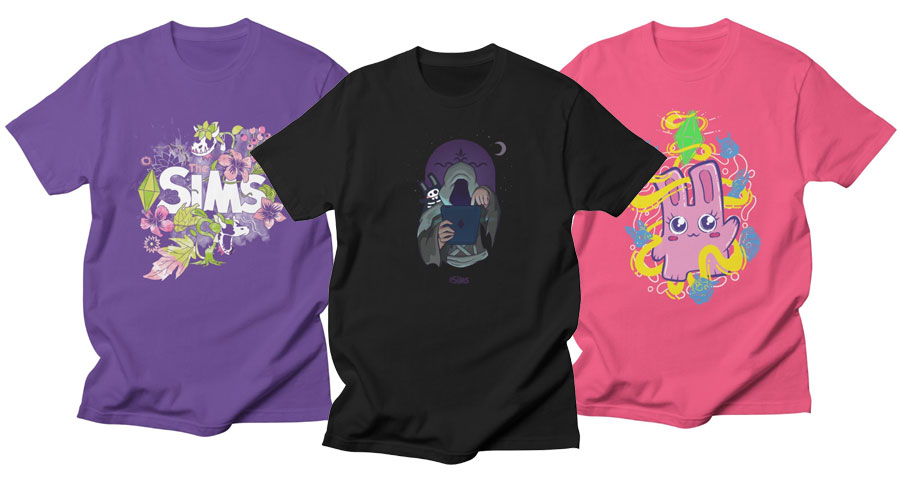 New Official The Sims merch on Threadless
A whole new collection of merch designs has been released on the Threadless Sims merch store. The designs are simply beautiful and super creative & fun! It is not clear yet if the merch will be there for limited time only, so I recommend grabbing whatever tickles your fancy as quickly as possible. Which one is your favorite design? Let us know in the comment section below!
Read the Threadless interview with SimGuruNinja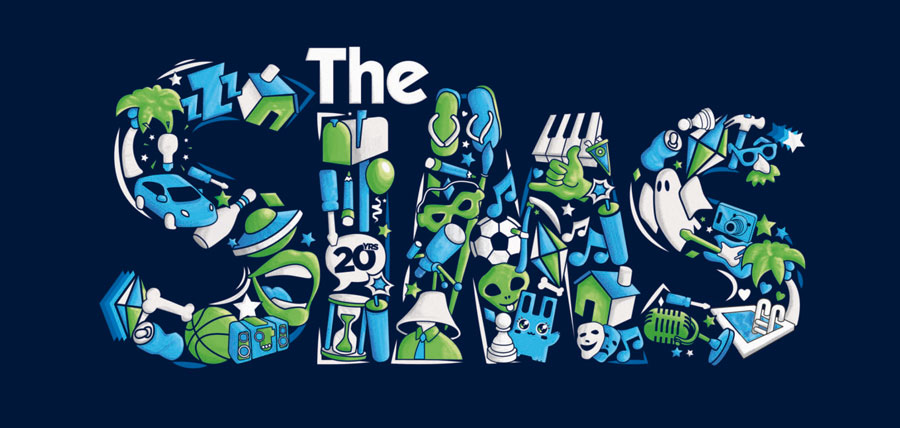 Cheers to 20 Years! The Sims Celebrates Two Decades of Fueling Imaginations Everywhere
Maxis Studio, the creative masterminds behind the city planning and building brilliance of SimCity among other fan favorites, proudly ushers in two decades of playing life with The Sims. That's right, players have been creating virtual people, designing their environments, and breathing life into their worlds for twenty years. Read the interview
---
Steaming new Hot Tub added to The Sims 4 Base Game
It's time for the freebie of the latest patch for The Sims 4: the 20th Birthday Hot Tub! I can't really say I was super hyped when I heard about this addition for the Base Game. EA always communicated very clearly that pack-specific features would remain pack-specific. For example: the new Murphy beds from The Sims 4 Tiny Living Stuff will remain the only Murphy beds for The Sims 4. Giving us a new hot tub to celebrate 20 years of The Sims kind of feels like EA is not keeping its own guideline, making The Sims 4 Perfect Patio Stuff rather unnecessary. Don't get me wrong, I still really like its design and hot tubs are great… But, I just expected something… new? Something exciting, you know?
Watch our complete Overview of the 20th Birthday Patch!
Read the official blog about the 20 Years Celebration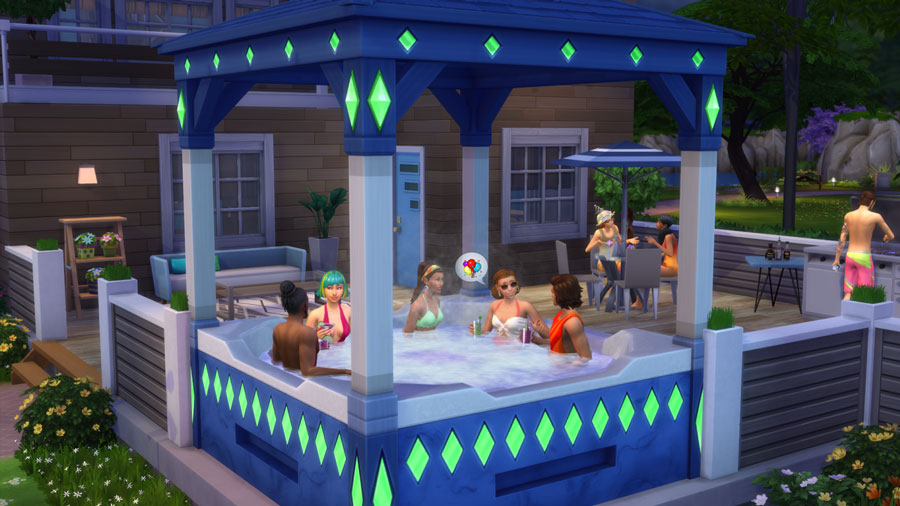 PARTY ON! THE SIMS TURNS 20
Twenty years ago, we never could have imagined that The Sims™ would be where it is today. But you made it happen. We're still here—and thriving—because of you, the community. Your passion for this game drives us to keep creating every day, just as it has for the last two decades. We're grateful for everything you do, from helping us create a… Read more
---
Read the official Patch Notes
Update 02/4/2020 – PC: 1.61.15.1020 / Mac: 1.61.15.1220
Twenty years ago, The Sims was released on the 4th of February 2000. As a simulation game, it confused "traditional" gamers because it had no defined end goals and there was no way to "win." Non-players even described it as "that game where you have to tell your character to use the bathroom." Even now, two decades later, some people have yet to abandon this mindset, but many of you have been with us from the beginning or joined in the years between, and you understand why The Sims is so much more than just playing house.
Thank you for being here with us through this journey. We have been working on bringing new experiences to our players, such as cross-platform Gallery for our console, PC, and Mac players. And as we continue through our twentieth year, we hope to deliver new excitement to the world of The Sims.
To start the celebrations, we added the Birthday Hot Tub, which you can find in Build Buy as soon as you update your game. Yes, it is for everyone!
We also added new music—we hope you enjoy it!

New Music
"JEKYLL & HIDE"
Performed by Bishop Briggs
Written by Sarah Grace McLaughlin, Kristine Flaherty and Joel Little
Published by Warner Chappell and EMI Blackwood Music
Recording courtesy of Island Records under license from Universal Music Enterprises
"Take My Hand"
Performed by Charli XCX
Written by Charlotte Aitchison, Ariel Rechtshaid and Justin Raisen
Published by EMI Foray Music (SESAC), Lion of God Publishing administered by Kobalt Music Publishing America, Inc. and Heavy Duty/Mind the Mood administered by Downtown DLJ Songs
Recording courtesy of Warner Music UK by arrangement with Warner Music Group Video Game Licensing
"We Are Young"
Performed by fun. feat Janelle Monáe
Written by Nate Ruess, Andrew Dost, Jack Antonoff and Jeff Bhasker
Published by Bearvon Music (ASCAP) / Rough Art (ASCAP) / Shira Lee Lawrence Rick Music (BMI) / Way Above Music (BMI) / Sony/ATV Songs LLC (BMI)
Recording courtesy of Atlantic Recording Corp. /Fueled By Ramen by arrangement with Warner Music Group Video Game Licensing
"Violet Stars Happy Hunting!"
Performed by Janelle Monáe
Written by Janelle Monae Robinson, Nathaniel Irvin III and Charles Joseph II
Published by Jane Lle Publishing (ASCAP), Tang Nivri Publishing administered by BMG Monarch(ASCAP) and Ink Is An Instrument (ASCAP)
Recording courtesy of Atlantic Recording Corp. /Bad Boy Records by arrangement with Warner Music Group Video Game Music Licensing
FIXES AND UPDATES

The Sims 4
We fixed some crashes occurring in Build Mode that were afflicting some of our players.
Island Living
Fixed an issue in which Simoleons were not being granted after selling Research Data.
Sims with Child of the Island Trait can now Summon Island Elements, Ask for Judgement, and receive Judgement properly.

I mean, maybe it was a good thing that you were not being judged, but hey, you do you.
Thank you Simmers,
-The Sims 4 Team