Tiny Summer Restaurant Building Challenge
Build a tiny summer restaurant on a 20×30 lot size.
This new building challenge was inspired by Misstory's build; Tapas Bar La Plaza. I was so overwhelmed with the cuteness of this build Misstory and I had to make a challenge for it. Your job is to build a tiny restaurant where customers have to sit outside to eat their dinner or lunch.
Challenge Rules
The restaurant must be build on a 20×30 lot size.
You can't place tables or chairs inside the restaurant, they must be placed on the grass or on a terrace.
Make sure you place a lot of stunning romantic lights outside of the restaurant so customers aren't left in the dark during opening hours.
You can use every expansion/game/stuff pack you bought.
Minimum object requirements
1 Sink
Toilet
Chef Station
4 Dining Spots
Waiter Station
Host Station
Good luck with this challenge!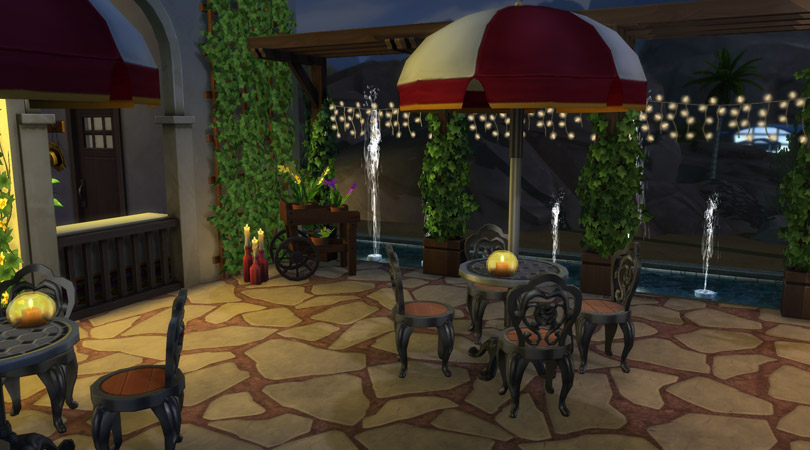 ---
Featured Houses
Submit your entry on Facebook or Twitter for a chance to be featured in this article!

---
About the Building Challenges
We can all build large and expensive houses in The Sims 4, but what's the challenge in that? Time to limit the options and test your building skills. I'm creating building challenges for you to compete in. You can use these challenges in Let's Build video's on YouTube, challenging a friend or testing your own building skills.
If you want to upload the house you build for these challenges use hashtag #Sims4BuildingChallenge in The Sims 4 Gallery so people can find them easily. Same goes for twitter.