Last week we reviewed the Build and Buy Mode objects we got in Parenthood which was released May 30th. As you can tell from the title we will be reviewing the new CAS items that came with this new Gamepack. Let's get started!

Super Parent – This Sim wants to be the best parent ever!
The Parenthood pack comes with a great new aspiration: Super Parent. As the name suggests, this aspiration will focus on making your sim the best parent out there! Unfortunately there are no new traits in this pack. But! It's better than nothing, right?






Moving on, there are three new facial features which as you can tell are pimples/acne. These facial features are only available for teens, young adults and adults. I like to use the facial features on teens so you can tell the difference between teens and adults.
CAS Items for Toddlers




Now let's have a look at the new CAS Items for toddlers. Sadly there aren't any hairstyles for toddlers, but there are two new full body outfits for them. I personally only love the overalls, but I think both outfits are super cute. The outfits are for masculine or feminine Sims, making both outfits unisex. The overalls comes in eight different colors, where as the other outfit comes in eleven colors.
CAS Items for Kids








Next up are the hairstyles for children . Unfortunately there is only one hairstyle for male child Sims. I personally feel like male sims are always left out on CAS items, they hardly get anything compared to female sims. But overall I'm glad we did get at least one hairstyle for male sims. However, the hairstyle can also be used for female sims!
That said, there are two new hairstyles for female kids. There is a cute braided hairstyle with floral hairpins as well as the plain short braided hair, which is usuable for male sims too. Please be aware that the floral hairpins stay the same color, unlike what we have seen with other hairstyles, meaning their default color is blue.
I really love both of the hairstyles. I personally use the braided hairstyle with the floral pins for feminine sims and and then the plain one for masculine sims. Overall I'm really glad the team created these two great hairstyles.














Now let's look at the new tops for kids. I really love all of these tops especially the first one. I'm really glad they focused on children a bit more in this pack, since the attention is often on young adult sims, rather than kids. The top with the handprints and splatter pattern on it is unisex and can be used by both boys and girls, which is super cool. The handprinted shirt comes in nine different colors where as the other two for males come in fourteen different colors.
There are four new tops for female children. I love all of them! Especially the ripped jumper, since it's in style right now in the real world. I just find myself using these in my game a lot. The hoodie comes in 15 color swatches, while the other two tops each come in nine colors in total.
Fun fact about the knotted button up: it is a remake of a shirt for adults! They used the exact same color swatches etc. as the original shirt has, but then made it more wearable for kids










Further there are four bottoms for kids in the Parenthood Gamepack. I personally love the shorts with the shirt tied around it. I think its great what they did with that. However, I'm really not a fan of the second pair of bottoms for males, but I still like like the look of them. I personally just won't be using them in my game. Both of these bottoms come in twelve color swatches.
For females there are three bottoms in total. There is the same shorts that the boys can wear too, and then there's two for females specifically. I personally don't really like the shorts, but the skirt is really nice. I think it's pretty cute and very good for party wear. The shorts are in the same color swatches as the sporty sweater, so you can match them for a complete outfit.








There are four new outfits for females, but I will tell you guys more about the fourth towards the end of this review. Can you guess which one I am talking about? Don't worry, I will tell you all about it soon! Next to that particular one, girls get two dresses in the Parenthood pack. I love both dresses, as they are both very pretty. I see myself using both of them especially the dress with the multi-colors on it. I really love the look of the other dress too, but I would use this one for everyday wear, while I'd use the other dress for party wear. Both dresses come in a lot of color variations.
The last one is actually an unisex outfit, so boys can wear it too. Personally I don't like this outfit a lot. I would probably use it as PJ's, but not for everyday wear. It suits that category better, if you ask me.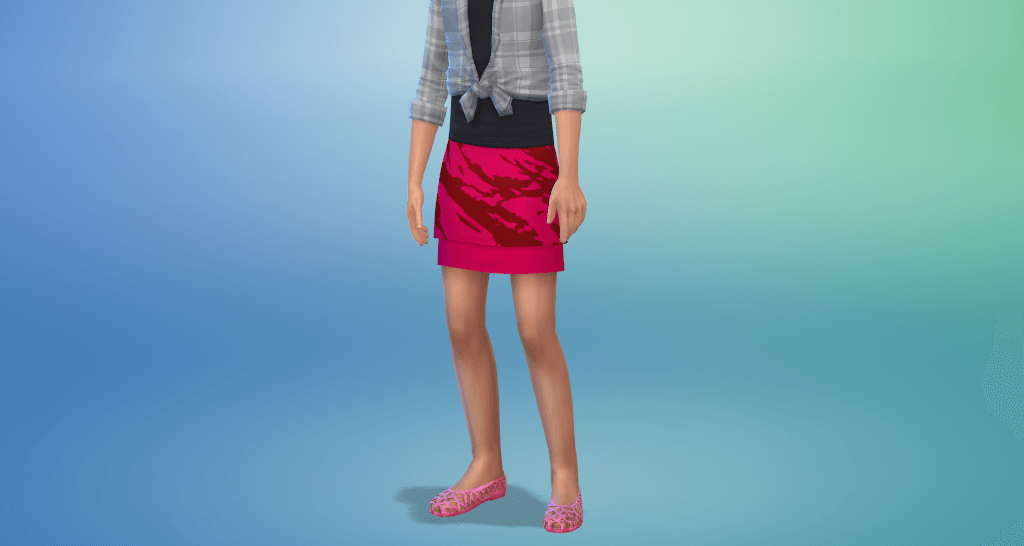 There is even one new pair of shoes for female children. I really love the look of these shoes and I can see myself using these for all kind of sims. So I'm glad the team put some "different than usual" styled clothing and shoes in the pack.
CAS Items for Teens, Adults and Elders
Let's check out the items for teens and older. First up we'll discuss the new hairstyles & facial hair and then we move on to the clothing.










We get one new hairstyle for males and four for females. I really love that the male hairstyle is very old fashioned and I do see myself using this hairstyle for my elderly sims, because I think it would suit them more.
Now let's talk about the hairstyles you get for our Female sims. All I can say is "Wow!", I just love all of them. I think the two colorful hairstyles are more suitable for teens, while the other two are more suitable for young-adults or older sims. I can see myself using these hairstyles a lot. So I thank EA for creating these great hairstyles for this pack!




There are two new facial hairs for our male sims, which is super cool. I really think these fit well with teens sims, but I would also use them for adult sims. I do think that we need more facial hair in the game, so I'm glad the team decided to add more facial hair!






















There are four new tops for our male sims and I really have to say that I love the skater top as well as the hoodie. These two are my favorite tops for our male sims. I will probably use them a lot when making teen or young adult sims. The tops come in great variety of colors and each color makes me want to use them even more.
Then the female shirts. Can I just say these tops scream 70's, 80's and 90's to me?! These tops are amazing and I really love the off shoulder top, it's just very 80's and since the 80's is my favorite decade these CAS items have been my favorite so far. I also really love the top with the flowers on, since it's very 70's. Just like with the male shirts, I love all the different colors that are available and I will use them a lot!


















As you can see there are five new bottoms for our male sims AND five for females. For males I personally only like the bottoms with the shirt tied around them. The rest I don't see myself using but there are a good variety of colors though, so I'm happy about that.
We have five bottoms to pick from for females and I have to be honest I really don't like the bottoms in this pack for female sims. Again, I only like the bottoms with the shirt tied around them and but this time also the mom-jeans with the flowers on them, especially the white ones.




There is one accessory in the Parenthood pack, a cool pair of socks! I will probably use them a lot as I really love the variety of colors you get and the patterns that the socks have. I think they are super cool!










Time to get excited! New bear costumes have been added, and depending on your color choice you will see a certain fruit on your bear suit. How cool is that?! You can even create a whole colorful bear family and I am excited to play with a bearfamily of my own!
My overall opinion is that I'm pretty impressed with the CAS items in this pack. I have disliked a few CAS items here and there, but if you are into CAS, then I recommend this pack for all you guys as there are some really nice items in there.
Thank you for reading and see you guys next time simmers. Dag! Dag!