This trip was sponsored by EA
In The Sims 4 Cats & Dogs you'll be able to create a pet of your choice. Today a lot of the fellow people who went to SimsCamp released a new screenshot of their creations in this tool.
I chose this screenshot of a Ragdoll because it captured the expression really well. Doesn't it look amazing!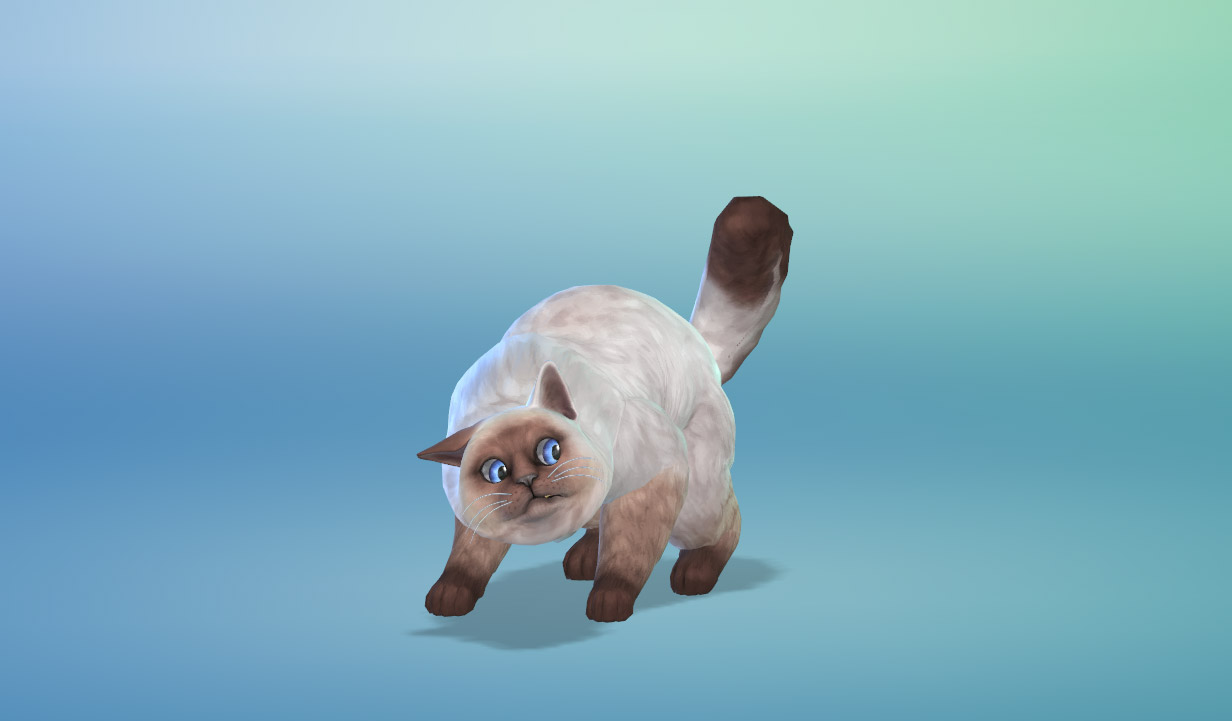 If you want to use this screenshot give proper credit, thank you!
Screenshots from Simmers who attended SimsCamp
Look at this ADORABLE Savannah Cat, Kitten IN #TS4CatsAndDogs CREATE A PET! 😍#SimsCamp2017 #SponsoredByEA pic.twitter.com/fp4KIk138q

— Jenn 💋 (@XUrbanSimsX) September 21, 2017
So I created Mr. Shadow in @TheSims 4 Cats & Dogs 😍💜 #SimsCamp2017#TS4CatsAndDogs#SponsoredByEA pic.twitter.com/G8UICJRzYv

— Jessica (: (@realjessamica92) September 21, 2017
I made this adoreable dog named Charlie at #SimsCamp2017 #TS4CatsAndDogs #SponsoredByEA pic.twitter.com/T7OBC6jSi1

— SpringSims (@spring_sims) September 21, 2017
When EA sent me to #SimsCamp2017 to preview #TS4CatsAndDogs and said "MAKE THE PET OF YOUR DREAMS" I knew what I had to do… #SponsoredByEA pic.twitter.com/6LxPVYuppZ

— Aureylian (@aureylian) September 21, 2017
Look at this little snickerdoodle I made at #SimsCamp2017 !! So Cute! I want a kitten like this IRL 😍 #TS4CatsAndDogs #SponsoredByEA pic.twitter.com/0sPK8n9224

— Sims & Chill (@Xmiramira) September 21, 2017
My little Fluttershy inspired bubba! 💛🌸#SimsCamp2017 #TS4CatsAndDogs #SponsoredByEA pic.twitter.com/jne5gStCXL

— Kaleidow (@Kaleidow_) September 21, 2017
why have a normal dog when you can have a ROBODOG?! 🤖🐶 #SimsCamp2017 #TS4CatsAndDogs #SponsoredByEA pic.twitter.com/tsfRspdZ1G

— Sasha 💜 (@Vixella) September 21, 2017
Don't let anyone tell you you can't be a rainbow dragon fox with a curly tail!🌈🐉🦊 #SimsCamp2017 #TS4CatsAndDogs #SponsoredByEA pic.twitter.com/H25fISUeTp

— MoonLiteWolf 🐺 (@MoonLiteWolfPro) September 22, 2017
So happy that I can have my baby Alice in #TS4CatsAndDogs Here's who I made at #SimsCamp2017 #SponsoredByEA 💜🐱🐾 pic.twitter.com/I4LPhu3fKh

— RoryPlays (@RoryPlays_) September 21, 2017
When I was at #SimsCamp2017 I decided to make my dog Lottie as a bad ass with a hoodie #TS4CatsAndDogs #SponsoredByEA pic.twitter.com/xG5tjXbkhp

— James Turner (@JamesTurnerYT) September 21, 2017
tão educadinho, fui tirar um print e resolveu fazer um totô na hora…. 💩#SimsCamp2017 #TS4CatsAndDogs #SponsoredByEA #TS4GatoseCaes pic.twitter.com/9SXrWscM2N

— funBABE (@aiquefun) September 21, 2017
Have no fear, Green Llama Dog is here! #SimsCamp2017 #TS4CatsAndDogs #SponsoredByEA 🐶 pic.twitter.com/JBN84KhgXe

— Iron Seagull 🇨🇦 (@Iron_Cgull) September 21, 2017
Mirad, amores! Esta es una de las mascotas que hice en el #SimsCamp2017. Qué os parece? XD #TS4CatsAndDogs #SponsoredByEA pic.twitter.com/zoEtYdHDYf

— Reah🐥 #POLLO (@LadyReahOfi) September 21, 2017
#SimsCamp2017! #TS4CatsAndDogs #SponsoredByEA pic.twitter.com/ueqtfKQPWo

— ageekychick (@ageekychick) September 21, 2017
One of the cuties I created at Sims Camp! Cuddly Teady Bear Puppy#SimsCamp2017 #TS4CatsAndDogs #SponsoredByEA 🐶🐱@TheSims @KrystinMyrieXo pic.twitter.com/lVZpiYiKhL

— KrystinMyrieXo🦋 (@KrystinMyrieXo) September 21, 2017
Don't you just want to rub my belly? I created this little cutie at #SimsCamp2017! #TS4CatsAndDogs #SponsoredByEA pic.twitter.com/O3NPad9p66

— Arsen Girl Gaming (@ArsenGrl) September 21, 2017
he attac, he protec but most importantly he perfec #SimsCamp2017 #TS4CatsAndDogs #SponsoredbyEA pic.twitter.com/YdjxPcCLdI

— Steph (@steph0sims) September 21, 2017
I can finally share the pet I created during SimsCamp 😀 #SimsCamp2017 #TS4CatsAndDogs#SponsoredByEA pic.twitter.com/2NpZbDAyho

— DutchSims 4 Master (@DutchSimsMaster) September 21, 2017
Le gagnant du vote est notre ami le renard avec sa bouille…Un mot pour le décrire? 😍#SimsCamp2017 #TS4CatsAndDogs #SponsoredbyEA @LesSims pic.twitter.com/LtTh96yDS4

— 🌹 Devovo ❄ (@DevovoTV) September 21, 2017
GUYS LOOK I FINALLY GOT TO HAVE MY VERY OWN FLOOFY ORANGE CAT #SimsCamp2017 #TS4CatsAndDogs #SponsoredByEA pic.twitter.com/swMinQL0cU

— Kayla Sims (@lilsimsie) September 21, 2017
Look at this little cutie I made at #SimsCamp2017!! #TS4CatsAndDogs #SponsoredByEA pic.twitter.com/fEugqwpNng

— The English Simmer ⋄ (@EnglishSimmer) September 21, 2017
APRESENTO PRA VCS… DAGNY BIONICÃO #SimsCamp2017 #TS4CatsAndDogs #SponsoredByEA 🐶🐱 @TheSims pic.twitter.com/hhdEBXwIUY

— Rao (@RaonyPhillips) September 21, 2017
Meet UniPom. He likes to cuddle with other Sims and poop all over the house. 13/10 #SimsCamp2017#TS4CatsAndDogs#SponsoredByEA pic.twitter.com/hVHZgR3lFO

— Sims Community (@TheSimCommunity) September 21, 2017
We made a new friend at #SimsCamp2017 ! What should we call him? 😍 #TS4CatsAndDogs#SponsoredByEA pic.twitter.com/CYTLlV9Wqe

— Make2 (@make2tv) September 21, 2017
Unser erster eigener Robo-Hund erstellt beim #SimsCamp2017 😀 Bald haben wir mehr für euch zum kommenden EP #TS4CatsAndDogs | #SponsoredByEA pic.twitter.com/48QGGEtobL

— SimTimes (@SimTimes) September 21, 2017
Nouvelle image exclusive du futur pack #LesSims4ChiensEtChats ! #SimsCamp2017 #SponsoredByEA et #TS4CatsAndDogs @Fezet @LesSims @TheSims pic.twitter.com/4TH4tlyOup

— LuniverSims (@LuniverSims) September 21, 2017
Na wer kennt die Katze ?! #TS4CatsAndDogs #SponsoredByEA #SimsCamp2017 pic.twitter.com/uurFWDN1SV

— Zockermimi (@ZoCkErMiMi) September 21, 2017
The Sims 4 Cats and Dogs looks great! I'll make the most amazing pets!
Me: #simscamp2017 #TS4CatsAndDogs #SponsoredByEA pic.twitter.com/SZXa0KvYTW

— Dylan (8Bit) (@EightBitDylan) September 21, 2017
Look at my wittle Miniature Poodle #TS4CatsandDogs #SimsCamp2017 #SponsoredbyEA pic.twitter.com/xm0upvi5lI

— ReilaRacks♡♛ (@XureilaYT) September 21, 2017
Had an amazing opportunity to play with Cats & Dogs in advance, here's a screenshot I took!#SimsCamp2017#TS4CatsAndDogs#SponsoredByEA pic.twitter.com/pHBlP9uI8i

— Andrew Arcade (@AndrewArcade) September 21, 2017