This was an april fools joke

I hope I didn't break any hearts with it, we will see The Sims 4 Pets in the future! 😉 The box art for The Sims 4 Get A Pet Expansion Pack was leaked! Just a few days ago there was a survey about The Sims 4 Pets, no official name was mentioned in this survey but we already got our hands on this box art!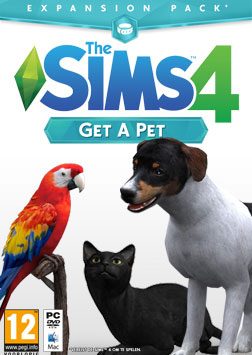 This was a list of features mentioned in the survey:
Adopt or Create Pets
Your Sims can adopt or create dogs, cats, and horses in a new Create a Pet tool. The powerful, The Sims 4 Create A Pet feature will enable you to choose a specific breed or create one from scratch. Customize your pets' shapes, colors and patterns from nose to tail.
Build Relationships with your Sims' Pets
Your Sims will build relationships with their loyal companions. Gain rewards for training your pets and build your Social and Fun needs more quickly with your pets!
Observe the Personalities of your Sims' Pets
Pets will show off their unique Traits for your Sims. Discover if they are intelligent, brave, and friendly or clueless, fast and agile. Encourage good behavior and discipline bad behaviors.
Explore a New World
Your Sims can live in a beautiful new world featuring new neighborhoods and pet friendly venues. Ride horses in the pasture or walk dogs down the street. You can even collect fish & reptiles as you find them around the world.
Play as Pets
Wield control of your Sim's pet to chase, dig, tackle, and find collectibles in the world. Send them wherever you want when you're in control! Spend the day on four legs instead of two.
New Skills and Pet Careers
Teach your Sims' pets skills like hunting; jumping, racing and locating collectibles. Or, send your cats and dogs off to work to bring home extra Simoleons!