If you've just installed The Sims 4 Seasons you'll need to know a few things about the Holiday Household Calendar. In this guide I'll explain how you can how to schedule an event, make your own holiday and how to celebrate one.
What Holidays are already in The Sims 4 Seasons?
If you open up your calendar there will be a few holidays already created in advance. Winterfest (Christmas), Love Day (Valentine's Day) and Harvestfest (Thanksgiving) . It will also show you a 7 day weather forecast so you can make preparations for the event. In the left column you'll find all the activities for your Sim for the current or selected day. It will also show you the work and school schedule for each Sim in your household. A normal season will last for 7 days but you can change this in your game options if you like.
Basic Sim Holidays
There are some Holidays already in the game.
Love Day

Day: In the end of spring
Day off from work/school: No
Traditions: Romantic Spirit, Give Flowers, Go on a Date

Enjoy a romantic date during Love Day. Give each other flowers and embrace the romantic spirit between two Sims. This can be kissing, hugging, flirting or more…
Harvestfest

Day: In the midst of fall
Day off from work/school: Yes
Traditions: Decorate, Holiday Gnomes, Grand Meal, Thankful Spirit

Harvestfest is in the fall, when Sims gather their closest friends and family for the grand meal. Sims can decorate their home for this special day, throw a turkey in the oven, and cook up some delectable goodies for the whole brood. Looking for an extra guest to join the gathering? You may find yourself encountering a certain straw-filled friend made especially for your garden.
Winterfest

Day: In the midst of winter
Day off from work/school: Yes
Traditions: Decorate, Festive Spirit, Open Presents, Grand Meal, Father Winter

When winter blows into town, so does Winterfest! Customize homes with a holiday pack and decoration box, give gifts and eat a delicious dinner with your family. You won't want to miss a special visit from Father Winter. He'll be sure to brighten any Sim's holiday spirit.
New Year's Eve

Day: On the last day of winter
Day off from work/school: Yes
Traditions: Decorate, Party Spirit, Make Resolutions, Countdown to Midnight

Time to celebrate the end of the year by celebrating New Year's Eve with your Sim. Decorate your house, invite guest to enjoy your party and let's count down to midnight. Make a New Year's resolution and your Sim has 7 days to complete it.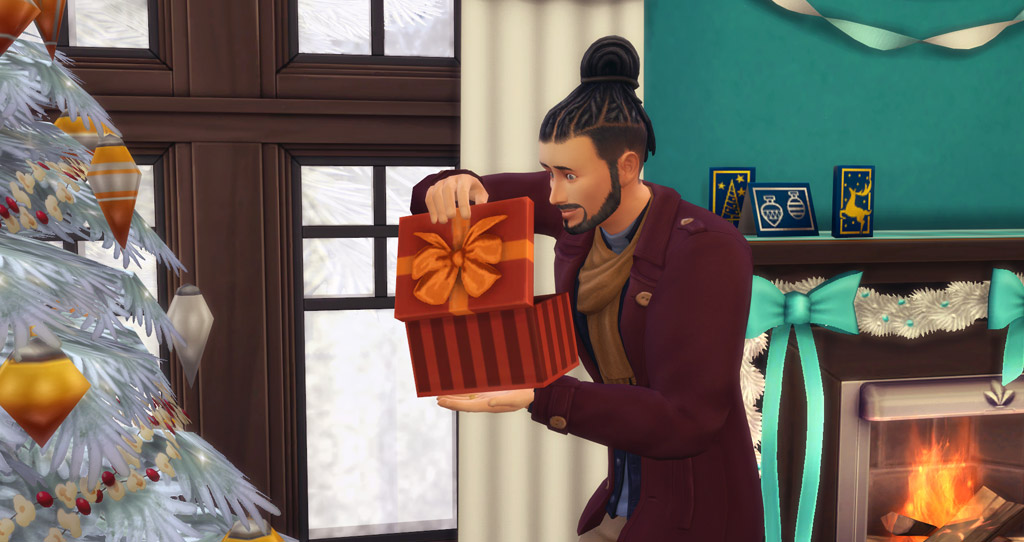 Surprise Holidays
There are also surprise holidays, these will appear random in your game of the date is getting close for your surprise holiday. These are completely random so make sure to check your calendar everyday. If you don't like the surprise holiday you can easily cancel them.
Rebate Day

Traditions: Shopping Rebate
Shopping with discount.

Talk Like A Pirate Day

Traditions: Talk Like a Pirate
Arrrrrr. Time to practice yer buccaneer lingo. Ye be encouraged to speak like a proud pirate this day

Night on the Town

Traditions: Free Food and Drinks
Go to the town, drink and eat for free until the Holiday is over.

The Lottery

Traditions: Play the Lottery
There's a huge lottery happening and the jackpot is too tempting to miss out on. You can't win if you don't play! The drawing occurs tomorrow morning so make sure to buy your ticket today. Purchase a lottery ticket via the computer or phone. Limited to one ticket per Sim. Only adults can attend the lottery.

Neighborhood Brawl

Traditions: Fighting
Time to practice that right hook! Today is all about starting Fights with other Sims.

TV Season Premiere

Traditions: Watch Season Premiere
There's a huge premiere for a new show on TV today. Be sure to watch it soon to avoid any spoilers from other Sims.

New Skill Day

Traditions: Raise a Skill
Try out a new skill or develop an existing one! All Sims learn skills faster today.

Prank Day

Traditions: Mischief Spirit
A holiday is the perfect excuse for mischievious hijinks that are in good fun. Time to work on some pranks. To participate, Click on another Sim and select Mischief. Then Select any of the Mischief options.
Create your own holiday in the calendar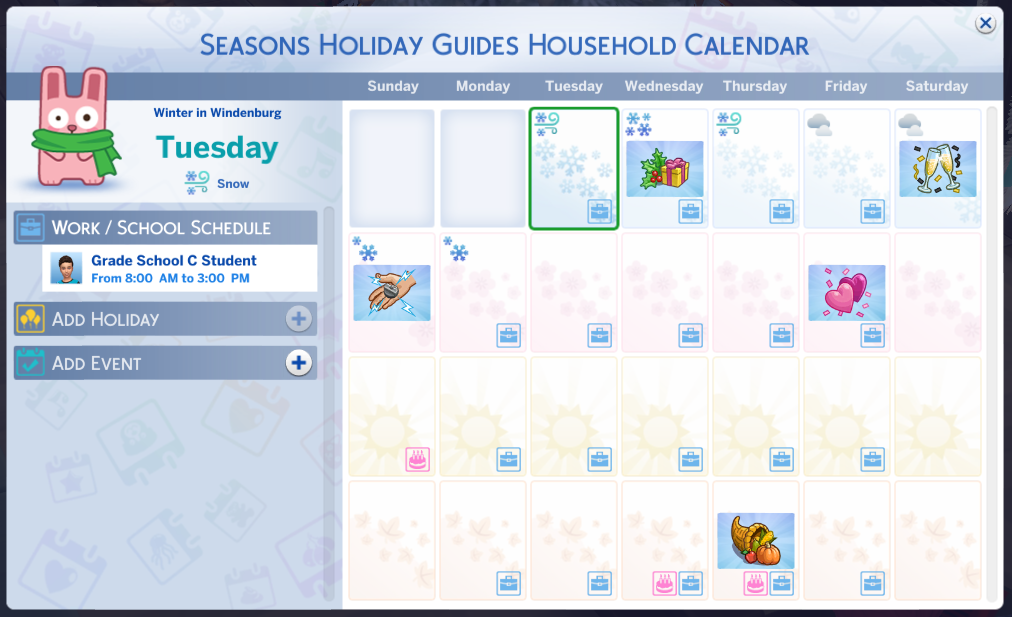 You can choose between many traditions. You can choose just one or you can just add up to 5 traditions in your newly created holiday. Some of the traditions are affected by the traits of each Sim. Some will like the traditions but can also ignore a tradition. Teens, Kids, Toddlers and babies will ignore some of the traditions because they don't care for them.
In the upper right corner you can change what kind of decoration will be visible in the neighborhood. You can choose between Love Day, Harvestfest, New Year's Eve, Spring, Spooky, Winterfest or none. There is also a checkbox that gives you the option to give your Sim in your household a day off from work or school to celebrate this holiday.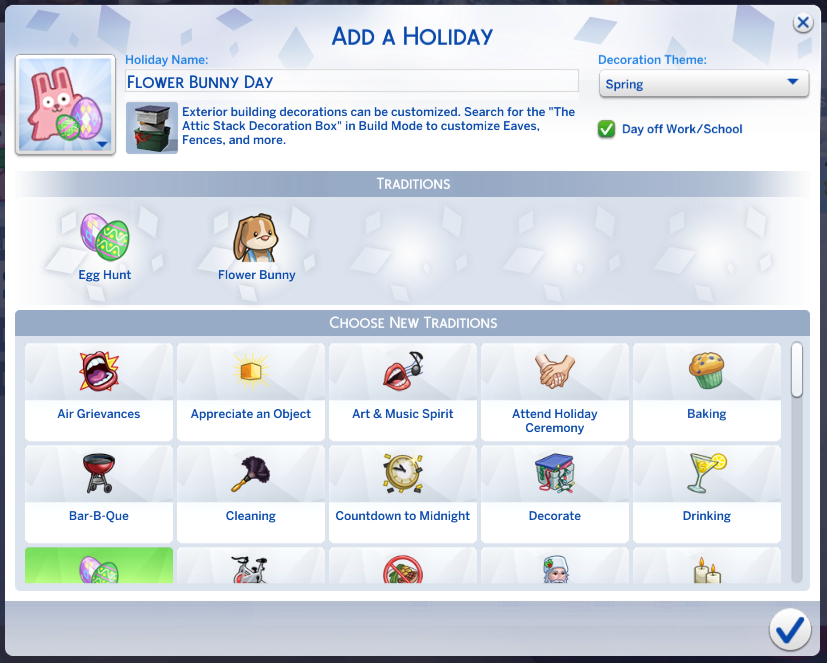 When you are done creating the holiday it will return on the same day every year until cancelled. After the holiday starts you can even edit the holiday in the upper left corner of your screen.
Holiday Traditions
Air Grievances
Direct honest feedback is harsh and it feels oh so good to get off your chest.
To participate, select other Sims and choose Mean socials such as Yell At.
Appreciate an Object
What is special and worthy of appreciation to you? Reflect around objects and the larger meaning behind them.
To participate, click on an Object and select Appreciate.
Art & Music Spirit
Make music and make art. Sing until your voice gives out or the neighbors complain.
To participate, create art by doing things like Painting, Take Photos or Dancing. Or do musical things by Singing, Listening to Music, or Playing an Instrument.
Attend Holiday Ceremony
Attend a Ceremony by using the phone to travel there to complete this tradition.
Baking
The smell of fresh baked treats is worth celebrating. Why not make a holiday around it?
To participate, Click on a Stove and Select Bake or Cook, then choose a baked good.
Bar-B-Que
There is nothing quite like fire grilled food. Debates on the best fuel source and sauce recipe get very heated.
To participate, Click on any Outdoor Grill and select Grill.
Cleaning
A clean home is a happy home!
To participate, Clean around the home. Empty the Trash, Mop Up Puddles, and Clean Up dishes.
Countdown to Midnight
Stay up past bedtime and shout at the TV in celebration!
To participate, Watch the countdown to Midnight on TV. The countdown will be available on TV's after 11: PM.
Decorate
The perfect bit of color and décor can really set the stage for any holiday. To participate, place holiday decorations from Build Mode. Decorate the house exterior by placing and using the The Attic Stack Decoration Box.
Drinking
Celebrate with the perfect summer lemonade, warm apple spiced nog, or any of a Mixologists wonderful creations. To participate, drink something from a Bar, Drink Stand or Fridge.
Egg Hunt
Colorfully painted eggs are hidden throughout your yard. Gotta collect 'em all. To participate, click on objects in the world and select Hunt for Egg.
Exercise
Celebrate by taking care of yourself. Push yourself to do just a few more reps or go just a little further on your run. To participate, do any exercise activity like Jogging, Push-ups, or Lifting Weights.
Fasting
Appreciate all the good food you have by going without for a short time.
To participate, do not Eat any food for 6 hours.
Father Winter
On special nights of celebration, Father Winter will visit the household of festive Sims. If you are quick you can catch him bringing gifts for all good children. To participate, place a Fireplace and a Pile of Presents in your home. Then wait for midnight.
Festive Lighting
Traditional lighting of candles is a great way to save on the electrical bill while gathering friends and family. To participate, Click on a Holiday Tree, Menorah, or Kinara and select Light Candle.
Festive Spirit
Be festive and jolly with friends and family.
To participate, use festive socials such as Lighting the Holiday Tree, Ask if Good or Bad, or Belly Laugh.
Fighting
Time to practice that right hook! Today is all about starting Fights with other Sims.
Fire
The crackling flames inspire primal celebration. To participate, Light a Bonfire, Campfire, Fireplace or Burn a Leaf Pile. Then interact with any of these sources of fire.
Fireworks (Requires The Sims 4 City Living)
They are booming, fiery, colorful decorations for the sky.
To participate, buy some Fireworks from the San Myshuno festival stalls and Light them.
Flower Bunny
The Flower Bunny has come to visit and spread flowery delight!
To participate, do Friendly interactions with the Flower Bunny.
Games
Strategy, learning, entertainment, and accomplishment all in the same activity. Great alone or with friends.
To participate, play with video games, toys, the arcade, or the chess table.
Gardening
A tradition dedicated to those with a green thumb, and those working on one. To participate, Harvest, Plant, Water, Weed, or Spray in the garden.
Give Flowers
To participate, use the Purchase Gift interaction on the phone or computer to buy flowers. Then select a Sim and choose Give Gift.
Give Gifts
Exchanging a gift is a great way to convey appreciation, humbling romance. It even works to trick adversaries.
To participate, Buy Gifts from the Phone, Computer or Build Mode. Click on other Sims and Give Gifts. Make sure to check the mail for gifts send to you.
Go on a Date
Take out that special someone, or invite out a new soon to be special someone. It's tradition!
To participate, Click on the Phone and select Ask on Date. Choose another Sim and select a location for the date.
Go on a Vacation or Travel
There is no place like home… which you won't know until you travel!
To participate, Click on the Phone and select Take a Vacation, or Travel to a Commercial Venue.
Grand Meal
A most delectable feast awaits stomachs growling in anticipation. Just make sure someone else volunteers to do the dishes.
Cook a Grand Meal by clicking on the Stove or Fridge. To start the feast, select Call to Grand Meal on the completed dish.
Holiday Gnomes
Give respect and gifts to the friendly gnomes in the hopes of festive rewards.
To participate, find Gnomes around your lot. Click on the Gnomes and select Appease the Gnome. The outcome of the gift giving is random. If the gnome is happy with the gift it will get a halo above its head and will gift you seasonal seed packets throughout the day. If you anger the Gnome it will get angry red fire above its head and will break objects around your house during Harvestfest.
Invite Guests
Celebrate with friends, family, and random Sims you met on the street.
To participate, Click on the Phone and select Invite to Hangout at Current Lot. Then socialize with at least two of your guests once they arrive.
Light Kinara
Light the candles on the Kinara to reflect the seven principles.
To participate, Click on the Kinara and select Light Candle.
Light Menorah
Celebrate by lighting the candles of the Menorah.
To participate, Click on the Menorah and select Light Candle.
Make Resolutions
Don't put off until tomorrow what you can do today.
To participate, Click on your Sim and select Make Resolution.
Mischief Spirit
A holiday is the perfect excuse for mischievious hijinks that are in good fun. Time to work on some pranks.
To participate, Click on another Sim and select Mischief. Than Select any of the Misschief options.
Open Presents
It's better to receive than to give. Wait, reverse that!
To participate, Open a Present from any Gift Pile.
Party Spirit
Drink, Dance, and Play Music. The party spirit lives in us all. To participate use any of the various party activities. Drink, Dance, Play an Instrument, Tell Jokes, Flirt, or Sing.
Polar Bear Plunge
It's freezing out but the water hasn't completely iced over. Perfect time for a swim.
To participate, Swim in any outside pool while it is cold outside.
Remembrance
Spend time remembering those who have passed but are never truly gone.
To participate, Click on an Urn or Gravestone and choose any of the available options. You can also meet and interact with a Ghost.
Romantic Spirit
Spend a little extra time with the one you love or the one you are falling in love with.
To participate, do romantic socials such as Kissing, Hugging, Flirting, or if the mood strikes, WooHoo!
Spooky Spirit
The midnight hours is close at hand. Ghosts, vampires and aliens are in the plan. Celebrate all that sends a shiver up the spine.
To participate, do spooky interactions such as interacting with ghosts, vampires, or aliens. You can also carve pumpkins or play spooky music on the Pipe Organ.
Sports TV
Yes, cheering louder does help your team win on TV. To participate, Click on a TV and select Watch Sports.
Streaking
Nothing is as freeing as running down the street with the wind in your, um, face.
To participate, select the Sim and then select Go Streaking.
Tell Stories
Gather around and tell your favorite stories. It is much more interactive than reading a book.
To participate, tell a story to another Sim. Try reading a toddler a book or telling stories around the campfire if you have one.
Thankful Spirit
Spend time to reflect and be thankful – who knows what tomorrow will bring.
To participate, discuss what you can Be Thankful for with another Sim.
Trick or Treat
Random masked neighborhood kids come to your door asking for food? Sounds like a great tradition.
To participate, Click on Children who have knocked on your door and select Trick or Treat! If you have The Sims 4 Spooky Stuff you can place the Candy Bowl on your doorstep and they will take candy from there.
Watch Romantic TV
A proper romantic flick can really set the mood for a romantic holiday.
To participate, Click on the TV and select Watch Romance.
Water Fun
When the weather heats up, celebrate with a little H20. It is the only Tradition that requires a swimsuit!
To participate, go Swimming or interact with various water toys like the Kiddie Pool, Sprinkle-O-Matic, or Water Balloons.
Wear Costumes
A chance to dress up as a Llama or a Fairy and have everyone act like that is normal. To participate, Click on your Sims and select Wear Costume. Then choose your costume.
Schedule an Event in the Calendar
First choose the perfect day for your event and click on that day. This will give you the option to add a new event. To plan the event you can click 'Add Event' in the lower left corner in the calendar. You can plan events 2 weeks in advance. This will give you time to prepare and decorate your home or venue. You can choose every event from each pack you own.
Now it's time to choose the location, you can choose your own home buy you can also choose a venue. In the upper right corner you can set a time for your event to begin.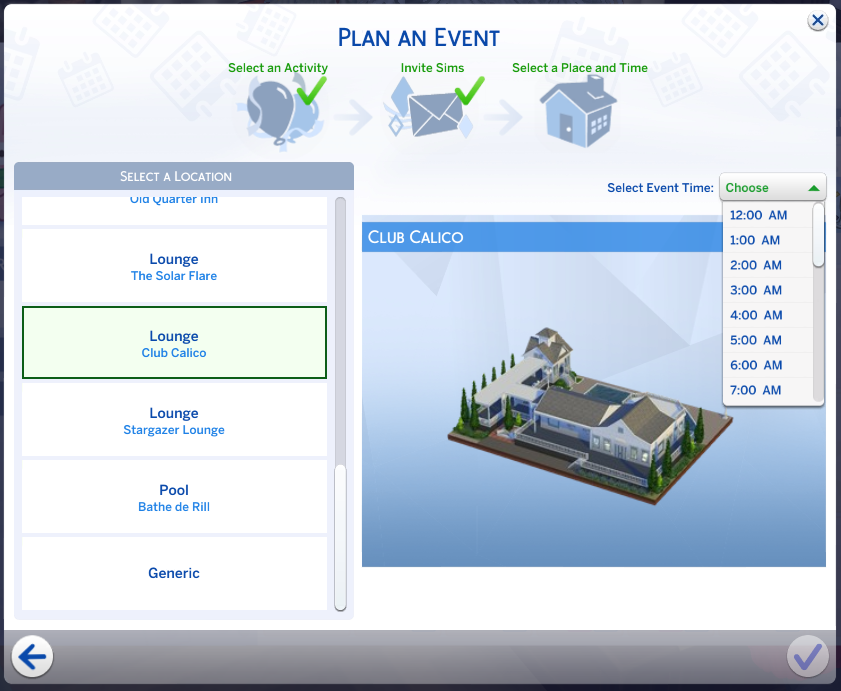 If you click create, it will appear with an icon in your calendar. After you created the event you can see in the left column who's coming, when it starts and if it's an reward event.
Can I plan 2 events on one day?
Yes you can! You can't plan 2 events at the same time but it can be done on different times on the same day. The only downside to that is that you can only plan one Goaled Event in one day to earn prizes. You can choose which one will be the goaled event.
Can I delete Events or Holidays?
Yes, in the left column you have the trash bin on each event or holiday. Click on the icon to delete your entire event.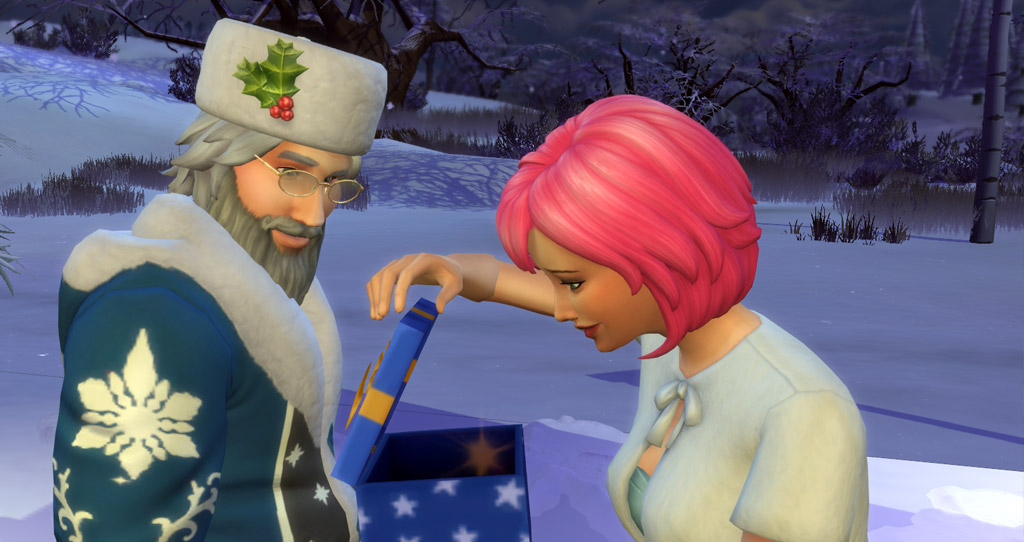 Can I change the holiday mascots clothing?
No, not really. The only way to do this is that you need to move in one of the mascots to your household. After that you can change its entire appearance. But he will be relieved from its duty and someone else gets his job.