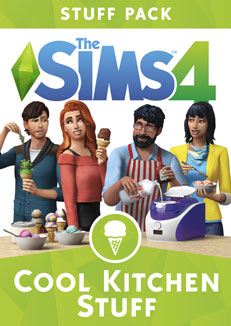 Release date: August 11, 2015 (time of release: 10am PDT)
Platforms: PC / Mac
Average price: $9.99 / €9.99 (Buy on Origin)
Mix Things Up in the Kitchen!
All the new kitchen stuff is perfect for your foodie Sims. Get a lot of cool stuff with The Sims 4 Cool Kitchen Stuff Pack. Try the new Ice Cream Maker, new stylish cabinets in a modern design and what do you think about the new clothing and hairstyles?
Upgrade your Sim's Kitchen
Place new sleek stainless steel appliances or try the new cabinets with frosted glass doors. There are new food related paintings to decorate your kitchen with and also beautiful new flowers to place on the kitchen counters. If you are missing a stylish but standard modern table with matching chairs, this pack will be a really great choice for you.
I Scream for Ice Cream!
When you get The Sims 4 Cool Kitchen Stuff your Sim will be able to make their own ice creams, gelato, or soft serves. This can be done with the new and stylish Ice Cream Maker. Garnish the ice cream with different toppings like banana slices, whipped cream, peppermint sticks and of course sprinkles! You can create a total of 30 different flavors and some of them might give your Sim unusual abilities…
Tip: When you have The Sims 4 Get to Work expansion pack you will be able to sell ice cream in cartons, bowls or cones!
Read more
Features
Create Ice Creams with the new Ice Cream Maker.
New hairstyles and apparel perfect for any chef-to-be.
Modern looking cabinets and counters for your kitchen.
22 kitchen related objects in build mode.
30 new Create a Sim items like hairstyles, outfits and also aprons.

New Objects, Clothes and Hairstyles