The Sims 4 Backyard Stuff Pack
Brighten up your Sim's outdoor space with vibrant potted plants, playful decorative lights, and multi-colored patio furniture.
Release date: July 19, 2016
Average price: $9.99 / €9.99
Platforms: PC / Mac

Perform tricks on the all-new water slides
Your Sims can cool off on one of the two new water slides you can place in the garden. Surf-slide through the jaws of a shark and add soap for an even wilder experience.
4 new interactive gameplay objects
Attract birds with a bird feeder, place a water slide for kids and adults, add calming sounds to your yard with Wind Chimes or serve lemonade from the new Summer Drink Tray.
More clothing and objects with a summer outdoor vibe
Dress your Sims in comfortable clothing and relaxed hairstyles and brighten up your Sim's outdoor space with multi-colored patio furniture.
---
The Sims 4 Backyard Stuff Pack Features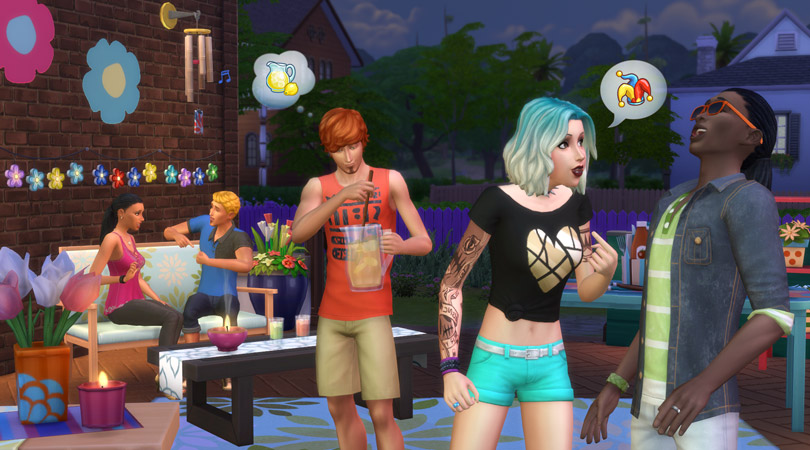 Personalize the Backyard
There is a bunch of new assets in The Sims 4 Backyard Stuff. Most of them come in varied of colors. Tables, chairs, garden decoration and of course the features objects: Long water slides, Summer Drink Tray, Calming Wind Chimes and a Bird Feeder
You'll find specific backyard stuff and some basic objects you can use in the house. The new umbrella table has room to place 6 chairs around it! Place colorful new rugs for indoor and outdoor use and a the new classic white picket fence around your garden. Use the summer drink tray to mix and serve lemonade or ice tea.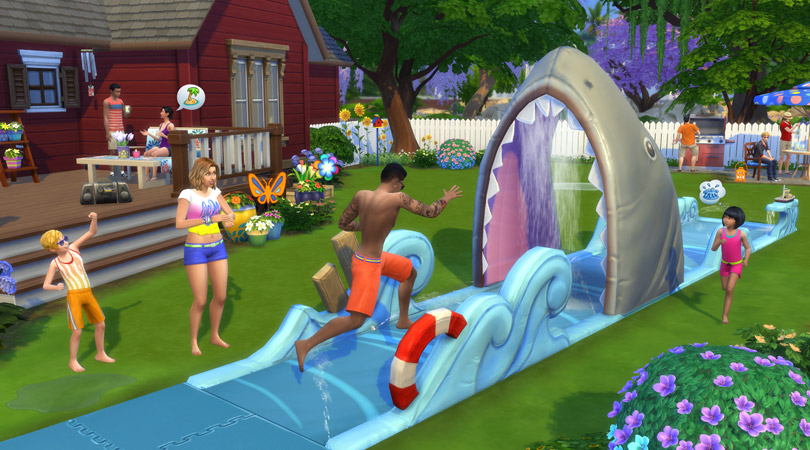 Slip, Slide, and Splash on the new Water Slide
In this stuff pack you'll get 2 different water sliders. One with bright colors and one with a shark tunnel. Attempt crazy tricks on the lawn water slide. Kids and adults can use the slide and they can both wipe out while sliding. Adults can train their fitness skill and kids train their motor skill. One of the exciting extra feature is that you can add soap to the slide. When Sim go off the slide filled with soap they will take some of the soap with them for a few minutes.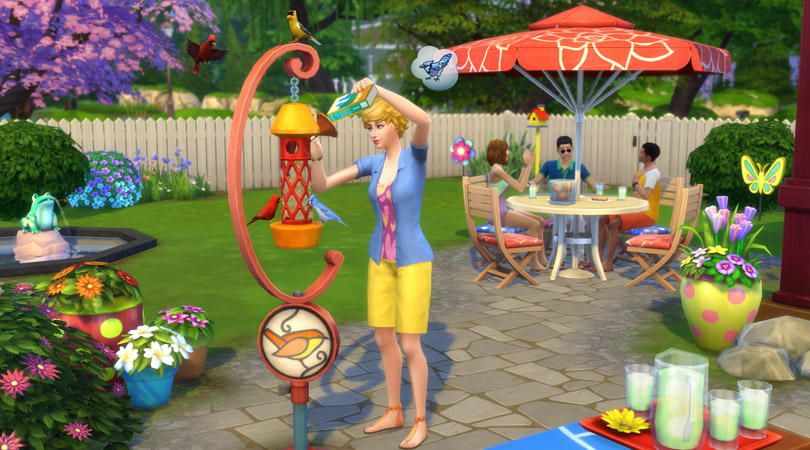 Create a calming environment with a Bird Feeder and Wind Chimes
The bird feeder comes in 5 different colors and will attract different types of birds. You can add bird seeds in the bird feeder. There is even a chance your Sim get's attacked by birds when placing seeds in the bird feeder. If you placed the bird feeder you'll get a calming sound of birds chirping around it.
There are 3 different chimes that will each give a different sounds. You can give wind chimes a high pitch or low pitch. Their shape will change and they will give a higher or lower sound effect.