Hello Simmer! Today is the beginning of an exciting partnership between us here at Maxis and each one of you. Today, we would like to announce a new project where we ask you to help us create a completely new accessory pack for The Sims ™ 4. How this should work? I'll explain it to you …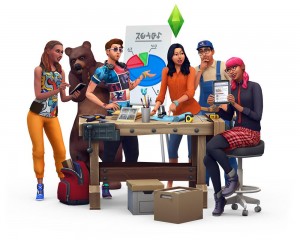 Today is a very special day for the upcoming stuff pack, because we want and ask you the entire The Sims community to accompany this pack through the critical stages of development. We will provide you the same questions that we ask ourselves, and ultimately it will create a pack to which we can all be proud of. The development here at Maxis is always a joint process with ideas from many areas, which we then implement together in the game. With your ideas and your feedback, we can create a Stuff Pack that meets your wishes.
From now on until the 06th of April, we collect your voices at the bottom of this blog, to decide on the theme of the stuff pack. In this early phase of pre-production, we assign possible functions under one theme to create a concept for the pack that we want to publish. These features are listed in the survey, but that does not mean that you select special features in the poll. The selection of features is done in a separate vote at a later stage of the campaign.
The entire development of this new stuff pack will set you an insight into working at Maxis, which is necessary to create new experiences for your Sims. Your voices will not only decide what content we create, but we will tell you also extensive information on our progress in the development process. During development, we will show you photos of the stuff pack so that you as we can see exactly how the game develops. You gain insight into our approach and meetings that we hold to solve unexpected problems. You will get to know other developers of our team and learn more about their tasks.
Invite you to join a new section of our forums participate, which is specifically dedicated to this project. There we post regular updates and encourage spontaneous discussion. Your feedback in the forums is another way to influence the development of this pack. Participation is of course quite simple. Record the following data in your calendar and visited diesims.de, that your voice is heard.
•   Thread vote (03 April – 06 April): Selects the overarching theme of the pack. Every aspect of the game is influenced by this important decision.
•   graphic style vote (April 10-April 12): Selects the proposed graphic styles a style for this pack, according to which our concept artists aimed at creating objects and clothes.
•   of objects or clothes vote (May 18-May 21): Check out the concept art created by us for the Pack and selects your favorite to help us select the objects and items of clothing for the Pack.
•   Feature-vote (June 23 – June 26): Selects the gameplay features that should be included in the pack.
•   Pack icon vote (Fall): Check out various icons and selects which should appear on the packaging and in the game catalog.
•   Pack Title vote (autumn): Selects a title that suits the atmosphere and to the contents of the game.
For years we are working to develop Sims games that appeal to you. This unique opportunity to be working all right with you, is already expected by our team with power. So go ahead, your producer-cap picks up and you are there! Let us together create something great! We can wait to wait to learn more about your wishes for the new pack in a few days!
The five topics for which you vote, we have derived from the most requested in the forums and suitable for stuff pack supplements. They are as follows …
Eco Living Stuff – Adopt new home technologies to help your Sim with domestic responsibilities and live an eco-friendly life. Potential areas of focus include laundry, home technology, and solar energy.
Starter Home Stuff – Customize your household with affordable, pre-owned furniture and clothing that's perfect for Sims just starting out (or struggling to get by). Potential areas of focus include space-saving furniture, multi-function appliances, and yard sale items.
Arcade Stuff – Take your Sims to an arcade for an afternoon of entertainment with friends! Potential areas of focus include arcade activities, games of skill, and social experiences.
Dangerous Stuff – Live life on the edge by subjecting your Sims to new dangers that celebrate the afterlife. Potential areas of focus include Sim deaths, funeral experiences, and the Grim Reaper.
Wedding Stuff – Make your Sim's big day an even bigger celebration with new wedding content and experiences. Potential areas of focus include wedding customization, the ceremony, and cultural diversity.