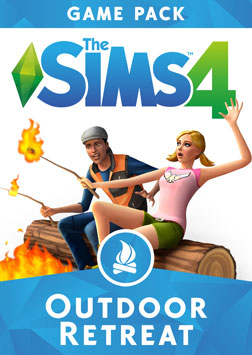 Release date: January 13, 2015
Platforms: PC / Mac
Average price: $19.99 / €19.99
Explore Granite Falls in The Sims 4 Outdoor Retreat
Go on a vacation in Granite Falls and explore! Hire a cabin or campsite and go hunt for Insects, collect plants to create potions with the Herbalism skill, catch some new valuable fish or get chased by a bear. Did you know that there even is a secret area for your Sims to explore? This area is the location where the hermit lives; Hermit's Mountainside Retreat. Travel through the Deep Woods via the Bramble Patch to get to this location and meet the Hermit.
Create your own cabins and campsites
In The Sims 4 Outdoor Retreat you are able to build your own campsite and place tents, campfires, outdoor games like tossing horseshoes and cool boxes. Or build a luxurious Cabin with all new wooden objects that comes with The Sims 4 Outdoor Retreat.
Brew Potions and Elixirs with the Herbalism skill
Herbalism is an exclusive skill that comes with The Sims 4 Outdoor Retreat. Find plants in the new world Granite Falls and create unique potions like the Elixir of Fertility, this will increase the chance of having twins or triplets! There are a total of 13 different potions to brew.
New Interactions
Your Sims will be able to sleep and Woohoo in tents or go watch the stars (stargaze) and the clouds (cloudgaze). There is also a new party that comes with this Game Pack, the weenie roast. Get together with your friends and host the most successful party outside in the woods.
Purchase supplies at the Ranger Station
Buy camping supplies like tents and camping coolers in the Ranger Station located in the center of the campsite near the large camping mascot statue.
(The Sims 4 Outdoor Retreat is only available on Origin)
Read more
Features
A new destination world where your Sims can go on vacation; Granite Falls, go camping in the woods or rent a cabin.
New plants, fish and insects are available in Granite Falls to collect.
Create potions with the Herbalism skill.
A new Outdoor Enthusiast aspiration that is tied to insects, herbalism, & fishing. Reward is a new Survivalist Trait!
New camping objects in Buy Mode.
A new NPC called the Trickster Bear.
Dress up as the Trickster Bear.
New Objects, Clothes, Accessories and Hairstyles