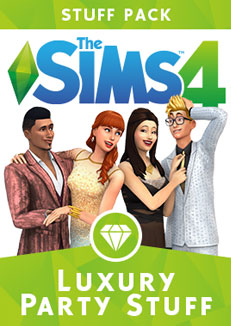 Release date: May 19, 2015
Platforms: PC / Mac
Average price: $9.99 / €9.99 (Buy on Origin)
Party in Style, Live in Luxury
The Sims 4 Luxury Stuff Pack comes with all new items, clothing, makeup, accessories and even 2 new gameplay objects. Host your parties and social events like never before with these great additions for your Sims 4 game. From sparkly sequin dresses to shiny 3-piece tuxedos, your Sims will be the best dressed at any black tie event – or just any event period. Complete their glamorous look with new hairstyles and accessories.
Dress Up
The pack features stunning dresses, suits, makeup, and accessories for your Sims to wear to the party. Dress up like a diva or a stylish lady killer.
New Luxury Party Objects
This stuff pack will contain new objects and furniture for your Sims. This includes new tables and chairs, wall decoration, glittering curtains, lightning and sculptures.
Fill the Banquet Table with recipes your Sims prepare themselves
One of the new gameplay objects is the stylish Banquet Table to place down your dishes, appetizers or baked goods for other Sim to enjoy and host a successful Party! Delight your guests' with new recipes via a quick click on the table, or prepare and serve your own elevated cuisine!
Gather your Sims around the Drinking Fountain
The second gameplay object is the Food/Drinking Fountain (Fountain of Mirth). Place the fountain on top of your banquet table and fill it u with delicious things to consume like liquid chocolate. Take advantage of the Mixology and Cooking skills to serve a variety of drinks and snacks, or use the Mischief skill to make things more "exciting" by adding a little something extra. For example a Sim with High Cooking Skill can fill the Fountain of Mirth with Cheese to create superb Cheese Dippers. And a Sims with High Mixology Skill can extend the party with the Party Extender Punch. If your Sim is a Mischievous Sim they can sabotage the Fountain of Mirth.
Read more
Features
Dress up your Sim in new party clothing, new makeup and add new accessories.
Place your own made dishes on the new Banquet Table.
Put down a Food/Drink Fountain that you can fill with chocolate and several other delightful delicacies.
New furniture; bar, sculptures, and lighting objects.

New Objects, Clothes and Hairstyles