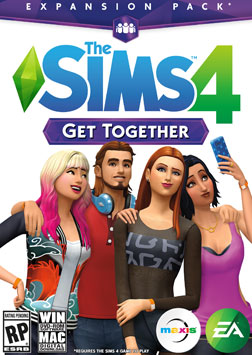 Release date: December 8, 2015
Platforms: PC / Mac
Average price: €39.99 / $39.99 / £29.99
Live it up with The Sims 4 Get Together
Get ready to Party! In The Sims 4 Get Together is all about the new clubs, dancing, and exploring the new world Windenburg. Dress up your Sims & your friends who are joining you to the party or club. Master your Sims dancing skills or learn how to set up the perfect DJ booth to master the new DJ skill.
Windenburg, the new world to explore
The new world Windenburg is full with new landmarks for your Sims to explore. From the charming countryside, to the bustling town square and luxurious island, Windenburg is filled with new things for your Sims to see and do. Trow amazing parties at the mysterious ancient ruins or get lost in the hedge maze found at the garden château. Walk around in Windenburg to make new friends at the barista, pub or the discotheque. Build your house and live in this beautifully decorated new world.
Lead your own exclusive Club
Get together and meet Sims who share the same interests and style and form a club. If you start to play with your specific club you can unlock unique rewards for your Sims to enjoy! You can decide on what goals you want to achieve with this club, how the members of the club should behave and even choose your preferred hang outs and clubbing wristbands.
Learn Dancing or create the perfect mix on the DJ booth
If your Sims wants to show off their perfect dance moves, The Sims 4 Get Together is the perfect expansion pack for you! Starting off with the dancing skill can result in hilarious dancing fails at the beginning. Eventually, you'll be able to show of the greatest dance moves to the crowd.
Exciting new features
There will be a very luxurious espresso machine to place at a Bistro or Café. You Sims will also be able to take a dip in the Natural Pools found in Windenburg and the Natural Pool now has a diving rock for your Sims to jump off! Play a game of foosball or try on outfits together with the all-new Walk-in Closet. There's also a new board game (Don't Wake the Llama!).
Pre-order The Sims 4 Get Together Expansion Pack on Origin and be the first one to play.
Read more
Features
Explore ancient ruins, a hedge maze and find the exclusive private island in the new world Windenburg
Trow a party at the ruins, hot spots or underground discos.
Join or form a club with Sims who share the same interest.
Use walk-in closets to style your Sims or even Woohooing.
Learn two new skills; Dj & Dancing skill.

The Sims 4 Get Together Expansion Pack Trailer