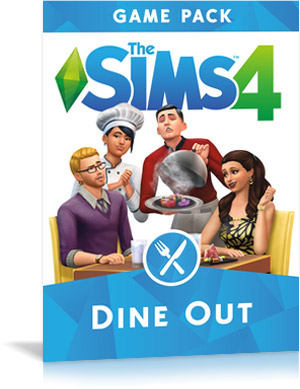 Create the perfect menu, train your staff and establish a welcoming ambiance for your costumers to get a 5-star restaurant.
Run your own restaurant
In this game pack you'll be giving the opportunity to run and manage your own restaurant.
Create the perfect menu
Try out different dishes to put on your menu. For example you can run a sushibar, a vegetarian restaurant, a burger bar and many more!
Customize everything
You can build a restaurant with many different styles, dress up your employees and add a dress code for your costumers.
Release date: June 7, 2016
Average price: $19.99 / €19.99

---
Run a 5-star restaurant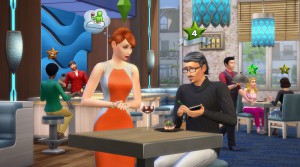 In The Sims 4 Dine Out game pack you can make it your goal to own and run a 5-star restaurant. Costumers who come to your restaurant can give you a rating. The rating is based on service, ambiance and food serving. You can affect this rating by hiring better staff or educate waiters and chef's, prepare the most delicious meals to serve your customers and decorate your restaurant venue with decorative objects. Always be prepared for food critics!
Get creative with the new customizable sign set in The Sims 4 Dine Out. Place a blank sign and add colors, letters, symbols to create a sign that is unique to your restaurant.

---
Build your restaurant around a specific theme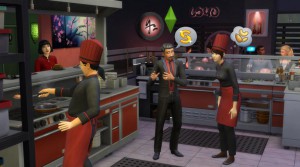 If you get this game pack you can build any kind of restaurant you like. For example you can create your own modern sushibar and decorate it with Asian themed objects that come with this game pack. Change the menu so Sims can choose between different seafood and sushi dishes. Don't forget the dessert!
Another theme you can try is a vegetarian restaurant (there is an option to filter these items when you are creating your menu). If you have Spa Day you can also add Sugar Free Carob Coconut Cake or the Superfood Salad to your menu.
Be creative! Build burger bars, salad bars, Italian restaurants, fast food joints, bar and grills and much more!

---
Eat beautiful Experimental food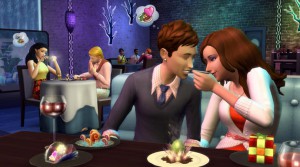 This pack contains more than objects, clothing and restaurants. It also comes with a lot of new experimental (animated) dishes for your Sims to enjoy. Things like a Volcano Pasta, Bacon Love Petals or a Jungle Moss Egg with Lavender Wisps aren't weird when you find them in your restaurants menu. Some dishes will put Sims in a specific moodlet. This will come in handy when you go on a date with your Sims' crush.
With beautiful food comes creative mind. You can now photograph your dinner and place the pictures on your wall or Simstagram!

---
Varied Dining Experience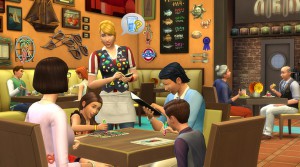 Restaurants are the perfect place to bring a date or celebrate a birthday. There are new activities for kids for example; They start coloring while waiting for their food. When you're on a date there will be specific table interactions, you can feed your date, isn't that romantic?
If you have The Sims 4 Get Together you can take your club to the restaurant. This is the perfect place for a group of foodies!

---
Watch the official trailer from The Sims 4 Dine Out
Create A Sim items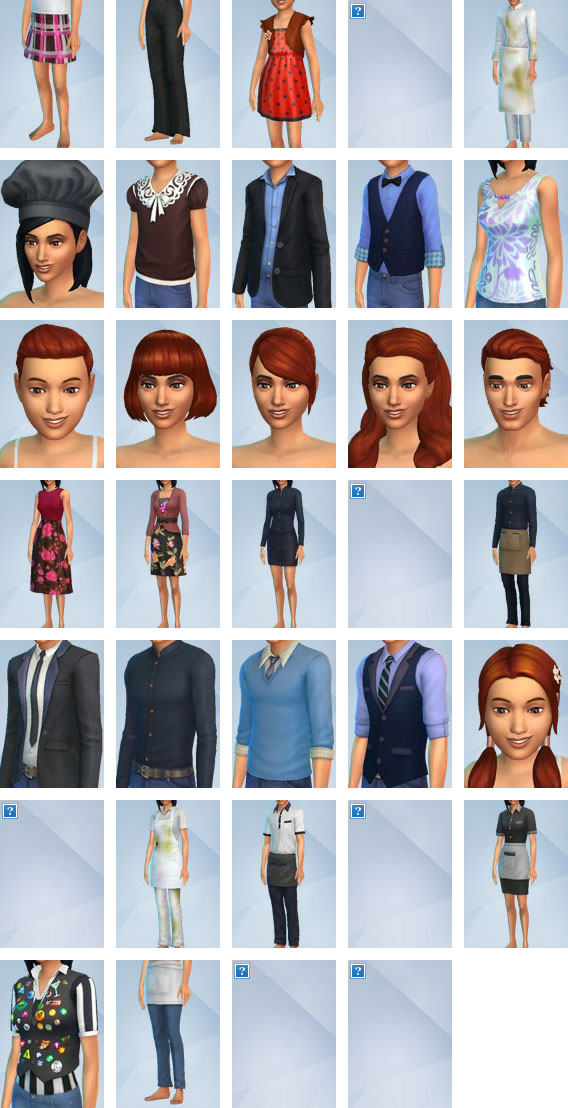 Objects