Change images of your houses, sims and rooms in The Sims 4 Gallery!
Deevo from LuniverSims.com developed an application to change the images of your creations in The Sims 4 Gallery! With this application you can: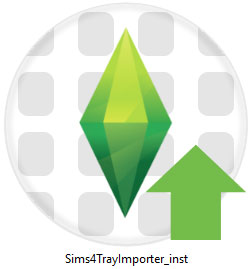 Change pictures on The Sims 4 Gallery (houses, lots, Sims or rooms)
Upload/download Sims 4 Content
Promote your creations not only in your own gallery but also on blogs and websites!
Interesting right? You can download this free application here.
Choose Sims4TrayImporter_inst.zip to download the file.

---
How to install Sims 4 Tray Importer
Step 1 – Unzip the file
I recommend that you download 7-Zip for PC, because it's very easy to use and can extract both file types.
Download 7-Zip for Windows: 7-zip.org
First you need to extract the .zip file. Do this by using 7-Zip. Double click on the compressed file and click Extract. If this doesn't work, right click on the compressed file > Open With > 7-Zip File Manager > Extract.
Step 2 – Install the application
Go trhough the steps and install Sims 4 Tray Importer on your computer. Once the application is set up, make sure you never delete the directory you've created. It is where the application is located as it won't be installed in the OS of your computer.

---
Compatibility
Application compatible: Windows XP / Vista / 7 / 8.x / 10
Languages: French, English, German and Chinese

---
Replace images of your creations in The Sims 4 Gallery
Read the tutorial about how to use Sims 4 Tray Importer on L'UniverSims.com: Tutorial How to replace creation pictures on the Sims 4 Gallery